Russian President Vladimir Putin's use of military force and hybrid warfare tactics in his country's immediate neighborhood and beyond has brought into question NATO's ability to defend its eastern border. Russian hybrid warfare, with an increased focus on asymmetric and nontraditional military capabilities, has made it considerably more difficult for NATO to counter destabilization efforts, information operations, cyberattacks, disinformation, propaganda, and psychological operations. Such hybrid warfare represents a security challenge not just for the frontline Baltic States, but also for all of NATO.

While significant steps have been taken to strengthen traditional capabilities on NATO's borders, the existing asymmetry between this conventional military strength and new hybrid threats needs to focus minds at both the national and Alliance level. Even though Russia has yet to directly challenge its NATO neighbors, there are no borders in information and cyberspace. Moreover, the very disinformation and propaganda tactics that Russia has tested in its near abroad and the Baltic States—spreading such narratives as "the fragmented, failed Baltic States" and an "aggressive NATO"—have also been used in the West to manipulate political and social perceptions, and to disinform, destabilize, and divide societies. This offensive penetrates nearly all levels of communication—TV, social media, blogs, and fake news—in a variety of forums and languages, turning them into subliminal modes of influence in liberal democracies.
These activities form an important part of Russian foreign policy and military doctrine, which, along with Moscow's inventory of soft power tools, are encompassed in the concept of "Russian World" (Russkiy Mir). This concept claims that Russian-speakers have been separated by artificial borders and yearn to be united. Russkiy Mir was institutionalized in 2007 with the establishment of the Russkiy Mir Foundation, which formally aims to promote Russian language, culture, and education worldwide, while actually systematically using it for agenda-setting and strengthening the "necessity" of Russia for other countries.
In order to guarantee its citizens' security, stability, and continued prosperity, NATO must respond to these capabilities and practices. The main goal of hybrid warfare is to identify and exploit vulnerabilities in states, public institutions, and international organizations. Resilience against such attacks requires identification of vulnerabilities and recognition that they can, are, and will be used against the Alliance.
NATO faces a second challenge. Its policy and working culture are biased toward deterrence, an emphasis that evolved in the context of the hard power (and nuclear) challenge of the Cold War. It is questionable, however, whether Russia's many unconventional threats can be deterred, at least by symmetrical means. Defense becomes much more important in this context, and in cases where deterrence will still be appropriate, it will have to be asymmetrical, relying on Western strengths and Russian vulnerabilities to be effective. This challenge demands rigorous and systematic attention.
In all these respects, the centers of excellence established in Latvia and Estonia have an important role to play. The establishment of the NATO Cooperative Cyber Defense Centre of Excellence (CCD COE) in Tallinn and the Strategic Communications Centre of Excellence (StratCom COE) in Riga signified a move toward addressing hybrid threats.
Currently, however, only nine out of twenty-nine NATO allies participate in StratCom COE and only seventeen in CCD COE. In principle, these centers analyze threats to all NATO allies, and there is a need for direct participation and a unified approach to these initiatives. Additionally, while NATO invests in analysis and research, it must also use the conclusions drawn from the work done by, for example, StratCom COE. There is an urgent need to operationalize conclusions in the theoretical realm, and develop practical and concrete recommendations, action plans, and clearly articulated strategies.
Additionally, this new inventory of threats must be placed squarely on the domestic and public agenda, within the European Union (EU)—as most NATO members are also EU members—as much as NATO. This entails enhancing the capabilities of StratCom and CCD, and strengthening our cooperation with non-NATO institutions on the Baltic coast (such as the European Centre of Excellence for Countering Hybrid Threats in Finland) to be able to develop integrated and joint responses. Few allies have the capacity to individually counter the range of unconventional state-sponsored threats (which, we must not forget, include organized crime, sabotage, and other forms of direct action). Governments must share knowledge and provide better dissemination of intelligence across the Alliance. Too often a failure to share intelligence has inflicted harm on NATO's societies. Communication must become more active, indeed proactive, if NATO is to address these new threats.
Finally, NATO needs to be more robust in exposing and challenging those who spread disinformation. NATO must find ways to support the spread of independent and objective information, and counter fake narratives, reinforcing the work carried out by the EU disinformation task force (East StratCom). It is important for NATO to learn from the historical experience of the Baltic States—countries that were occupied by the USSR for nearly fifty years, are especially attuned to Russian propaganda, and are more resilient to disinformation. Faced with hybrid warfare threats, these skills should be shared with other NATO member states.
For decades, NATO has been focused on hard power, failing to give information awareness and operations the attention they now urgently deserve. Hybrid warfare is now organic to all warfare, even to traditional hard power conflict. For Russia, the initial period of war has always been of prime importance, and today it is critical to achieve decisive strategic results before an adversary even recognizes that war has begun. It is time NATO realized that vulnerability and chaos are not only the product of destabilization efforts, but also the prelude to overt conflict. NATO must operationalize what it knows and expand its knowledge of what it needs to know, to maintain security in this new environment. Whether this will be accomplished more through the creation of new units and establishments, or better synergies among existing ones, deserves objective and dispassionate examination.
Rihards Kols is a member of Latvia's parliament (Saeima), deputy chairman of the Foreign Affairs Committee, and a representative of the Saeima at the Organisation for Economic Co-operation and Development (OECD). He is also a Millenium Fellow with the Atlantic Council.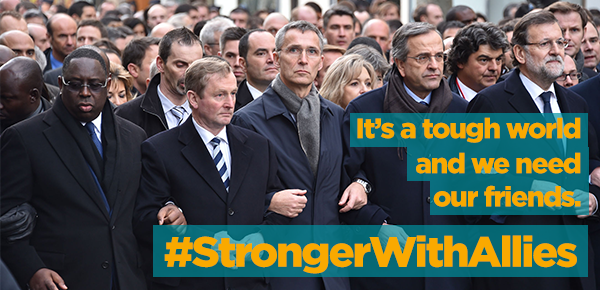 The Atlantic Council is supporting the #StrongerWithAllies campaign, promoting the idea that the United States is stronger and safer with friends abroad. Please join our effort by visiting StrongerWithAllies.org and using our social media toolkit to share your own content about why we're #StrongerWithAllies.