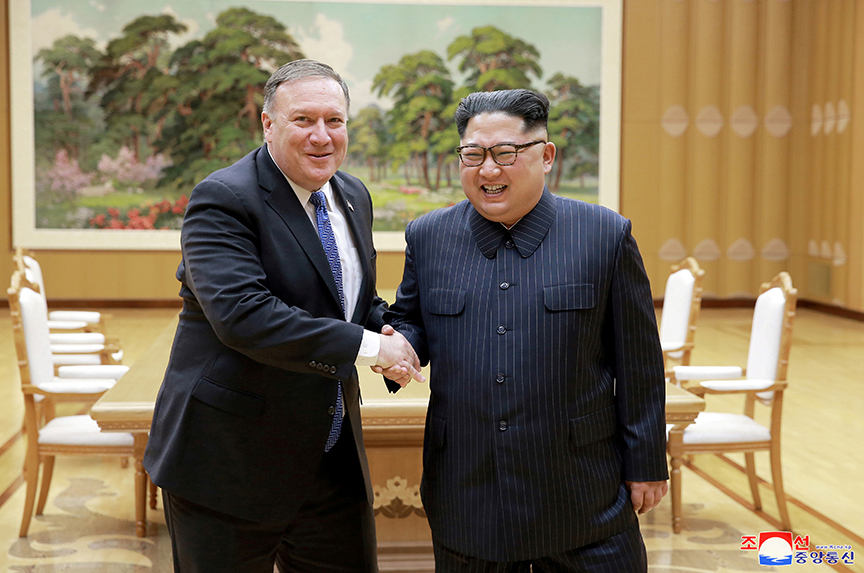 North Korea has threatened to cancel the highly anticipated summit between US President Donald J. Trump and North Korean leader Kim Jong-un in light of what it called "provocative military disturbances with South Korea," North Korea's state news agency reported early on May 16 local time. The Trump-Kim summit is set to be held in Singapore on June 12.
In a surprise move, North Korea also suspended talks with South Korea scheduled for May 16 in protest over the latter's military exercises with the United States.

The Pentagon said in a statement that the US-South Korean military exercises are part of the alliance's "routine, annual training program to maintain a foundation of military readiness."
The North Korean uproar over the US-South Korean military exercises "appears to be a reversal of what they told [South Korean] President Moon [Jae-in] at the North-South summit with regard to US-ROK military drills," said Robert A. Manning, a resident senior fellow in the Atlantic Council's Scowcroft Center for Strategy and Security.
Manning suggested that Pyongyang seems to be looking for leverage in talks with Seoul. "But [this incident] is a reminder of the deep distrust on both sides and the fragility of diplomacy vis-à-vis North Korea," he said.
"While the possibility of a real breakthrough—dismantling of Pyongyang's WMD and North Korea joining the regional and global economy, as Secretary [of State Mike] Pompeo has suggested, is real, this is only one of many speedbumps that could easily derail the whole exercise," Manning added.
Jamie Metzl, a nonresident senior fellow in the Scowcroft Center, said: "No one could have ever thought that plans for a meeting between erratic wildcard leaders Kim Jong-unand Donald Trump would be straightforward and easy."
"Trump is desperate for even a superficial win to give his presidency a stay of execution while Kim has been eager to drag out negotiations and confidence-building measures to facilitate controlled economic growth in North Korea while maintaining the nuclear deterrent critical to the North Korean regime's survival," Metzl said.
The North Korean decision to call off the meeting with South Korea comes amid a recent thaw in the inter-Korean relationship. The highlight of this thaw so far has been the historic April 27 summit between Kim and Moon in the truce village of Panmunjom on the border that separates the two Koreas. Kim made history by becoming the first North Korean leader to set foot in South Korea since the end of the Korean War in 1953.
Noting the warming in inter-Korean ties, Alexander "Sandy" Vershbow, a distinguished fellow in the Scowcroft Center and a former US ambassador to South Korea, said in an earlier interview with the New Atlanticist: "Whether that carries over to the relationship with the United States or the West, however, is far less clear."
Trump has confirmed his decision to meet Kim—a major concession to North Korea whose leaders have always sought, but never had, a meeting with a sitting US president.
North Korea, meanwhile, has suspended missile and nuclear tests, is taking steps toward dismantling a nuclear test site, and earlier this month released three US prisoners in what was seen as a goodwill gesture ahead of the Trump-Kim summit.
A question of denuclearization
Metzl said there was "always a central contradiction at the heart of this recent rapprochement" between the United States and North Korea.
"If the Trump administration pushed for North Korea to give up its nukes in the short term, the North Koreans would balk. If the North Koreans convinced the Trump administration to go along with a gradual series of confidence-building measures, the Trump administration would be signing on to the exact same flawed deal past US presidents have signed on to," he said.
"If the Trump administration is willing to accept North Korea keeping its nuclear weapons, then the path forward in negotiations is clear," said Metzl.
"If not and Trump pushes for quick North Korean denuclearization, both sides will be looking for face-saving ways out. The cracks in what was always a faulty process will soon become much, much bigger," he added.
The big question following the Kim-Moon summit was what denuclearization actually means in the context of the declaration that followed that summit, said Vershbow.
"In the past, denuclearization of the Korean Peninsula, as distinct from denuclearization of North Korea, has meant the potential withdrawal of the US nuclear umbrella all the way up to the withdrawal of the entire US military presence in South Korea, given that the US is a nuclear power," said Vershbow, who served as the United States' ambassador to South Korea from 2005 to 2008.
"There also have been statements [from North Korea] in the past implying that denuclearization needs to be part of a global process of disarmament, leaving North Korea as a nuclear power until that halcyon day arrives," said Vershbow. "So, there are certainly grounds for skepticism."
Ashish Kumar Sen is deputy director of communications, editorial, at the Atlantic Council. Follow him on Twitter @AshishSen.