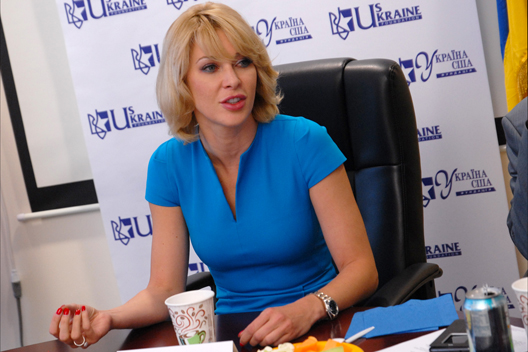 Two Kyiv-based women—a lawyer who heads a state agency created to reclaim stolen assets abroad and a social activist-turned-politician who's made a career out of exposing official corruption—spoke August 20 in Washington about their efforts to clean up Ukraine.
Olena Tyshchenko is director of the Agency for Asset Recovery at Ukraine's Ministry of Internal Affairs. Tatiana Chornovol is a member of Ukraine's parliament, the Verkhovna Rada, and one of the leaders of last year's Euromaidan.

The two are currently touring the United States to drum up support for their war-ravaged country, whose fragile economy is expected to shrink by 9 percent this year.
Tyschchenko and Chornovol spoke to twenty-five lawmakers, lobbyists, and business executives at a luncheon sponsored by the Washington-based US-Ukraine Foundation.
"We have a very strong will to do this, and we're trying to modernize the way the Ministry of Internal Affairs investigates criminal offenses. Ukraine does not have a lot of experience with this," said Tyshchenko, who was named to lead the new agency July 7 by Ukrainian Interior Minister Arsen Avakov.
She said that in the past, the Ukrainian government has had little success in recovering fraudulent assets, partly because of a lack of cooperation with other countries.
"We were always living in the dark. Our most recent international agreement was signed in 1995. Back then, the methods of communication were different than today," Tyshchenko noted. "Instead of relying on ourselves, I want to put pressure on Ukraine by exchanging information with other countries, because as soon as I officially give them information on money laundering, they won't let the case die."
She added: "It's important to bring the assets back to Ukraine, but the first step is to cut the people in question from those assets—and this can be achieved with other countries' help. I'm trying to break this vicious circle."
However, it's not easy when the average official bribe paid in Ukraine is $150,000, according to Tyshchenko, and when wealthy oligarchs control so many companies—from processed food to petrochemicals—that are crucial to Ukraine's economy.
"Most of our media still belongs to former oligarchs who use those channels for smear campaigns," said the lawyer, who previously represented the interests of Mukhtar Ablyazov—the former head of a major Kazakh bank embroiled in scandal. Tyshchenko also spent time in a Russian jail on suspicion of fraud and the laundering of $3.3 billion in illegally obtained funds, though she claimed those charges were politically motivated.
"I suddenly became very famous in Ukraine when seven programs were dedicated to me — one worse than the other," Tyshchenko said. "People who know me very well told me, 'if we didn't know you, we'd hate you.'"
But it's not just about negative propaganda campaigns, she asserted.
"These oligarchs still have assets which earn them hundreds of millions of dollars every year. The whole world blocks their assets and prevents them from accessing their money, yet Ukraine — the country which has suffered the most—allows them to earn money for bribes," she said.
Billionaire industrialist Dmytro Firtash, for example, enjoys strong support in the Rada, she claimed, despite the many questionable business deals that made him rich during the presidency of Viktor Yanukovych, who was ousted in 2014.
"He pushed legislation which was considered to be anti-Russian, so Ukraine closed the Russian border, leaving Firtash the only one able to sell fertilizer. He earned $200 million within a year on just one of his companies," Tyshchenko claimed.
Firtash, released from detention in Austria after posting bail of €125 million, is fighting extradition to the United States on bribery and money-laundering charges. Yet Ukraine has been stymied in its efforts to bring the tycoon to justice.
"We could not serve Firtash a subpoena because officially we didn't know he was in Austria, even though it was all over the newspapers. They would not take public information as evidence," Tyshchenko said, adding that "we are now working on drafting bilateral agreements with 20 other countries to give us additional mechanisms to get evidence and use it in court."
Chornovol, 36, resigned from her position as Ukraine's commissioner for anti-corruption policy in August 2014, after her husband—a fighter in the volunteer Azov battalion—was killed during the battle for Ilovaisk.
A former investigative journalist, Chornovol was severely beaten on December 25, 2013, hours after publishing an article on a lavish suburban residence she said was being built for Vitaliy Zakharchenko, Ukraine's then-minister of internal affairs.
"Huge amounts of money that were removed from the country under Yanukovych and kept abroad," Chornovol said through an interpreter. "Time is working against us in this case."
Tyshchenko said she doesn't expect Ukraine's local elections in October to bring any major changes, because the ruling coalition will remain in power.
"It is very popular to be patriotic, and people are so disappointed in their current government that they want to see new faces," she said. "But for a new face to appear, this face has to be installed by someone, and usually this someone either belongs to the old government or is corrupt."
She added that half of Ukraine's members of parliament are young people who profess to be Maidan supporters.
"But as a lawyer, when I see what they suggest in terms of legislation, I'm horrified. We need to survive one or two years more to see their true faces," she said. "To be honest, I'm pessimistic."

Larry Luxner is a Washington-based freelance writer.