Gazprom has purchased a controlling 51 percent stake in Serbia's state oil company, NIS. Equally as significant, Dmitry Medvedev and Serbian president Boris Tadic also signed a declaration of intent to include Serbia in the planned South Stream pipeline that will supply gas to Europe.
The agreement went through last week for €400 ($562.6) million after being delayed by earlier demands from Belgrade for more money.
Pricing Disputes
In November, Serbia extended the deal's signing deadline and requested that Gazprom buy a further 19.5 percent stake in NIS for an additional €500 ($638) million, according to B92. The original deal set a price of €400 million for the 51 percent stake plus €500 ($703.6) million to modernize NIS equipment, Ekonomist Media reported. However, the Serbian government felt that Gazprom was hesitant to spend the money needed for NIS modernization.
Furthermore, Deloitte and Touche consultants estimated the actual worth of NIS to be around €2.2 ($3.1) billion last month. Serbia's economy minister Mladjan Dinkic recently echoed this assessment, stating that the company's real price was around €2 ($2.8) billion. Although the final purchase price remained the same, Russia did offer a few concessions, including a discount on gas. The FT:
Dusan Mrakic, state secretary in the Serbian energy ministry, said Gazprom Neft would invest €550 million – rather than just €500 million – to upgrade NIS to meet EU standards by 2012. Moreover, NIS's local monopoly on oil derivatives – originally meant to disrupt fuel smugglers and compensate for NATO bombing damage in 1999 – would expire in 2010, without the five-year renewal the Russians had demanded, he said.
Uncertainty over South Stream
Critics abound – the deal is being called overly political with little real payoff, as many question whether Russian support over Kosovo is worth the money lost by selling NIS at an undervalued price. Additionally, Russian promises to build South Stream through Serbia seem less than robust; the original plans for the pipeline saw it run from Romania into Hungary without ever entering Serbia. The FT:
During final bargaining earlier this month, Gazprom's chief executive, Alexey Miller, said the pipeline would start operating by the end of 2015, with a 400km section going through Serbia on the way to western European markets. He has not said how Gazprom would compensate Serbia otherwise. The Russian group previously wanted two more years for overall South Stream feasibility studies before signing the gas-related contracts.

Serbia's pipeline segment – also to be under 51 per cent Russian control – would be part of the "main" branch, with a capacity of at least 10 million cubic meters, Mr. Miller said. Gazprom is also to build a gas-storage site in Serbia's north.
However, the pledge to finish South Stream by 2015 is seen as weak by the deal's opponents and potentially dangerous by some pro-European politicians. With the U.S. and the EU backing the rival Nabucco pipeline proposal, which would bypass Russia by bringing Central Asian natural gas through the Caucasus and Turkey, the plan to include Serbia in South Stream may very well hurt its efforts to join the EU. The deal follows profound disagreement over Kosovo that already exists between Serbia and the EU, most of whose members recognize Kosovo's independence.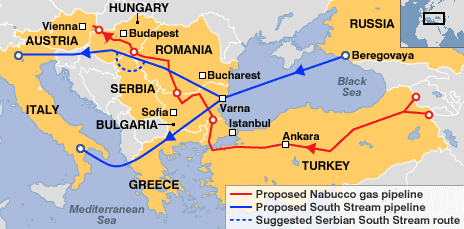 Planned South Stream and Nabucco Gas Pipelines (
BBC
)
At the least, Serbia's segment of the South Stream pipeline, if it materializes, would be economically beneficial for the country. Energy prices are likely to rise in the wake of the global downturn, and a realistic alternative to the EU's dependency on Russia for energy is a long way off. Yet, it is doubtful these gains outweigh those that would eventually emerge from European integration.
What Next?
The deal has already taken a toll on Serbia's pro-European governing coalition of Tadic's majority Democratic Party and the minority G17 Plus party headed by Dinkic. Internal disagreement within the coalition is part of the reason for the delay in signing the Gazprom deal in November. Prime minister Mirko Cvetkovic claimed Saturday that the deal has not destabilized the government, while Dinkic insisted a rift within the coalition has emerged. Relations with the EU could very well suffer.
Will Serbia use its newfound strategic importance as a bargaining chip for EU accession, or will it move further into the Russian fold? To date, Serbia has not been asked to be part of Nabucco, so entrance into this project remains, in theory, a possible carrot for pro-Western behavior. (Meanwhile, Gazprom will resume talks in January with Slovenia about construction of its portion of South Stream, the Slovenian Press Agency reported.)
Moreover, Belgrade has lately stepped up efforts to catch accused Bosnian Serb war criminal and fugitive General Ratko Mladic after capturing Radovan Karadzic in June. Belgrade and Serbia even agreed on the deployment of EULEX, the EU's policing and justice mission in Kosovo. Still, much depends on the EU's reaction to the deal as well as the speed at which Nabucco and South Stream move forward.
Peter Cassata is an assistant editor at the Atlantic Council.