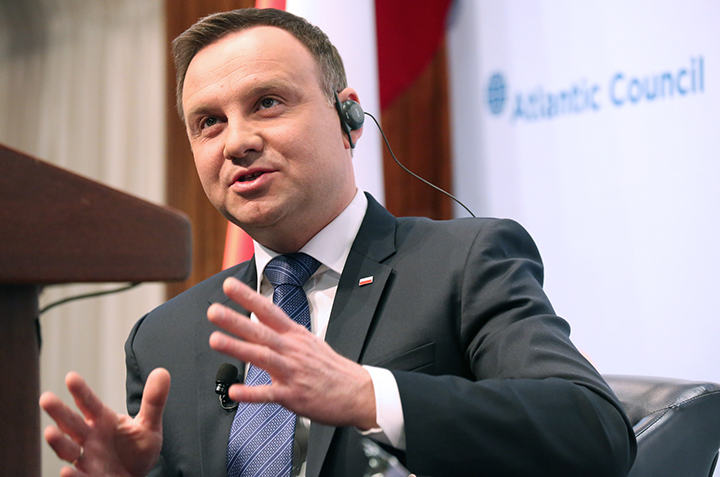 'Real deterrence means real presence,' says Polish President Andrzej Duda
Poland's President, Andrzej Duda, wants an enhanced NATO presence—in the form of troops as well as infrastructure—in Central and Eastern Europe to deter Russian aggression, but said his government does not want to isolate Russia or return to the Cold War.
Noting Russia's military buildup in Kaliningrad Oblast, which borders Poland; its growing missile potential; and "aggressive" military exercises near the Baltic States, the Polish President emphasized the importance of "real deterrence" on Europe's eastern flank in the face of these challenges.
"Real deterrence means real presence," he said.
Duda spoke at the National Press Club in Washington on March 30 at an event co-hosted by the Atlantic Council and the Center for European Policy Analysis (CEPA). Following his remarks, Duda participated in a discussion with Joe Scarborough and Mika Brzezinski, hosts of MSNBC's "Morning Joe."

NATO will hold its annual meeting in Warsaw in July. Duda said the summit must demonstrate that "we are capable of building an adequate and cohesive defense potential based on resilience and deterrence."
"The Alliance should once again be able to define the security situation in its own territory on its own conditions. We cannot afford to be one step behind," he added.
Poland, Duda said, is key to the Baltic States' defense and there is a need for NATO to pre-position defensive equipment in Central and Eastern Europe, including in Poland, that can be used by the Alliance in case of a threat. "Today, we do not have such capabilities," he added.
The United States has expanded its presence in Europe's east following Russia's annexation of Crimea in March of 2014 and its support for separatists in eastern Ukraine. The Pentagon has drawn up plans to deploy three fully manned US combat brigades to Eastern Europe. In February, the Pentagon proposed quadrupling its budget in 2017 in response to an "aggressive Russia."
Duda described such US engagement in NATO as crucial. Still, Duda said, in his conversations with the leaders of Poland's neighbors all of them agree that NATO's presence in "our part of Europe" needs to be strengthened.
Frederick Kempe, President and CEO of the Atlantic Council, said Russia's actions in Ukraine "are a challenge to the post-Cold War order founded on the sanctity of European borders."
"It has forced us to rethink our vision of the world in which the transatlantic partnership operates," he said, adding that Poland has been a "leading voice urging us to take on that reappraisal."
Transatlantic security is at a "turning point" and Europe's security environment has "deteriorated dramatically," said Duda.
"What threatens Europe today is…the policy of a certain state, which results in permanent violation of international law," said Duda, referring to Russia. However, he added, "Poland, just like the whole of Europe, does not seek to isolate Russia" and is determined to maintain an "element of normality" with its neighbor through cultural and social exchanges.
But, he said, the law has to be respected in order for a dialogue to be possible.
The United States and Europe imposed sanctions on Russian officials and entities following the annexation of Crimea in 2014. Duda said some European politicians are now eager to get back to doing business with Russia. Europe should "absolutely not" agree to that because it would signal the acceptance of an aggressive policy, he said.
A staunch US ally, Poland has contributed troops to Iraq and Afghanistan and it is one of the few NATO member states that meets the Alliance's goal of spending two percent of national GDP on defense.
The migrant crisis
Europe today faces challenges not just on its east, but also on its south where more than a million migrants have moved into the continent since 2015. A majority of the migrants are fleeing wars in Syria, Iraq, and Afghanistan. Europe also faces continued terrorist threats from the Islamic State of Iraq and al-Sham (ISIS) as was evident from the attacks on Paris on November 13, 2015, and the suicide bombings in Brussels on March 22 of this year.
Europe has struggled to address the historic flow of migrants—the largest since World War II. The EU and Turkey reached a deal on March 18 to send all migrants who attempt to enter Europe via the Aegean Sea back to Turkey. In a "one-to-one" swap, Europe will take in one Syrian from a Turkish refugee camp for every Syrian returned from Greece. That number, however, has been capped at 72,000.
A separate plan proposed by European Commission President Jean Claude Juncker to distribute 160,000 migrants across the twenty-eight-nation European Union has floundered in the face of opposition—mainly from Eastern European nations.
Following the Brussels attacks on March 22, Poland's Prime Minister Beata Szydlo said her country would not accept any immigrants. However, Poland's Foreign Minister, Witold Waszczykowski, has since clarified that Poland will stand by its commitment to take in 7,000 refugees as long as they are adequately screened and willing to settle in Poland.
Duda defended Poland's response saying "sensible" security procedures must be in place before migrants are allowed entry. The attacks in Paris and Brussels underscored that the migrant crisis is not only a humanitarian and economic challenge, but a security one as well, he said.
"Many European leaders are catching their own tail," Duda said, referring to the European response to the crisis.
Insisting that Poland will keep its borders open to those who want to settle in the country, Duda said: "We have not thrown out anybody from our country…However, we do not agree with the policy of relocating refugees by force under the quota system."
"So far," he added, "Europe has not conducted a cohesive policy to solve this crisis."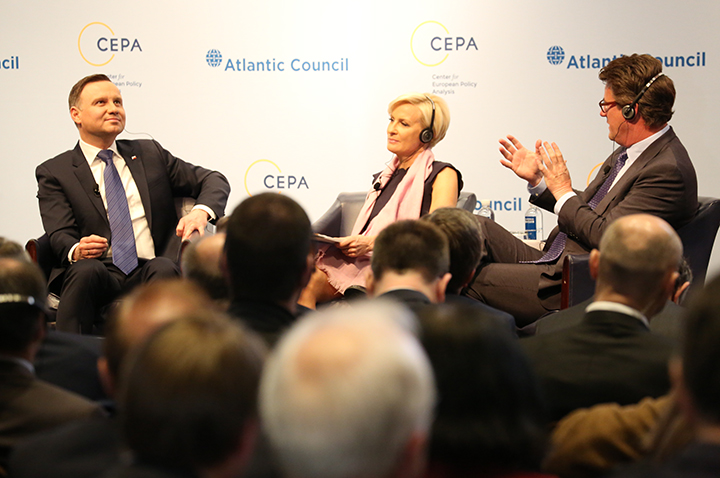 Poland's President, Andrzej Duda, participated in a discussion moderated by Joe Scarborough and Mika Brzezinski, hosts of MSNBC's "Morning Joe," at the National Press Club in Washington on March 30. The Atlantic Council and the Center for European Policy Analysis jointly hosted the event. (imagelinkphoto.com/Dennis Kan)
Poland's right turn
Duda's Law and Justice Party (PiS), led by former Prime Minister Jarosław Kaczynski, swept to power in elections in October of 2015. Since then, PiS has tightened controls over the civil service, the courts, and the media, sparking large protests across Poland.
These actions also set off alarms among the European Commission, which opened an unprecedented inquiry in January to determine whether Duda's approval of controversial laws enabling the PiS government to appoint the heads of public television and radio outlets, and pick judges for Poland's constitutional court violated the rule of law.
These controversial policies are seen as a reason for Duda's failure to secure a meeting with US President Barack Obama while in Washington to attend the Nuclear Security Summit this week.
"Barack Obama's rejection of Andrzej Duda's request for a meeting is the biggest failure of Polish diplomacy" commentator Jedrzej Bielecki wrote in Rzeczpospolita, a major Warsaw-based Polish daily.
But Duda is just one among dozens of heads of state and government who will be in Washington this week. Only a small number of them have one-on-one meetings scheduled with Obama.
"It is palpably in the American national interests for Poland to succeed," said Wess A. Mitchell, President of CEPA.
"The West has deficits of attention, willpower and solidarity," said Mitchell. "This is not a relationship that we can leave on autopilot."
Duda defended concerns surrounding judicial independence in Poland. The judicial system is "functioning and nothing has changed," he said.
Moreover, he added, there have been "no attempts at exerting an impact on the judicial system in Poland which could infringe on its independence or the independence of its justices."
The US elections
Duda refused to be drawn in on questions from Brzezinski and Scarborough on the US presidential elections, particularly Republican frontrunner Donald Trump's campaign. Trump has called NATO "obsolete" and wants the United States to scale down its contributions to the Alliance; he has also championed an "America first" and isolationist policy.
The Polish President said a stable Europe is in the United States' interests and that he was confident that the American people will "make a good choice" on Election Day in November.
As for Trump's more isolationist tone, Duda said he was not surprised when candidates make such statements. "What should they tell Americans? That America is not the most important country in the world?"
Ashish Kumar Sen is a staff writer at the Atlantic Council.