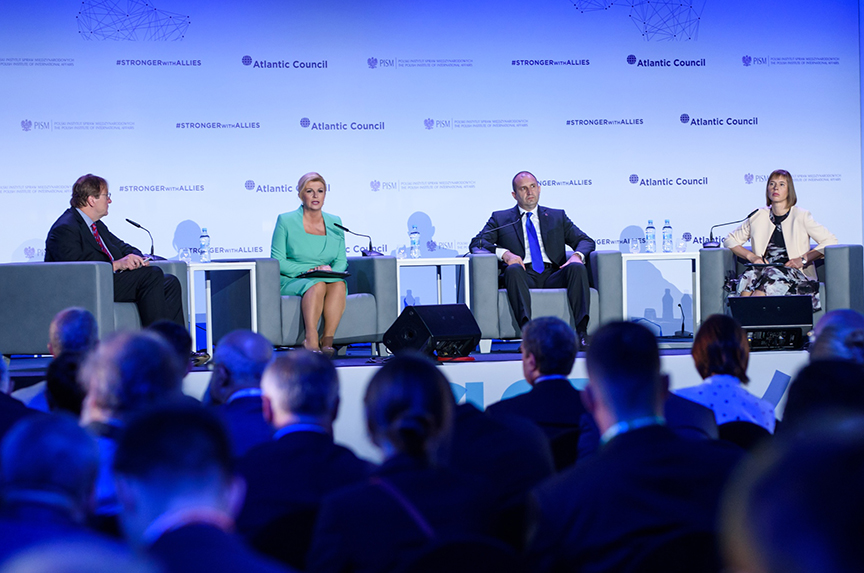 US President Donald J. Trump has provided "valuable" support to the Three Seas Initiative, but he can go further by encouraging US businesses to participate in the plan that seeks to improve trade, infrastructure, and energy links among the twelve nations between the Baltic, Black, and Adriatic Seas, Croatian President Kolinda Grabar-Kitarović said at the Atlantic Council's Global Forum in Warsaw on July 7.
"What President Trump can do is to encourage American businesses to look at the initiative more closely and to participate in the initiative," said Grabar-Kitarović who, together with Polish President Andrzej Duda, launched the Three Seas Initiative in 2016.
Grabar-Kitarović participated in a panel discussion with Bulgarian President Rumen Radev and Estonian President Kersti Kaljulaid. Atlantic Council President and Chief Executive Officer Frederick Kempe moderated the discussion.

The Three Seas Initiative, to which twelve nations—Austria, Bulgaria, Croatia, the Czech Republic, Estonia, Hungary, Latvia, Lithuania, Poland, Romania, Slovakia, and Slovenia—have signed on has received a tepid response from the private sector.
Kaljulaid said that through her participation in the Three Seas Initiative summit she hoped to send a signal to private sector companies in Estonia that they can play in a market of more than 105 million people. While emphasizing the importance of private sector participation, she said politicians can serve to "show the way."
Where the private sector has been hesitant, China has been quick to see an opportunity.
"China has reacted very quickly," said Grabar-Kitarović, noting a Chinese enthusiasm to fund Three Seas Initiative infrastructure projects. She urged an expeditious response from governments, including Croatia's, and the private sector to develop some of the projects.
Trump's presence at the Three Seas Initiative summit in Warsaw on July 6 put a spotlight on the initiative seen as necessary to knit together the countries of the region.
Most of this region's critical infrastructure, including road and rail networks, run on an East-West network in part due to Germany's economic dominance. The Three Seas Initiative would develop the North-South axis in the areas of energy, transportation, and digital communications.
"The Three Seas Initiative will transform and rebuild the entire region and ensure that your infrastructure, like your commitment to freedom and rule of law, binds you to all of Europe and, indeed, to the West," Trump said in his address to the summit.
Most of the Three Seas Initiative countries are heavily reliant on Russian oil and gas imports. In Poland, Trump touted US energy exports to Europe as an alternative to Russian supplies. Grabar-Kitarović said the planned liquefied natural gas (LNG) terminal in Krk Island in Croatia was crucial to providing this energy independence and to Croatia's geostrategic position.
"If you have right [gas] connections you are in no way hostage to one supplier," said Kaljulaid.
While emphasizing energy independence, Grabar-Kitarović said the lack of transportation infrastructure has hurt the competitiveness of countries situated along the North-South axis.
Grabar-Kitarović presented a catalogue of more than 150 projects at the Three Seas Initiative summit that includes infrastructure, energy, and digitalization projects valued at more than €45 billion.
While applauding the fact that the Three Seas Initiative has a clearly stated vision, Radev said the challenge is finding the resources to achieve those goals. The number of projects presented by Grabar-Kitarović far exceeds the funds available for execution, he pointed out.
One option would be for each nation to take on a portion of the projects and develop them within its border, the Bulgarian president said. Subsequently, countries could combine efforts with the aim of optimizing budgets; attract funds from European Union (EU) member states; and encourage governments, businesses, and nongovernmental organizations to work together, he said.
"I think we have almost exhausted the level of political talking," said Radev. "Now it's time for a pragmatic approach for the governments and business… to find the best way to implement the strategy that we have in front of us," he added.
While some signatories have turned wary that the initiative could create divisions within the European Union (EU), Grabar-Kitarović said that it is not directed at any country.
"This is an initiative that is not aimed against anyone. Not against the European Union, not against Germany, not against Russia, this is not an American Trojan horse in Central Europe," she said. "This is an initiative for better living standards for all of our citizens and the competitiveness of our economies, which will contribute to the cohesion of the European Union as a whole and which will, I believe, contribute to the competitiveness of the European Union as well."
The panelists touched briefly on the situation in Ukraine, where Russia's annexation of Crimea in 2014 and its support for separatists in the east ever since has created tensions with Europe.
Kaljulaid emphasized the need to stand up for Ukraine's territorial integrity.
Radev, whose country has close energy and economic ties with Russia, said Europe faces a "huge problem" as a result of the crisis in Ukraine. "This crisis is turning [out] to be a typical example of a frozen low-intensity conflict. That conflict will push away EU and NATO from Russia's border," he said, adding that a solution needs to be quickly found.
A failure to find a solution will have a detrimental effect on security, free trade, and energy security, "something we cannot afford in the long run," Radev said. NATO, he said, should continue to develop and sustain defense and deterrence capabilities, "but we should always remain open to a dialogue with Russia."
Trump had his first face-to-face meeting as president with Russian President Vladimir Putin in Hamburg, Germany, on July 7. "We look forward to a lot of very positive happenings for Russia and for the United States, and for everyone concerned," Trump said.
Ashish Kumar Sen is deputy director of communications at the Atlantic Council. You can follow him on Twitter @AshishSen.