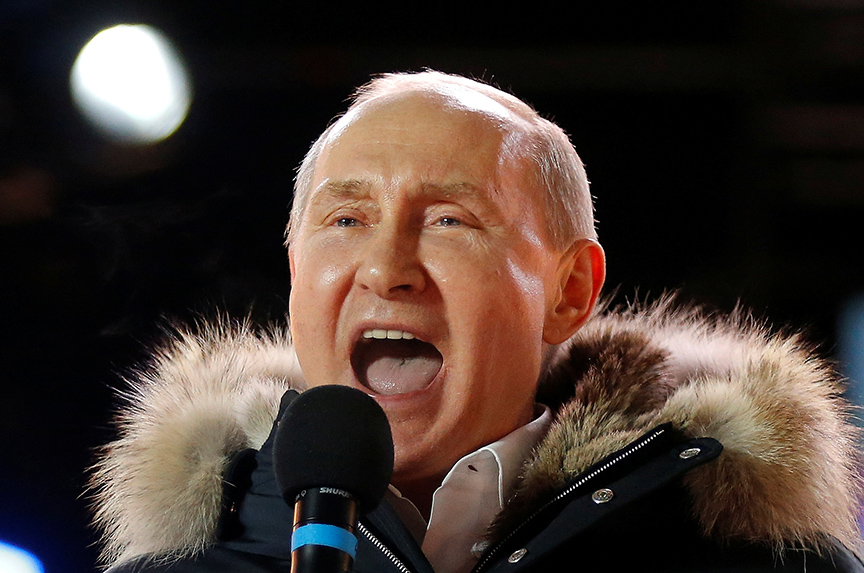 Vladimir Kara-Murza bristles when the words "election" and "Vladimir Putin" are strung together in the same sentence.
"There are many ways to describe what happened in Russia [on March 18]. Election is not one of them," said the Russian opposition figure who, despite surviving two apparent poisonings, remains an ardent critic of Russian President Vladimir Putin.

Putin's political fortunes appear exempt from the usual uncertainties of democracy. He handily—and expectedly—won yet another six-year term as president of Russia on March 18 with more than 76 percent of the vote. His victory was aided by the fact that he faced no real opposition. His main opponent—Alexei Navalny—was barred from the election.
"It has been said that the surest sign of a real election is when you are certain about the procedures, but not certain about the outcome," said Kara-Murza, vice chairman of Open Russia, a movement that advocates for democracy and human rights in Russia. In Russia, Kara-Murza added, that surety has been the other way around for many years.
US President Donald J. Trump, French President Emmanuel Macron, and German Chancellor Angela Merkel, have all congratulated the Russian leader on his re-election. Kara-Murza views these congratulatory messages as a slight to the Russian people. "When Western leaders do that, they are in effect congratulating Mr. Putin on a successful theft," he said.
Lilia Shevtsova, an associate fellow in the Russia and Eurasia program at Chatham House, described the election as a plebiscite in which Putin—in the absence of any real opposition—sought only to best his earlier margins of victory. He did.
Kara-Murza and Shevtsova participated in a panel discussion hosted by the Atlantic Council's Eurasia Center on March 19. The panelists—who also included Anders Åslund, a senior fellow in the Eurasia Center, and Alexander Vershbow, a distinguished fellow in the Atlantic Council's Scowcroft Center for Strategy and Security—discussed the implications of Putin's victory. John Herbst, director of the Eurasia Center, moderated the discussion.
Putin and the West
Putin, a former KGB spy, has dominated Russian politics since 2000. Over nearly two decades, he has played political musical chairs in an attempt to dodge presidential term limits—serving as president and then prime minister and then as president again.
Putin cannot stand for re-election under current Russian law. However, he may draw inspiration from his neighborhood where China, earlier in March, did away with presidential term limits effectively allowing Xi Jinping to serve as president for life.
From the 2014 annexation of Crimea to the meddling in US and European elections, Putin has steadily ratcheted up tensions with the West.
In a provocative move, Russia's parliament set the election for March 18—the fourth anniversary of Russia's annexation of Crimea.
In his State of Russia speech on March 1, Putin boasted that Russia had developed "invincible" nuclear-capable, low-flying missiles that can render existing missile defense systems "completely useless."
Days later, on March 4, a former Russian spy, Sergei Skripal, and his daughter were poisoned in the English city of Salisbury with a highly toxic nerve agent. British Prime Minister Theresa May blamed Russia for the incident.
A day after he was re-elected, Putin said that he is open to "constructive" dialogue with the West. "But, of course, that doesn't depend on us alone," he said. "Just as in love, both sides must show an interest or there will be no love."
Vershbow, who served as the US ambassador to Russia from 2001 to 2005, was skeptical that Putin will actually give up his confrontational posture.
"On foreign policy, he will continue to judge that the besieged fortress, Russia standing up to the West, is still a winning strategy in terms of domestic support," he said.
"I see him continuing on the track he is on…continuing to play a zero-sum spoiler role vis-à-vis the United States," said Vershbow. "The bigger question is whether at some point during his six-year term the pressures of economic stagnation and popular discontent over that will begin to manifest itself in a more coherent way than it has to date," he added.
Åslund said Putin "does not want to see political destabilization coming out of financial instability." However, he added that he does not expect real economic reforms to come from the Kremlin anytime soon.
The Skripal poisoning
The British government blamed Russia for the attempt on the Skripals' lives, Russia denied the accusation as outrageous, London then expelled twenty-three Russian diplomats, and Moscow responded in kind.
In a rare statement, Trump, Macron, and Merkel joined May in rebuking Russia over the poisoning. That incident, the four leaders said, "threatens the security of us all."
The Skripal poisoning, which occurred just days before the Russian election, suggests that Putin has a very high tolerance for risk, said Herbst.
Vershbow contended that this "posture of defiance—that the West can't touch me," is the message Putin was trying to impress on the Russian electorate, and they appeared to lap it up. "That reinforces my judgment that he is likely to stay on this confrontational course" with the West, he added.
Shevtsova said that the poisoning of the Skripals served as a very clear warning to Putin's critics, particularly those that live in the West. Åslund agreed, noting that the incident was a "win-win" for Putin because besides intimidating his critics, it made the United Kingdom look impotent and showed the West to be deeply divided when it comes to dealing with Russia.
How should the West react?
Kara-Murza said he does not believe in imposing blanket sanctions against a country. "We do not believe it makes sense to punish an entire country for the actions of a small, unelected clique sitting in the Kremlin," he said.
Targeted sanctions, on the other hand, are a more effective approach and more Western democracies, including the United Kingdom, should take such measures, he said.
The United States already has such a tool in the form of the Magnitsky Act.
In 2012, then-US President Barack Obama signed the Magnitsky Act, named for Sergei Magnitsky, a thirty-seven-year-old lawyer who died in a Moscow detention center in November of 2009. Before his death, Magnitsky claimed to have uncovered a $230 million tax fraud involving Russian government officials.
In 2016, the US Congress expanded the act's scope when it passed the Global Magnitsky Act. This act blacklists anyone who has committed gross violations of human rights against anti-corruption activists or human rights defenders.
Beside the United States, Canada and the three Baltic States—Estonia, Lithuania, and Latvia—have enforced measures similar to the Magnitsky Act. Kara-Murza despaired that other Western democracies, including the United Kingdom, have not.
"There has been this phenomenal hypocrisy whereby the officials and oligarchs in the Putin regime who undermine and attack the most basic norms of democracy in Russia want to enjoy the privileges of democracy for themselves or for their families in the West," said Kara-Murza.
"They want to steal in Russia but spend in the West…and the United Kingdom has long been a particularly favored destination for those people," he added.
Following the Skripal case, British authorities announced that they would investigate allegations of Russian state involvement in fourteen mysterious deaths in the United Kingdom. The absence of a strong British response to these crimes only emboldened the perpetrators, said Kara-Murza, who wondered what it would take for the United Kingdom to get tough with Putin and his cronies.
Vershbow added: "I am a little skeptical that the West has its act together sufficiently—that includes the United States, of course—to actually significantly increase pressure on Russia that might change its calculus over the next six years."
Ashish Kumar Sen is deputy director of communications, editorial, at the Atlantic Council. Follow him on Twitter @AshishSen.