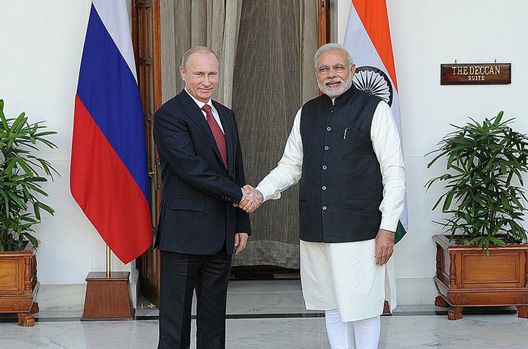 Atlantic Council's Bharath Gopalaswamy: 'Russia is keen to demonstrate that it has friends in other parts of the world'
The meeting between Russian President Vladimir Putin and Indian Prime Minister Narendra Modi in New Delhi on December 11 sought to re-energize a relationship between two nations which had its peak during the Cold War.

The summit produced billions of dollars of deals in nuclear power, oil, and defense. Most prominent among these deals are:
• Nuclear: Russia's state-owned Rosatom will build 12 nuclear reactors in India;
• Energy: Russia's Rosneft signed a deal with India's Essar Oil to ship around 10 million tons of crude to India over the next decade;
• Defense: Russia will manufacture advanced multi-role military helicopters in India.
Putin's visit to India comes at a time when Moscow's relationship with the West has become increasingly strained by its annexation of Crimea and its meddling in Eastern Ukraine. The US and the European Union have imposed sanctions on Russia, including some Russian and Ukrainian officials, over Russia's actions in Ukraine.
Asked at the daily briefing on December 11 to comment on the deals struck between Russia and India in New Delhi, State Department spokesman Jen Psaki said: "It's not time for business as usual with Russia."
In a move expected to annoy the West, Putin included the Russian-backed leader of Crimea, Sergey Aksyonov, as part of his delegation to India. Aksyonov is under sanctions imposed by the US and EU. In its sanctions announcement in March, the White House said it was targeting Aksyonov for "threatening the peace, security, stability, sovereignty, or territorial integrity of Ukraine, and for undermining Ukraine's democratic institutions and processes."
Psaki said the Obama administration was "troubled" by reports that Aksyonov was part of Putin's delegation.
India's Ministry of External Affairs said it was not aware that Aksyonov would be part of the delegation. Russia and India have long had a close relationship. India tilted toward Russia during the Cold War as Pakistan grew close to the US, but the two nations have grown apart in recent decades.
Russia has been less than happy about India's decision to buy French Rafale fighter jets and US Apache attack helicopters over Moscow's defense products.
India, meanwhile, has watched with concern as Putin has signed gas pipeline deals with China and restarted defense trade with Pakistan.
Isolated by the West, the Russian leader is looking elsewhere for friends and renewing old friendships.
The symbolism of Putin's visit to India is important because "Russia is keen to demonstrate that it has friends in other parts of the world, besides the US and Western Europe," Bharath Gopalaswamy, deputy director of the Atlantic Council's South Asia Center, told the New Atlanticist's Ashish Kumar Sen in a phone interview from New Delhi.
Excerpts —
Q: What, for you, was the highlight of President Putin's visit to India?
The nuclear deal was the highlight of the visit. But, more than anything else, it's the symbolism [of the visit] that matters. In international relations symbolism is important.
Q: The two sides signed billions of dollars of deals in nuclear power, oil, and defense. Does this in anyway setback the Western effort of imposing sanctions on Russia over its actions in Ukraine?
Russia is keen to demonstrate that it has friends in other parts of the world, besides the US and Western Europe. India has historically been a very important partner for the Russians. Putin's visit to India demonstrates that the Russians can attract attention beyond the United States or Western Europe. The Russians will court other Asian partners. If the West will impose sanctions on them they will gravitate toward Asia, and particularly South Asia. The Russians have nothing to lose by courting India or Pakistan.
Q: Do you see any kind of pushback from the West as India deepens its relationship with Russia?
I don't think so, particularly because today India is in a very good position, strategically speaking. As the Russian Ambassador to India [Alexander Kadakin] put it, India is "a rich fiancée with many bridegrooms." By virtue of its geography and its politics, India is in a much stronger position than it was a few years ago.
Q: Is there anything in Putin's visit to India that will worry Washington?
I don't think Washington is going to be particularly concerned about anything. It is going to watch and see what Russia can offer. Ultimately, the effectiveness of any deal is how it can be materialized into reality. India is too big, too strong, and too independent to be influenced by any of its partners. Washington, more than anybody else, knows this very well.
Q: Changing geopolitical circumstances have added a strain in the Russia-India relationship. Even though Russia and India work together in the BRICS [a grouping of emerging markets that includes Brazil, Russia, India, China, and South Africa] to what extent do differences between the West and Moscow weigh on the Russia-India relationship?
There is some impact in the Russia-India relationship. The Russians have been observing India getting closer to the West, particularly in the last few years. Russia has, in turn, lifted its arms embargo on Pakistan. In a subtle way, the Russians are signaling to the Indians that they are also keeping their options open as the Indians have diversified their options too!
Q: In what appears like reassurance to the Russians, India has declared Russia to be its main defense supplier. What is the significance of such statements?
For India, reassuring Russia remains, to a large extent, part of its effort to dissuade Russia from a closer collaboration with Pakistan.
As India is more closely realigning itself with the West — especially the US and Israel — there is very little that Russia can do to stop this alliance. Yet while India would like to align itself more with the West, it would not want Russia to get too close to Pakistan. From the Russian point of view, it is understandable that they want to keep their options open.
Q: What about India's concerns about Russia's relationship with China?
No conversation is complete without a discussion about China. Russia had a $400 billion [gas] deal with China. If India looked at the deal the Russians have made with the Chinese and they wanted a similar alignment they would also leverage Russia's resources vis-à-vis its declining political influence. The bottom line here is India very well knows that it can leverage its position vis-à-vis China, Russia, as well as the United States. They're smart enough to do it, and they're doing exactly that.