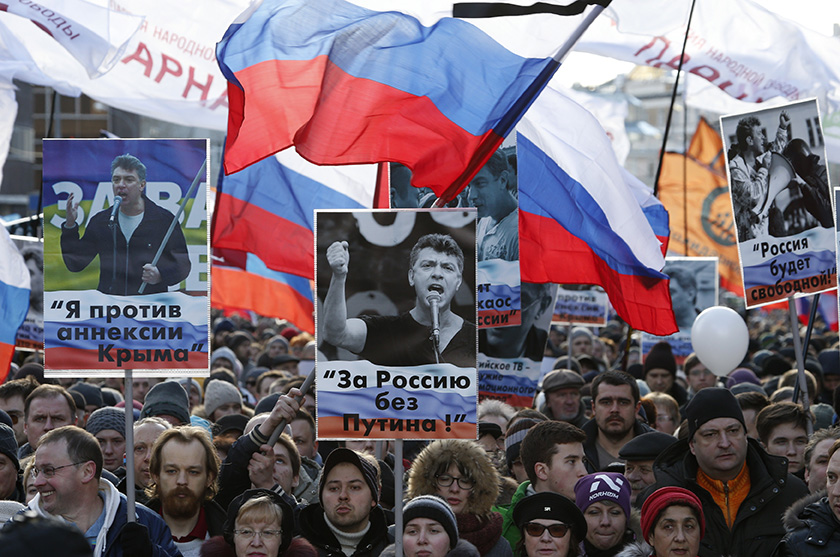 Boris Nemtsov's legacy and his final project—exposing the Kremlin's role in the war in Ukraine—were remembered at an event in Washington to mark the first anniversary of his assassination.
"He was a man of great values," said Paula J. Dobriansky, a Senior Fellow at Harvard University and an Atlantic Council board director.
Nemtsov was shot dead outside the Kremlin on February 27, 2015. In Moscow, thousands of people participated in a memorial rally to mark the first anniversary of his assassination.
Dobriansky acknowledged the "profound" role Nemtsov, a Russian opposition politician, had played in exposing the Kremlin's lies by documenting the presence of Russian troops in Ukraine. She spoke at an event hosted by the Atlantic Council and the US Senate Human Rights Caucus in Washington on March 2.

Dobriansky was joined in a panel discussion by Rob Berschinski, Deputy Assistant Secretary of State in the Bureau of Democracy, Human Rights, and Labor, and Carl Gershman, President of the National Endowment for Democracy. John Herbst, Director of the Atlantic Council's Dinu Patriciu Eurasia Center, moderated the discussion. Sen. Mark Kirk (R-Ill.), a co-chairman of the US Senate Human Rights Committee, delivered opening remarks.
Panelists expressed their solidarity with opposition activists who have increasingly come under attack in Russia.
One such activist, Vladimir Kara-Murza, a critic of Russian President Vladimir Putin, was poisoned in 2015. He survived and is undeterred in his quest to fight for Russia's future.
"We must never abandon activists like Vladimir Kara-Murza," said Gershman.
The violence against the opposition is linked to a combination of factors, including the war in Ukraine and Ramzan Kadyrov, the increasingly rogue leader of Chechnya. Gershman described Kadyrov as "an uncontrollable force of violence."
Kadyrov has been at the center of recent media coverage likening him to Putin's own Frankenstein's monster. Whether or not Kadyrov is Putin's creation, he is certainly Putin's man. He rules Chechnya as a criminal state within a state. And the violations of Russian and international law that he perpetrates are tolerated, if not approved, by Putin.
Kadyrov is suspected of having ordered Nemtsov's assassination and is intimately entwined with the broader atmosphere of fear, violence, and repression within Russia. He continues to make violent threats against democracy activists in Russia and has a well-documented history of killing those who oppose or speak against him.
A report by Ilya Yashin, a leader of the pro-democracy Republican Party of Russia-People's Freedom Party (RPR-Parnas), which Nemtsov led until his death, documents Kadyrov's crimes and the threat he poses not only to the international order, but also to Russian security. The Atlantic Council will host the US launch of Yashin's report, A Threat to National Security, on March 24.
War in Ukraine
Following remarks remembering Nemtsov, his life, and his activist legacy, the conversation turned to the subject of the project that Nemtsov was working on at the time of his death—exposing the Kremlin's role in the war in Ukraine.
The Russian propaganda machine has diligently pumped out the fallacy that the war in Ukraine is a civil conflict. Nemtsov exposed not just the presence of Russian soldiers in Ukraine, but also the lies surrounding the Kremlin's version of the conflict.
The Russian state has acted swiftly against activists who question the legitimacy of the war in Ukraine and the annexation of Crimea. Kirk noted the sentencing of Darya Poliudova, a political activist and blogger, to serve time in a prison colony. Poliudova was convicted under one of many anti-terrorism and security laws enacted by Putin's government.
Gershman said Putin is terrified of Ukraine's success as a democracy and the possibility of its integration into the European Union. The root of this fear, according to Gershman, is the awakening Ukraine's success would spark in Russia: A realization that democracy and freedom are possible. It is this perspective, not the assertion that NATO expansion provoked Russia to attack Ukraine, which the panelists found most compelling.
"If Ukraine can succeed, in my view, Putin is finished," said Gershman.
Mikaila Altenbern is a communications coordinator at the Atlantic Council.