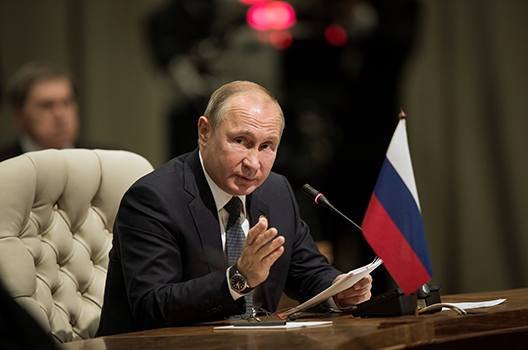 On August 8, the Russian newspaper Kommersant published a draft of what they claim is the new Defending American Security from Kremlin Aggression Act (DASKAA), a bill US senators introduced on August 2 that aims to punish Moscow for its interference in American elections, its continued support for the Bashar al-Assad regime in Syria, and the illegal annexation of Crimea.
US Senator Lindsey Graham (R-SC) said the new sanctions were necessary because existing measures had "failed to deter Russia from meddling in the upcoming 2018 elections," and that these sanctions would be in place "until [Russia] ceases and desists meddling in the US electoral process."

The new bill could replace Senator Marco Rubio (R-FL) and Senator Chris Van Hollen's (D-MD) DETER Act bill, which would establish specific automatic penalties on Russia should the Director of National Intelligence determine that Moscow had taken active measures to influence US elections.
The introduction of new sanctions are being discussed after US national security officials sounded the alarm on Russia's attempt to meddle in the November US midterm elections at the White House on August 2. On July 31, Facebook announced that it had removed thirty-two fake accounts from its website for trying to covertly influence the upcoming elections. Facebook has been working with the Atlantic Council's Digital Forensics Research Lab to investigate the fake pages.
After Kommersant leaked the alleged draft of the new sanctions bill, the Russian ruble fell to 64.91 per US dollar in trading, down 2.2% and at the lowest level since November 2016. Elements of the bill had been previously known and reported on before, but this full version jolted Russian financial markets as it became clear just how far American legislators were prepared to take these new sanctions.
The report comes the same day as US Senator Rand Paul (R-KY) was in Moscow to hand deliver a letter from US President Donald J. Trump to Russian President Vladimir Putin. Paul said the letter "emphasized the importance of further engagement in various areas including countering terrorism, enhancing legislative dialogue and resuming cultural exchanges." The US State Department also announced new sanctions on Russia on August 8, in response to the poisoning of Sergei Skripal and his daughter in the United Kingdom last March.
The US Senate is in recess until August 15 and the House of Representatives will not return to Washington until September 4, meaning that the new sanctions bill will not be voted on for some weeks. It remains unclear whether the White House will support the new sanctions or not.
Atlantic Council experts comment on the new sanctions bill and the effect it will have on Russia. Here is what they had to say:
Anders Åslund, resident senior fellow at the Atlantic Council's Eurasia Center:
"Presidents Trump and Putin's meeting in Helsinki has provoked the US Congress to prepare a large number of bills on new sanctions on Russia, including the likely DASKAA. The most controversial area of DASKAA is energy sanctions. It advocates sanctions "on transactions related to investment in energy projects supported by Russian state-owned or parastatal entities," which worries US energy companies. Russian state financial institutions might also become a focus, but that is not obvious. Congress is likely to call for a reinforcement of the State Department as coordinator of sanctions policy and the US intelligence agencies will be asked to reveal Putin's personal wealth." (Åslund's full analysis of pending sanctions can be found here.)
John E. Herbst, Director of the Atlantic Council's Eurasia Center:
"This bill is the latest example of a more assertive Congressional role in foreign policy prompted by concerns about some of the policy inclinations of President Trump. At a minimum, it seeks to limit the president's ability to make undue concessions to the Kremlin or to weaken our NATO alliance.
"Concerned about the President's erratic performance at the NATO summit, this legislation would underscore the American commitment to the Alliance by complicating a possible decision by the President to withdraw. Concerned that the president was insufficiently tough on Russian aggression in Ukraine and elsewhere, it would underscore that the United States would never recognize Moscow's illegal annexation of Crimea.
"It also would significantly strengthen United States sanctions on Russia for its war in Ukraine, its intervention in Syria, and its ongoing interference in U.S. elections, and would insist on measures to help the United States better combat Kremlin disinformation and cyber operations. It is notable too that the legislation would require the administration to publicly report on President Putin's personal wealth."
Daniel Fried, distinguished senior fellow in the Atlantic Council's Future Europe Initiative and Eurasia Center. In the course of his forty-year Foreign Service career, Fried played a key role in designing and implementing American policy in Europe after the fall of the Soviet Union:
"The bill includes strong and potentially effective sanctions, including on Russian sovereign debt, and closes a channel for corrupt Russian money flows by requiring disclosure of high-end real estate deals. Its energy provisions are more problematic, but overall it is a good piece of work.
"The Russians may be as confused as the rest of the world about official US government Russia policy. President Trump says one thing and his administration another."
Richard Morningstar, chairman of the Atlantic Council's Global Energy Center:
"The most immediate effect of the new proposed pieces of legislation for the energy sector is to create increased uncertainty for projects that include Russian company participation. It is important to clarify under what circumstances projects with Russian participation would be affected.
"Could pipeline projects such as Nord Stream 2 or even the Caspian Pipeline Consortium (CPC) pipeline from Kazakhstan through Russia be sanctioned? What about other projects that have minority Russian partners? What projects will be grandfathered in or exempted for policy considerations? What will be the thresholds for participation? Investors abhor uncertainty. These issues should be clarified as soon as possible, so that risks can be adequately assessed."
Evelyn Farkas, nonresident senior fellow at the Atlantic Council's Eurasia Center, Future Europe Initiative, and Scowcroft Center for Strategy and Security:
"If the bill restricts access to all Russian sovereign banks and commercial banks closely allied with the government or with oligarchs close to Vladimir Putin and his regime, that would be meaningful. It would effectively put a whole slew of banks on a no-go list. US individuals and entities should not be helping Russia fund its aggressive actions against United States elections and democracy, and its military adventures counter to US interests overseas.
"Existing economic sanctions obviously have not sufficed to convince the Kremlin to modify or cease its destabilizing behavior. Indeed, just in the last forty-eight hours we heard the Russian foreign minister threatening Georgia and NATO over Georgia's prospective membership in the Alliance, a sovereign and Institutional decision that is not Russia's to make."
Brian O'Toole, nonresident senior fellow with the Atlantic Council's Global Business and Economics Program:
"The new legislation is an important step in the right direction as a more reasonable bill than the DETER Act. There are still some areas, notably concerning energy sanctions, that will need to be revised to be implementable and enforceable, but the overall thrust is appropriate. Assuming those changes are made, the bill would impose tough, proportional new sanctions on Russia for what we already know, which is that Russia is interfering in our electoral process. It also begins to address some of the financial transparency challenges that have allowed Russian dark money to undermine or financial system.
President Trump's continuing refusal to take Russia to task for its bad behavior has undermined the deterrent effect of several strong actions by the professionals in his administration. The Congress, with justification, clearly believes it needs to lead in imposing costs on Russia for its meddling and providing an effective deterrent to continuing its aggressions."
Mark David Simakovsky, nonresident senior fellow with the Atlantic Council's Eurasia Center:
"These proposed sanctions are both significant and controversial, as they potentially expand the scope of measures impacting the Russian energy and banking sector. This could have concerns for US companies and the implications should be reviewed closely.
"Although there are a number of items that are likely to be reviewed and changed in conference, the legislation highlights Congress' growing bipartisan agreement of the need to expand the breadth and scope of sanctions against Russia. New sanctions are necessary to both send a signal of US commitment to punish those undermining our elections and strengthen deterrence against future manipulation. So far, the administration has not done enough and the Congress is sending a signal of this inadequacy.
"This new legislation is significant as it showcases the seriousness in which Congress views Russian destabilizing actions and highlights the growing skepticism towards the president's approach to Moscow, encapsulated by his performance in Helsinki. Congress is not alone, however, in looking to expand sanctions on Russia, as the president's advisors continue to prepare additional executive-driven sanctions against Russia despite the president's rhetoric focused on improving ties. Today's announced sanctions against Russia for the Skripal poisoning only reinforces the confusion surrounding the administration's Russia policy, which remains deeply conflicted."
David A. Wemer is assistant director, editorial at the Atlantic Council. You can follow him on Twitter @DavidAWemer.