As Russia continues its assault on Ukraine, the Atlantic Council's Digital Forensic Research Lab (DFRLab) is keeping a close eye on Russia's movements across the military, cyber, and information domains. With more than seven years of experience monitoring the situation in Ukraine—as well as Russia's use of propaganda and disinformation to undermine the United States, NATO, and the European Union—the DFRLab's global team presents the latest installment of the Russian War Report.
Security
Deadly Russian barrage targets residential building in Kryvyi Rih as fighting continues in south and east
Putin confirms Russian conscripts are protecting Belgorod Oblast against raids
Tracking narratives
Narrative targeting Ukraine's counteroffensive fails to gain traction on Twitter
Deadly Russian barrage targets residential building in Kryvyi Rih as fighting continues in south and east
On June 13, Russia attacked a residential building in Kryvyi Rih, killing at least twelve people and injuring at least thirty-four. Rescue operations continued the morning of June 14.
Elsewhere, the Air Force of the Armed Forces of Ukraine said at least three people were killed and thirteen wounded after Russia launched Kalibr cruise missiles against Odesa on the night of June 13. The air force said it shot down three of four Kalibr cruise missiles and nine of ten Shahed drones. In addition, shelling in Karyerne, in Kherson Oblast, killed a nine-year-old girl, according to the Prosecutor General's Office.
Further, a Donbas Telegram channel citing Governor Pavlo Kyrylenko reported at least two people killed and two others wounded after Russian missile strikes in Kramatorsk. In the Dnipropetrovsk region, Governor Serhiy Lysak said three Shahed drones were shot down, while in Svitlovodsk, Kirovohrad Oblast, a Shahed drone reportedly struck an unnamed "infrastructure object." Russian Tu-22M3 bombers also launched Kh-22 missiles against targets in Donetsk Oblast. Meanwhile, shelling was reported in Russia's Kursk region, targeting Glushkovo, Korovyakovka, Tetkino, and Popovo-Lezhachi. A police station in Glushkovo was reportedly damaged.
The General Staff of the Armed Forces of Ukraine reported on June 13 twenty-eight clashes between its forces and the Russian army. Near Bakhmut, Russian forces attempted to carry out attacks in the areas of Orikhovo-Vasylivka, Ivanivske, and Bila Hora. Attacks were also reported in the direction of Lyman near Vesele and Rozdolivka.
The office of Ukrainian President Volodymyr Zelenskyy said that evacuations are planned in Armyansk, a Russian-occupied town in north Crimea, prompted by the collapse of the Nova Kakhovka dam. Operations at the Titan titanium dioxide plant in Armyansk were critically disrupted as a result of the dam collapse. The presidential office said an attack against the Titan plant could release up to two hundred tons of ammonia into the air, posing a significant threat to north Crimea and south Kherson Oblast. Flooding is also silting up the North Crimean Canal; Reuters noted that the canal has traditionally supplied 85 percent of Crimea's water.
Ukrainian volunteer Roman Donik reported on June 13 that the 47th Mechanized Brigade of the Armed Forces of Ukraine, known as Magura, is advancing through continuous minefields. Ukraine's current de-mining equipment is reportedly insufficient for handling the density of the minefields. Despite the risks, the soldiers of the brigade are moving forward on foot. The following day, Speaker of the General Staff of the Armed Forces of Ukraine Andriy Kovalev announced that Ukrainian forces had advanced in various areas in the direction of Berdyansk at a distance of 200 to 1,400 meters. Currently, the main battles are taking place in Makarivka, Novodanylivka, and Novopokrovka.
The investigative unit of Radio Free Europe/Radio Liberty's Ukraine service reported that satellite imagery shows Russia transferred twenty helicopters to the Berdyansk airfield after the launch of Ukraine's counteroffensive in the direction of Zaporizhzhia. Currently, there are at least twenty-seven Russian military helicopters at the occupied airfield, as well as five Ka-52 units, nine Mi-8 or Mi-24 units, and thirteen Ka-29 units. According to the report, these aircraft are designed to support Russian ground forces with the operational transfer of troops or equipment closer to the battlefield, in addition to possible evacuation operations.
According to Mykola Kolesnyk, a Ukrainian paramilitary leader, a Russian ammunition depot was hit in occupied Staromlynivka by the aerial reconnaissance unit of the 129th Territorial Defense Forces Brigade and the artillery unit of the 55th Brigade of the Armed Forces of Ukraine. Footage from the 53rd Brigade of Ukraine's Armed Forces shows strikes against Russian equipment, warehouses, and bases.
Meanwhile, US Secretary of State Antony Blinken announced a new military assistance package for Ukraine, which will include additional munitions for national advanced surface-to-air missile systems (NASAMS), Stinger anti-aircraft systems, missiles for high mobility artillery rocket systems (HIMARS), 155mm and 105mm artillery shells, fifteen Bradley infantry fighting vehicles, ten Stryker armored personnel carriers, Javelin anti-armor systems, and more than 22 million rounds of small arms ammunitions and grenades, in addition to demining and communications systems. Meanwhile, the United Kingdom announced a new $116 million aid package for Ukraine, which will include a radar system to track Russian missiles, artillery, and ammunition.
Lastly, Danish military instructors will train Ukrainian crews on German Leopard 1A5 tanks, according to a Danish media. Denmark is scheduled to send Ukraine eighty restored Leopard 1A5DK tanks this month. The machines were bought by the private German company FFG after they were withdrawn from the Danish army in 2005. Denmark and Germany allocated $3.2 million to repair and modernize the tanks. In early February, the German company Krauss-Maffei Wegmann began preparing the tanks for delivery to Ukraine.
—Ruslan Trad, resident fellow for security research, Sofia, Bulgaria
Putin confirms Russian conscripts are protecting Belgorod Oblast against raids
In a June 13 address, Russian President Vladimir Putin spoke about the situation in Russian regions bordering Ukraine. Since May 22, Belgorod Oblast has been the target of two incursions allegedly led by the Russian Volunteer Corps, an anti-Putin military unit made of Russian pro-Ukrainian partisans. In a meeting with Russian military bloggers and war correspondents, Putin reportedly said, "If this continues, then we will need to examine the question—and I say this carefully—of creating on Ukraine's territory a sanitary zone at such a distance from where it could be impossible to reach our territory." While this appears to be the first time the term "sanitary zone" has been used in reference to the war in Ukraine, the Russian president is likely referring to the creation of a demilitarized buffer zone in Ukraine.
In sharing an anecdote about a battalion commander in Belgorod Oblast, Putin confirmed Russian conscripts had been deployed to the region. When asked how many mobilized soldiers and conscripts were under his command, the commander reportedly replied, "They're all conscripts," adding, "None of them shivered!"
Russia's spring conscription kicked off on March 30, 2023, with future recruits called to undergo military preparation. Although Putin declared in March 2022 that no conscript would fight in the war, suspicions were raised following the reported death of three conscripts after a June 1 attack against Belgorod. The three soldiers served in the 43rd Railway Brigade. In a VKontakte post, a Russian official said the conscripted soldiers had been relocated from the Sverdlovsk region to Belgorod. According to pro-Russian media outlet Lenta, Russian MP Leonid Slutsky reportedly proposed a legal mechanism so that "conscripts, fighting the enemy in the Belgorod Oblast, could be recognized as participants of combat operations and receive all the payments due under the law."
—Valentin Châtelet, research associate, Brussels, Belgium
Narrative targeting Ukraine's counteroffensive fails to gain traction on Twitter
A small number of influential Twitter accounts are spreading a narrative that frames the Ukrainian counteroffensive as unsuccessful. The DFRLab conducted a query using the social media analysis platform Meltwater Explore to identify tweets that mention the Ukrainian counteroffensive. It returned 352,000 results from 118,000 users, which averages almost three tweets per user. The results indicate organic traffic.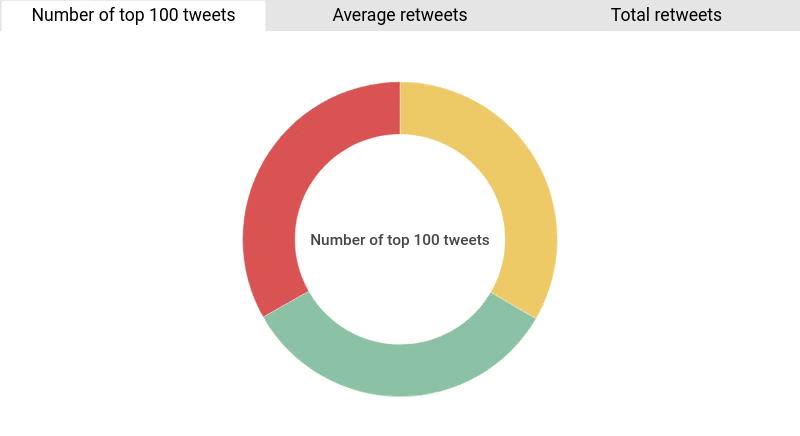 Three of the five most-retweeted tweets claimed the counteroffensive was unsuccessful. All three tweets came from @KimDotcom, a controversial hacker, entrepreneur, and activist currently based in New Zealand. In his tweets, he suggested that sanctions against Russia do not work, implied that Ukrainian soldiers are suffering enormous casualties, and amplified a tweet from the Russian Ministry of Foreign Affairs allegedly showing destroyed Western military vehicles. The second most-active account declaring the counteroffensive a failure was the anonymous account @WarMonitors, which shared allegedly destroyed Western military equipment and praised Russian equipment.
—Nika Aleksejeva, resident fellow, Riga, Latvia