As Russia continues its assault on Ukraine, the Atlantic Council's Digital Forensic Research Lab (DFRLab) is keeping a close eye on Russia's movements across the military, cyber, and information domains. With more than seven years of experience monitoring the situation in Ukraine—as well as Russia's use of propaganda and disinformation to undermine the United States, NATO, and the European Union—the DFRLab's global team presents the latest installment of the Russian War Report.
Security
Russian military chief makes first public appearance since Wagner's attempted mutiny
War crimes and human rights abuses
Russia strikes humanitarian aid delivery point in Zaporizhzhia Oblast
Russian military chief makes first public appearance since Wagner's attempted mutiny
Russian forces continue to conduct offensive actions in Donetsk and Luhansk, with Ukrainian armed forces reporting thirty combat engagements between July 10 and 11 near Hryhorivka, Syeverne, Marinka, Krasnohorivka, and Novomykhailivka. According to the same report, Russian forces shelled villages and towns in the direction of Zaporizhzhia, Lyman, Kupiansk, and Kherson. Ukrainian Telegram channels also reported explosions on the morning of July 11 in Novooleksiivka, Kherson Oblast.
The Ukrainian counteroffensive advanced slowly amid heavy fighting along well-fortified Russian positions. On July 8, a video posted by RFE/RL's Ukraine service showed how fighters from the 47th Separate Mechanized "Magura" Brigade, alongside soldiers from the Zaporizhzhia Brigade of the Territorial Defense Forces, occupied elevated Russian army positions in the direction of Zaporizhzhia near Novodarivka. However, Russia's use of remote-controlled landmines has made it difficult for Ukraine to advance. Ukrainian Deputy Defense Minister Hanna Maliar announced on July 10 that Ukrainian forces had taken control of elevated positions around Bakhmut, allowing them to establish fire control over Bakhmut. Russian military bloggers have expressed fears that Ukrainian forces could encircle Russian forces in Bakhmut.
The Russian Ministry of Defense published footage on July 10 of Chief of the General Staff Valery Gerasimov, his first public appearance since Wagner's attempted mutiny. In the footage, Gerasimov receives reports about alleged Ukrainian attempts to strike Russian targets in occupied Crimea, Rostov, and Kaluga. The ministry published the footage the same day the Kremlin acknowledged President Vladimir Putin's June 29 meeting with Wagner financier Yevgeny Prigozhin.
On July 11, the Russian Telegram channel Military Informant reported that Ukraine had used British-made Storm Shadow cruise missiles to strike a Russian army post near Berdyansk. The strike killed Oleg Tsokov, deputy commander of the Southern Military District. On the same day, explosions were reported in occupied Tokmak, Skadovsk, and Berdyansk. Also that day, the Russian army shelled Sofiivka, Kherson Oblast, with Grad multiple rocket launcher systems, killing at least one person and wounding another.
Meanwhile, the Ukrainian army is increasingly using equipment created by volunteers and local engineers in an attempt to diversify its supplies. On July 9, a team of Ukrainian engineers known as Immaterium reported that a first-person view (FPV) drone destroyed a Russian observation tower located nine kilometers from the departure point. Immaterium also claimed that the drone strike set a distance record for an FPV drone developed and produced locally.
Elsewhere, Armin Papperger, head of the German defense company Rheinmetall, said on July 10 that an armored vehicle repair plant would open in Ukraine within twelve weeks. Papperger added that he hopes to increase Rheinmetall's production of shells within one year so the company can provide Ukrainian forces with up to 60 percent of their needs. Meanwhile, Ukrainian Minister for Strategic Industries Oleksandr Kamyshin said construction was underway on a new plant to produce Bayraktar drones in Ukraine.
Ukraine's defense ministry announced on July 8 that five former Azov commanders who fought in the battle over Mariupol were released from Turkey and returning to Ukraine alongside Ukrainian President Volodymyr Zelenskyy. Ukraine's ambassador to Turkey, Vasily Bodnar, said that Turkey did not put any conditions on Ukraine for the return of the Azov commanders. Bodnar added that their release was preceded by months of detailed diplomatic work. The commanders ended up in Turkey as a result of a prisoner swap brokered by Turkish President Recep Tayyip Erdoğan. The commanders participated in the Azovstal steelworks plant siege, regarded by Ukrainians as a heroic effort to resist Russian advancements. Russian forces eventually captured the commanders, among the highest-profile fighters to be captured. The commanders have vowed to return to the battlefield. Kremlin spokesperson Dmitry Peskov claimed that Ukraine and Turkey had "violated" the prisoner exchange agreement.
—Ruslan Trad, resident fellow for security research, Sofia, Bulgaria
Russia strikes humanitarian aid delivery point in Zaporizhzhia Oblast
On June 9, Ukraine's interior ministry posted footage on Telegram showing the aftermath of a Russian air strike on a humanitarian aid delivery point in Orikhiv, Zaporizhzhia Oblast. The attack reportedly killed at least seven people and injured thirteen. Cross-referencing the shared footage with images posted on Google Maps, the DFRLab determined the location of the incident to be Communal School No. 3, located on the corner of Myru Street and Pokrovska Street. Initial damage analysis, via the images, indicates that the strike destroyed two-thirds of the school's facilities.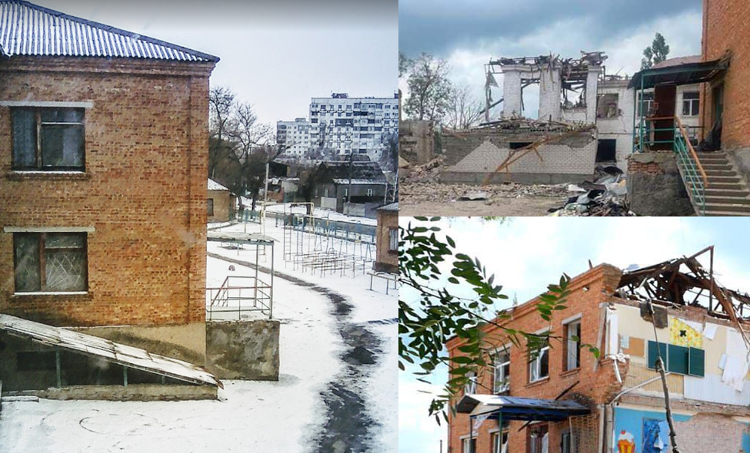 Reports from several Russian-speaking news outlets on Telegram confirmed that the school was converted into a humanitarian aid delivery point. Russian opposition media outlet Doxa indicated that a Russian jet may have dropped two guided bombs to attack the delivery point, though this information is not confirmed. According to the office of the prosecutor-general of Ukraine, the attack occurred around 1:30 pm local time.
The following morning, Zaporizhzhia Regional Military Administration head Yurii Malashko shared additional photos from the incident, including one featuring what appears to be a damaged canvas sign featuring the logo for the United Nations High Commissioner for Refugees (UNHCR).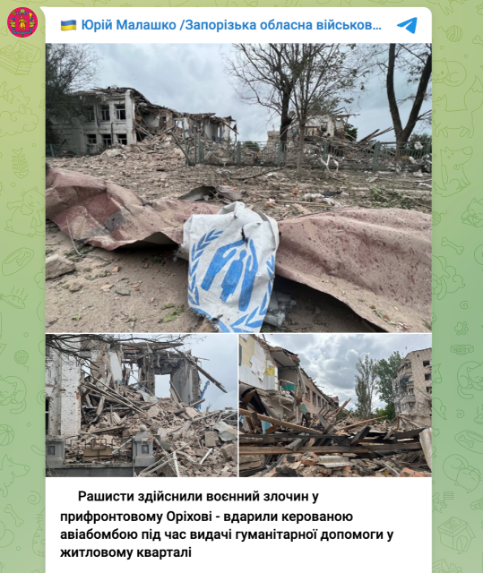 The Zaporizhzhia Regional Prosecutor's Office has launched an investigation into the "violation of the laws and customs of war, combined with intentional murder."
—Valentin Châtelet, research associate, Brussels, Belgium