As Russia continues its assault on Ukraine, the Atlantic Council's Digital Forensic Research Lab (DFRLab) is keeping a close eye on Russia's movements across the military, cyber, and information domains. With more than seven years of experience monitoring the situation in Ukraine—as well as Russia's use of propaganda and disinformation to undermine the United States, NATO, and the European Union—the DFRLab's global team presents the latest installment of the Russian War Report.
Security
Ukrainian counteroffensive sees advances in Zaporizhzhia and eastern Ukraine
Wagner attempts to draft gamers as UAV pilots
Tracking narratives
Deripaska blames hackers after his website briefly takes credit for potential war crime
Rumors of alleged death of popular pro-Kremlin war correspondent gain traction on Twitter
Ukrainian counteroffensive sees advances in Zaporizhzhia and eastern Ukraine
On June 19, Ukrainian forces launched counteroffensive actions in at least three areas and appear to have made gains in Zaporizhzhia and eastern Ukraine. The Telegram channel of Russian military blogger WarGonzo reported that Ukrainian forces continued attacks northwest, northeast, and southwest of Bakhmut and advanced near Krasnopolivka. Ukrainian Deputy Defense Minister Hanna Maliar announced that over the past week Ukrainian troops advanced up to seven kilometers in the direction of Zaporizhzhia and retook 113 square kilometers of territory. Russian Telegram channels also reported that fighting was ongoing south and southwest of Orikhiv on June 19. Zaporizhzhia and Donetsk oblasts continue to be the most active areas of the frontline, as the Ukrainian army attempts to advance in the directions of Novodarivka, Pryutne, Makarivka, Rivnopil, Novodanylivka, and Robotyne.
On June 17, the Russian Ministry of Defense claimed that Ukrainian forces conducted ground attacks west and south of Kreminna. It also stated that the Russian army had repelled Ukrainian attacks on the Avdiivka-Donetsk sector. Meanwhile, Ukrainian forces continued operations around Velyka Novosilka near the border between Donetsk and Zaporizhzhia oblasts.
According to Ukrainian forces, Russian forces conducted offensive actions in Donetsk and Luhansk oblasts. The Ukrainian military reported forty-five combat engagements with Russian forces near Yampolivka, Torske, Hryhorivka, Spirne, Avdiyivka, Krasnohorivka, Marinka, Pobieda, Novomykhailivka, and Donetsk's Dibrova and Orikhovo-Vasylivka. According to Ukraine, the Russian army continued to shell villages in the direction of Marinka, Zaporizhzhia, Kherson, Lyman, and Kupiansk. Ukraine also alleged that Russian forces launched Kalibr cruise missiles from a submarine in the Black Sea and Shahed drones from the eastern coast of the Sea of Azov.
On June 20, Kyrylo Budanov, chief of the Main Directorate of Intelligence for the Ministry of Defense of Ukraine, alleged that Russian troops mined the Zaporizhzhia nuclear power plant's cooling pond, which is necessary for the safe operation of the plant. According to Budanov, if Russia triggers an explosion, there is a "high probability that there will be significant problems." Budanov did not provide any evidence to support the allegation, and the statement cannot be independently verified at this time. If true, however, it would put the nuclear plant at greater risk of a significant accident. The power plant complex, Europe's largest, has been under occupation since February 2022.
On January 22, the governor of Russian-occupied Crimea accused Ukraine of targeting a bridge that connects the peninsula to Kherson Oblast, near the village of Chonhar. In a Telegram post, Vladimir Sal'do alleged that Ukraine struck the bridge with "British Storm Shadow missiles," creating a hole in the middle of the bridge.
As fierce hostilities continue in eastern and southern Ukraine, there are signs of a new wave of arrests in Russia, including of people with ties to Ukraine. On June 20, Russian state media outlet RIA Novosti announced that a woman of Ukrainian origin was detained in Saransk and charged with treason.
—Ruslan Trad, resident fellow for security research, Sofia, Bulgaria
Wagner attempts to draft gamers as UAV pilots
A June 19 Telegram post from Russian opposition news outlet Verstka claimed that Wagner Group is encouraging gamers to apply to serve as unmanned aerial vehicle pilots in the war against Ukraine. The media outlet reported that no prior military experience was required to apply for the position. Posts from Wagner emerged on Vkontakte the same day, inviting gamers with experience in "manipulating joysticks in flight simulators" to enroll.

Verstka, which contacted a Wagner recruiter as part of its reporting, stated that the campaign aims to recruit soldiers to pilot "copters and more serious machines." In this particular context, "copters" (коптеры) is a reference to commercial drones that are sold to the public and have been widely used in the war against Ukraine. A May 19 investigation published by the Organized Crime and Corruption Reporting Project found that Chinese manufacturers have reportedly continued to provide Russian armed forces with DJI drones through third parties in Kazakhstan.
Verstka also noted that in 2022, the Russian defense ministry attempted to recruit gamers with a targeted ad campaign that invited them to play "with real rules, with no cheat codes or saves."
—Valentin Châtelet, research associate, Brussels, Belgium
Deripaska blames hackers after his website briefly takes credit for potential war crime
The Russian-language website of Russian industrialist and US-sanctioned oligarch Oleg Deripaska briefly displayed an article appearing to take credit for deporting Ukrainian children to Russian-occupied Crimea in partnership with Kremlin official Maria Lvova-Belova, who is already facing an International Criminal Court arrest warrant for allegedly deporting children.
Yaroslav Trofimov, chief foreign affairs correspondent at the Wall Street Journal, noted the article's appearance and disappearance in a June 15 tweet. Trofimov shared screengrabs of the article, which by that time had already been deleted from Deripaska's Russian-language website, deripaska.ru. A complete copy of the article can be found at the Internet Archive.
Later in the article, it added, "Separately, the Fund and personally Oleg Vladimirovich [Deripaska] express their gratitude to Maria Lvova-Belova and her project 'In Hands to Children,' which not only provided methodological materials, but also found an opportunity to send employees for psychological work with affected babies." In March 2023, the ICC issued an arrest warrant for Lvova-Belova and Russian President Vladimir Putin, alleging they are responsible for unlawful deportation and transport of children from Russian-occupied parts of Ukraine to the Russian Federation.
In a response to Russian independent news outlet Meduza, which also covered the incident, a team of representatives for Deripaska called the article a "gross fake press-release" and blamed hackers for the article's appearance. "The team added that Deripaska 'unequivocally condemns the separation of children from their parents' and that he is 'one of the very few prominent Russian industrialists who openly criticizes the fratricidal war and consistently advocates for peace in Ukraine, as well as a reduction in global military spending,'" Meduza noted.
—Eto Buziashvili, research associate, Tbilisi, Georgia
Rumors of alleged death of popular pro-Kremlin war correspondent gain traction on Twitter
Rumors are spreading online that claim Ukrainian forces killed pro-Kremlin war correspondent Semyon Pegov, who operates an influential group of social media accounts under the name Wargonzo. The rumor first spread on Twitter on June 19 following the release of a graphic video from the 73rd Naval Center of Operations documenting how Ukrainian special forces unit had shot Russian soldiers in trenches. On June 19, Pegov's Twitter account disregarded the allegations as fake. Wargonzo's Telegram account has continued to operate as usual.
DFRLab analysis conducted with the social media monitoring software Meltwater Explore revealed that the most retweeted tweet came from the pro-Ukraine Twitter account @GloOouD, which stated, "LOOKS LIKE RUSSIAN TERRORISTS AND WAR REPORTER SEMEN PEGOV WAS KILLED BY UKRAINIAN SPECIAL FORCES." The account shared a screenshot of a low-quality video frame depicting a red-bearded man that bears resemblance to Pegov.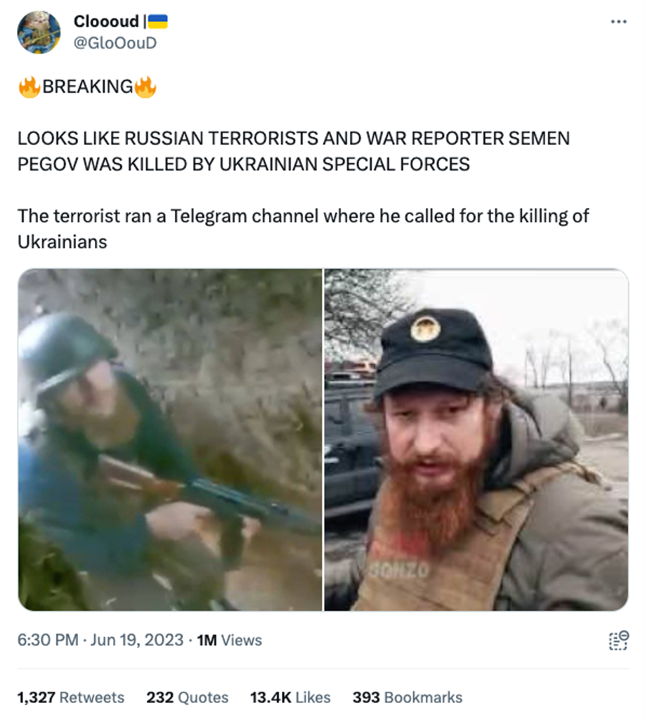 The DFRLab confirmed that the video frame depicting Pegov's look-alike was extracted from the graphic video posted posted by the 73rd Naval Center of Operations. The video's metadata indicates the clip was created on June 18, 2023, at 22:16:07 GMT+0300. However, the video shows events occurring in daylight.
Pegov's most recent public appearance was on June 13 during a meeting between Putin and Russian war correspondents. The Kremlin-controlled Channel One Russia broadcast the meeting on June 18.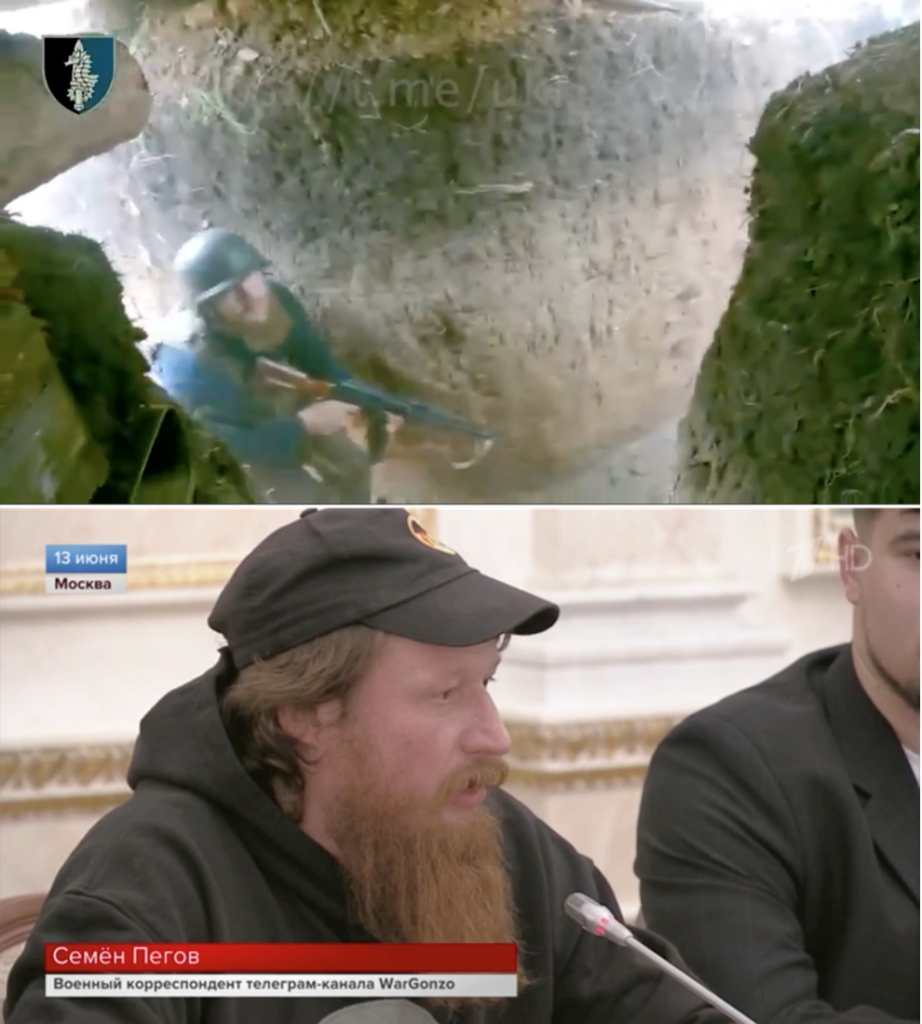 —Nika Aleksejeva, resident fellow, Riga, Latvia