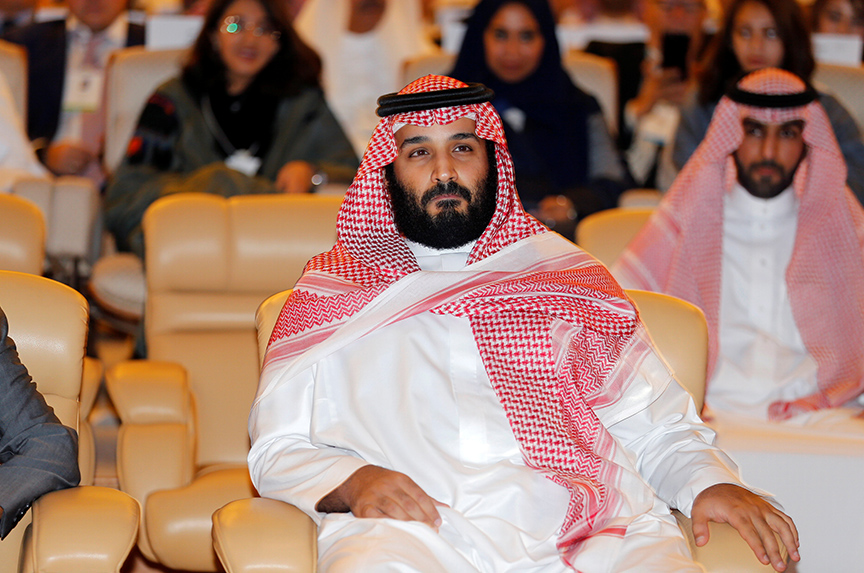 The face of the Kingdom of Saudi Arabia is changing dramatically, due in no small part to the changes driven by Crown Prince Mohammed bin Salman (MbS) as he works to consolidate power.
While using unconventional means, the recent developments are part of a clear and well-thought-out strategy put in motion by MbS and his followers, necessary for making important changes to several of the Kingdom's critical sectors. The elevation of MbS to crown prince, while also reshuffling key posts in the defense forces and ministries, was necessary to increase his political capital and subsequent ability to implement Saudi Vision 2030.
MbS is not only shaking up Saudi Arabian leadership, but is also behind changes to Saudi society and global markets, including social reforms alongside the Vision 2030 economic diversification plan and the possible Saudi Aramco IPO (initial public offering).

He has taken a number of steps—such as arresting high-profile Saudi royals involved in financial dealings, commercial ventures, and security—which have allowed him to consolidate his position and open up the Kingdom for international investment and social change.
The main underlying purpose of the crackdown on corruption was to send a signal to the international financial community that the Kingdom's economy, previously regarded as backward and closed, had opened up. For example, the arrest and removal of several key royals has shown that no party in the Kingdom is above the law.
As stated in Vision 2030, full foreign ownership is available for investors and operators in the Kingdom. However, this was until now impeded by the power base of the conservative Saudi old guard and its agent—the Kingdom Holding or Bin Laden Group were prime examples. Removal of corruption is necessary for inclusion in the MSCI Emerging Markets Index in 2018, which will bring in billions of dollars of additional investments.
When King Salman took office and appointed his son deputy crown prince and minister of defense, a power struggle between then-Crown Prince Mohammed bin Nayef (MbN) and MbS was expected, and some feared a collapse of the royal family's internal power structure. As it turned out, MbS had already amassed a vast following, building on his strategic coordination with other domestic leaders, including Minister of Oil Khaled Al Falih and high-ranking members of the armed forces. Salman removed MbN at the end of 2016 and elevated MBS in his place.
This political change occurred amid criticism in the international press of Saudi Vision 2030 and a Saudi Aramco IPO, which were dismissed as dreams not based in reality. To quell international misgivings and counter possible internal moves from rivals, MBS decided to step up his efforts to implement Saudi Vision 2030, largely because rapid reforms are needed to quell mismanagement of expectations. His support is at present large, but in the absence of real deliverables, austerity measures and changes to power structures will support possible renewed opposition.
The crown prince clearly understands that the future of his political career and Saudi Arabia itself depends on the successful implementation of ambitious schemes like the Aramco IPO, the "Giga projects," Qiddya (intended to be Saudi Arabia's largest cultural, sports and entertainment city), and the Red Sea Islands luxury resorts.
The success of the Saudi Aramco IPO, which is the most published IPO story of 2016-2017, will not only bring in a vast amount of revenue ($100-150 billion). It would also show that the Kingdom can successfully progress toward its overall economic restructuring of the country. At the same time, the Aramco IPO will give the Kingdom the opportunity to financially and politically connect with its new strategic allies: China, India, Russia, and the West. They will help the Kingdom regain its regional and international standing.
There is a social component as well. The Saudi people are eager for tangible changes in their lives and communities, and thus the progress on such projects will have an immense impact on public opinion.
A majority of Saudis are in favor of these large diversification projects, including much of the youth. About 70 percent of Saudi Arabia's population is under thirty years old, a demographic which was ignored by the old elites. MBS took advantage of this oversight, capturing the attention and support of young Saudis and using it to bolster his position. However, this support should not be taken for granted. MBS, who some young Saudis see as a Saudi Arabian John F. Kennedy, needs to retain this support for at least the next four to five years to be successful.
The crown prince still needs the momentum to counter ongoing criticism in and outside of the Kingdom, in light of the negative views on his regional military adventures and the ongoing confrontation with Iran. The unexpected, expensive, and long military operations in Yemen, the failure of Saudi's Syria strategies, and Iran's strengthening regional authority has severely dented the image of the crown prince. Economic and financial success inside of Saudi Arabia, combined with liberal social reform, are necessary to keep him in power.
The most significant demand of the youth in Saudi Arabia is that their conservative, somewhat stagnant culture is shaken up. Quick to address these demands, MBS has demonstrated that he is open to change and willing to take risks, taking steps such as allowing women to drive again and allowing cinemas back into the country.
However, to retain the support of Saudi youth, MBS will also need to address high youth unemployment. One of the main drivers behind Saudi Vision 2030 is the need to create around six million new jobs. One of the measures enacted to address this is Saudization, officially known as the Saudi nationalization scheme, whereby companies are required to employ Saudi citizens and set up shop in the Kingdom if they are interested in a long-term business relationship.
The same attitude can be seen in MBS's approach to attracting investment in the Kingdom. By presenting a new "dream" to the world's financial elite during FII2017, the crown prince was able to check another box on his strategy−finding billions of dollars needed to support Vision 2030.
The fact that financial gurus from New York to Japan came to Riyadh has garnered the indirect support of global financial leaders and institutions, and institutions such as Blackrock, Softbank, Gazprom, Russia's sovereign wealth fund (RFID), and CitiBank have shown an interest in investing in the Kingdom. This prompted MBS taking the next step: the removal of the old financial and commercial guard controlling Saudi Arabia.
Not long after 3,500 chief executive officers flooded Riyadh hotels for the Future Investment Initiative 2017—dubbed the "Davos in the Desert"—the world was shocked by MBS's unexpected anti-corruption sweep, which drew sharp international criticism. In a swift operation, preeminent Saudi royals and financial figures were arrested on corruption and fraud allegations totaling $100 billion. Several high-ranking princes, including Prince Alwaleed bin Talal, owner of the Kingdom Holding, and Prince Miteb bin Abdul Aziz al Saudi, the son of the former Saudi king and former head of the Kingdom's elite National Guard, were among the arrested.
Initially, fear of a possible backlash caused a stir in the international media because people thought MBS's future might be under threat. However, that was not the case. Instead, this move allowed him to remove potential opposition while also showing the world that the days of Saudi corruption and high-profile princes swimming in bribes are over.
One of the main stumbling blocks on Saudi Arabia's road to international financing has been rampant corruption and the stranglehold on the Saudi economy by institutions like Kingdom Holding, the Bin Laden Group, and Oger—until recently linked directly or indirectly to all international parties involved in Saudi Arabia. By breaking their hold on Saudi finances, implementation of Vision 2030 and liberalization of the economy are now possible.
Now, nothing is preventing Saudi Arabia from being listed on the MSCI Emerging Markets Index next year, which will help attract both international and institutional investors to Saudi Arabia. For example, European pension funds are not legally able to take part without a listing on MSCI. This additional investment, which some expect will be more than $9 billion per year, will be critical to the financing of Saudi Arabia's many ambitious projects. European institutional investors, such as pension funds, are only able to invest in countries which are included in the MSCI Emerging Markets Index. Without the listing, no investments can be made by institutional investors from Europe. At the same time, if liquidity in this market increases, the overall effect on all investment projects is expected to increase substantially. Institutional investors also will push the Saudi stock exchange to new highs, bringing additional liquidity.
Overall, MBS has greatly strengthened his position in the Kingdom, thus far avoiding internal unrest and removing large swaths of opposition in business and the government without violence. He has also managed to reduce the power of religious conservatives, removing religious police from the streets, and arresting several high-profile extremist religious leaders who were mainstays of Saudi television.
MbS has been able to make such drastic changes simply by virtue of being the right person in the right place at the right time. He has been able to capitalize on the low oil prices that have hit the Saudi economy, giving him the opportunity to implement much-needed changes, such as removal of subsidies, and more liberal ideas. He is also using the overwhelmingly young Saudi population, yearning for change and more openness and jobs, to push against conservative or fundamentalist forces in society.
This would not have been feasible even two years ago, and would have caused harsh opposition and possible loss of life.
With the support of young Saudis, MBS will be able to boldly continue his quest to make reforms that will allow the Kingdom to modernize. Future economic success will enable him to confront the opposition that still exists within the royal family and in conservative businesses. The implementation of Vision 2030 and the expected success of the Aramco IPO will only further solidify MBS's power and the appetite for reform.
Cyril Widdershoven is a geopolitical and financial analyst cover the MENA region and Turkey, and the director of VEROCY. You can follow him on Twitter @riskyparty63.