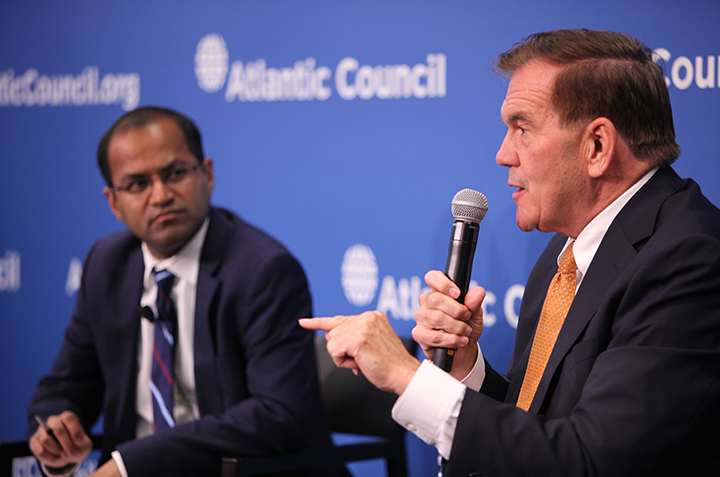 Densely populated cities need to prioritize safety and security as urbanization rates swell and resources become strained, said Tom Ridge, the first US secretary of homeland security.

"We face a remarkable challenge: if you are responsible for the health, safety, and welfare for such dense populations, where do you get the resources to deal with basic human conditions—health, education, housing—in these communities," said Ridge, who served in the George W. Bush administration.
Ridge spoke at the Atlantic Council in Washington on June 10 at an event hosted by the Council's South Asia Center. Jon M. Huntsman, Jr., Atlantic Council chairman, gave opening remarks. Bharath Gopalaswamy, director for the South Asia Center, moderated the discussion with Ridge.
To launch the panel, the Center released a white paper entitled Resilient Megacities: Strategy, Security, and Sustainability that details findings and policy prescriptions established out of the Megacity Security Conference held in Mumbai, India, in November of 2015.
A megacity is defined as any large urban community with a population of at least ten million people. A majority of these large urban municipalities are located in Asia—five in South Asia alone.
"The emergence of megacities around the world…presents an unprecedented phenomenon in human history. Megacities have become hubs for innovation and economic expansion, but at the same time, they have presented a whole new set of security challenges for individual governments as well as the broader international community," said Huntsman.
"From the 2008 attacks in Mumbai, to the recent slew of attacks in Paris, Istanbul, Ankara, and Brussels, security threats to cities have never been more prevalent than they are at this moment," he added.
Terrorist attacks in Paris in November of 2015, and Istanbul and Brussels earlier this year, have sparked conversations about the capability of intelligence-sharing networks between municipal and international actors as well as which policies should be employed by major European cities to grapple with the largest migration of people into the continent since World War II.
The Islamic State of Iraq and al-Sham, or ISIS, claimed responsibility for the attacks in Paris and Brussels. Both cities have maintained a heightened state of emergency since the attacks.
"The challenge with the intelligence community is how do you separate the real, actionable, and possible [from what isn't]. There is an enormous burden to identify that which you must act upon, that which you must pay close attention to but not act upon, and that which is just background nonsense and ignore," said Ridge reflecting on his tenure as the first director for homeland security.
Ridge served as the director for the Department of Homeland Security after its founding under the George W. Bush administration. The agency was established after the terrorist attacks on the United States on September 11, 2001.
Ridge contended that the best methods for combating security challenges in megacity environments are borne out of international cooperation, and the United States can enable the kind of cooperation that needs to occur.
"It's not about cutting ribbons. It's about working with [municipal] police authorities to build up capacity," said Ridge.
"It is in America's best interests for both security and prosperity reasons to be more engaged in the world, not less engaged. It is our role to initiate, to communicate, and to facilitate…the discussion and make sure best practices are disseminated around the globe," he added.
Authorities in Paris have upped security measures as the Euro 2016 football championships get underway—in which France is this year's host country—including launching a smartphone app that allows for more direct communication between authorities and fans during the month-long event.
And amid political instability across Brazil, the government came under criticism in April when it announced the resignation of its chief security minister. It has also faced continued security-related budget cuts for the upcoming summer Olympic Games.
Going forward, Ridge noted that the international community will have to address aspects of inclusivity and ensure that societies can effectively get back up if attacked.
"The real challenge for governments writ large is the notion of inclusivity—the building of civil society. How do we as the world understand this mass migration into urban regions and deal with the most basic human needs of the population," he said.
"Security and resiliency go hand in hand. We have to be able to take a hit and continue to function."
Mitch Hulse is an editorial assistant at the Atlantic Council. You can follow him on Twitter @mitchhulse.