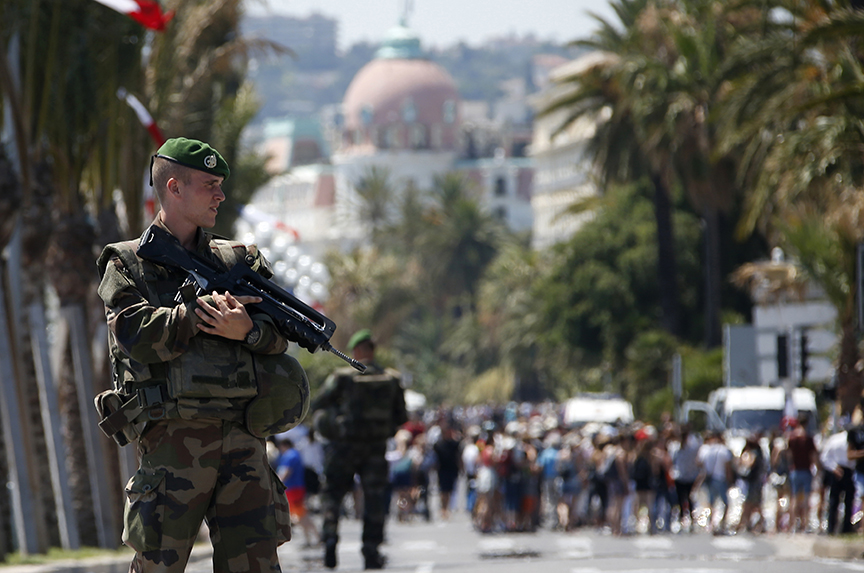 The deadly attack in Nice on the evening of July 14 made clear the difficulty of preventing such lone-wolf acts of terrorism. But that doesn't mean that nothing can or should be done. I was with my wife, Elizabeth, in the middle of the attack in Nice on the night when eighty-four people were killed and more than 300 injured after an assailant ploughed a cargo truck into a crowd celebrating Bastille Day on the Promenade des Anglais.
Our host, Philippe Auguin, the acclaimed music director of the Washington National Opera and the Kennedy Center Opera House Orchestra, had arranged for us to cross the security barricades to park in the garage of the Palais de la Méditerranée on our way to his concert. We were to give the police his name and room number, say we were registered with the hotel, and they would let us through. We arrived at the barricade about 7:30 p.m. and informed the policeman manning the portable metal "crowd barrier" (no more formidable barricades were in evidence anywhere) only that we were headed to the hotel. He let us right through. Were we "profiled" as white, American-accented, in a new car and therefore let in? Or was the security just that lax?

The shootout involving the truck driver took place at the intersection of Rue des Congress and Boulevard des Anglais, about twenty meters from the entrance to the hotel to which we were headed and less than three minutes after we had walked off the Boulevard des Anglais. We were confined to the hotel until the next morning as authorities worked to sort out what had happened and shut down any further threat.
It is now known that the truck enter the "closed" Promenade des Anglais by simply driving around a simple "crowd control barrier" similar to the one we encountered on the Rue des Congress. By the time the truck reached the barrier, it was well on his way down the Boulevard des Anglais and picking up speed. The police tried unsuccessfully to stop the driver when he drove past them. The entire rampage lasted only about two minutes. It was amazing that the police stopped him as soon as they did, and thank goodness they did so. Only about 100 meters further down the road was a large crowd on foot stuck in a big jam-up trying to get into a pedestrian street filled with restaurants—a massive target for his terror. We ourselves had been stuck in that jam-up just a few minutes earlier.
At the concert, we were seated next to the mayor of Nice and one of his top aides. Security at the concert itself was tight with airport-style entrance checks. While the local authorities must have known that this was not true for other parts of the celebrations, they were largely unable to take stronger actions by themselves. In France, the police and security forces are mostly national and not local organizations, leaving fragmented responsibility for such matters, much as we face in the United States.
We must come to accept that whenever there is a "soft target" that might be attractive to terrorists, a proper security perimeter must be set up and enforced. The success of this "lone wolf" in Nice will only attract more copycat efforts. It is unfortunate that we can no longer rely on the good will of our fellow citizens to ensure security, just as we have been unable to rely on it for our air travel since 9/11. There will come a time in the future when this particular extremist outrage will be under control, but until that time arrives we must put in place proper security, including consistent and capable control of the perimeter around large events and a communications network to allow those manning the entrances to sound an alarm in case of an emergency. Had this been done in Nice, there likely would still have been some fatalities before the truck could be stopped but many fewer.
We cannot overlook the larger questions these attacks raise: how to prevent radicalization; how to destroy the Islamic State of Iraq and al-Sham (ISIS); how to integrate the new Muslim populations that are now firmly established in America and Europe; what to do about Saudi-funded madrassas and other institutions that carry the long-running Sunni-Shia rift into new generations.
None of these challenges can or will be met anytime soon, but if we provide adequate and smart protection now we can keep open the political space we need to deal with the larger challenges. We have much work to do at home. In the short run, we must deal with the many impediments we face to providing security at large public events. We tolerate the absurdity of "open carry" laws that vastly complicate security challenges, as was the case when five police officers were fatally shot in Dallas, Texas, on July 7. And we have political leaders in the United States and in Europe who are willing to exploit people's fears for their own personal gains, even if it means stoking racist and xenophobic tendencies in today's societies. Transatlantic leaders need to quickly come together to reassure populations with realistic solutions and thwart the dangerous radicalism of Donald Trump or Marine Le Pen. The urgent need now is consistent and strong transatlantic leadership.
Jan M. Lodal is a distinguished fellow with the Atlantic Council's Brent Scowcroft Center on International Security. He is the immediate past president of the Atlantic Council, a former principal deputy under secretary of defense for policy, and a former senior staff member of the National Security Council.