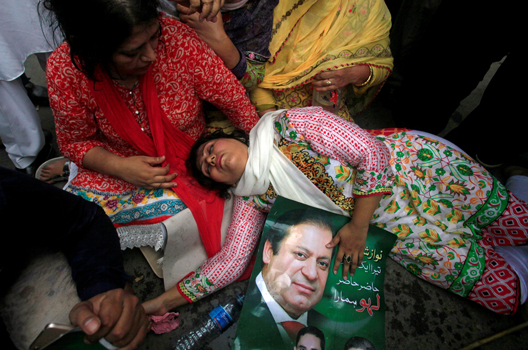 Pakistani Prime Minister Nawaz Sharif's ouster by the supreme court is a rare example of a country's leader being held accountable for corruption, but it has also created the possibility of instability in this South Asian nation that is a vital partner in the United States' counterterrorism efforts.
On July 28, Pakistan's supreme court disqualified Sharif ruling that he had been dishonest by not disclosing earnings from a Dubai-based company in his nomination papers filed at the time of the 2013 general election. The court recommended corruption cases be filed against Sharif, his daughter, Maryam Nawaz; his son-in-law, Capt. Muhammad Safdar; his two sons Hassan and Hussain; and Finance Minister Ishaq Dar.

This political earthquake, dubbed Panamagate in Pakistan, arises from the disclosures of the so-called Panama Papers that revealed the offshore accounts and global properties owned by prominent politicians and businesspersons around the world. Sharif allegedly used his children, among others, to conceal his ties to accounts and properties worth millions of dollars in the Middle East and the United Kingdom.
With the court's verdict, Pakistan has joined a small group of countries that have held their leaders accountable in the wake of the Panama Papers scandal. But the ruling has also created the possibility of political and economic turmoil in a country where dynastic politics is dominant. It is likely that the strict yardstick used to measure the "honesty" of elected officials, if applied against other parties and their leaders, may end up disqualifying many other members of Pakistan's parliament.
A case is already pending against cricketer-turned-politician Imran Khan, the leader of the major opposition Pakistan Tehreek-e-Insaaf (PTI) party, who was among the principal complainants against Sharif. In Khan's case, too, the court will decide whether he hid his foreign assets from authorities when filing his nomination papers for parliament. Will Pakistan's former president, Asif Ali Zardari of the Pakistan Peoples Party (PPP), also get caught up in the same dragnet?
Pakistan can ill afford a massive clean-up at this stage in light of its precarious economic and regional position. US President Donald J. Trump's administration is still formulating a policy for Afghanistan that will have a bearing on Pakistan. Pakistan needs a stronger hand at the helm as it carves out a less antagonistic relationship with Afghanistan and both countries fight terrorists who rely on cross-border safe havens. Islamabad has also been forced to take sides as a rift deepens between its two allies—Saudi Arabia and Iran.
On the other hand, if Pakistan is to create a stable polity, it needs to "drain the swamp" and complete an ongoing national census that, if properly followed by delimitation of new constituencies, will alter the country's political map. Pakistan has transformed into a largely urbanized nation since its last census in 1998. More seats in parliament will now be available for the cities, taking power away from the rural and often feudal politicians who have directly or indirectly ruled the country for most of its seventy years, sometimes in tandem with the military.
The immediate political fallout from the July 28 ruling is that Sharif's party faithful will likely select his brother, Shahbaz Sharif, chief minister of the important Punjab province, to succeed him. But the younger Sharif will first have to be elected to parliament.
Early reports indicate that Defense Minister Khawaja Asif will serve as interim prime minister for around forty-five days. Alternatively, a pliable current member of parliament could also be selected as prime minister while Sharif calls the shots behind the scenes.
PML-N controls the National Assembly with a handy majority. Punjab remains the party's stronghold for now. The question is whether Punjab will then have a strong leader in the mold of the younger Sharif or need to be managed from Islamabad if he is appointed prime minister. In the latter case, Shahbaz Sharif's son, Hamza, would be the frontrunner to succeed his father as chief minister. Dynasty trumps all!
The younger Sharif is notably untainted by the Panamagate scandal. He has also reportedly met a number of times with the powerful army chief, Gen. Qamar Javed Bajwa. In Pakistan's conspiracy driven political circles, it was widely believed that the army wanted a change at the political helm. The military denies this, but it has found it easier to work with the younger Sharif than his brother. The army perhaps favors the Minus-One formula: anyone but Nawaz Sharif.
National and provincial elections are scheduled for the summer of 2018. Khan's PTI may seriously contest in Punjab. The PML-N may be in turmoil as some current ministers abandon what they might see as a sinking ship. It is not clear yet which party is positioned to take advantage of this upheaval on the national stage. PTI currently controls the Khyber Pakhtunkhwa province and appears to be gaining ground in parts of urban Punjab. The PPP controls Sindh. Balochistan is eminently up for grabs for a coalition with the PML-N or any other party that wishes to make a deal. The megacity of Karachi is a battleground for the PTI, the PPP, and the Muttahida Qaumi Movement (MQM), as well as home to many Taliban and other terrorist and criminal enterprises.
Summer soon draws to an end in Pakistan, but the political climate is heating up and will likely reach boiling point within the next year.
Shuja Nawaz is a distinguished fellow in the Atlantic Council's South Asia Center.