The detention of Meng Wanzhou, chief financial officer of Chinese tech giant Huawei, in Canada in December at the request of the United States heightened tensions in an already fraught US-China relationship. Huawei has been the target of the ire of China hawks in the United States dating back to the early 2010s amid scandals tied to sanctions evasion in Iran and concerns about possible espionage. Yet in the buzz about its ties to China's People's Liberation Army, the company's extensive dollar exposures have received little coverage.
Though not publicly traded in equity markets, Huawei has raised more than $9 billion in dollar-denominated loans and bonds. The targeting of Huawei products by the United States over national security concerns has sent the firm's financial partners rushing for the exits, with Standard Chartered and HSBC freezing future deals, and Citi paying close attention to future developments.
In an era of financial warfare waged by sanctions and suspicious transaction reports, global banks are becoming increasingly risk averse for fear of being caught in the US Treasury's crosshairs. Banks are right to be afraid of doing business with Huawei given precedent. For example, Washington banned key Russian firms from dollar financing immediately after Russia's annexation of Crimea in 2014.
This case fits within the broader narrative of US-China geo-economic tensions. Even under the Obama administration, the Committee on Foreign Investment in the United States (CFIUS), led by the US Treasury, blocked several key Chinese semiconductor acquisitions citing national security concerns.
Dollar exposures are by no means limited to Huawei, as many other Chinese tech firms have exhibited a passion for US capital markets. US-listed tech giants, like e-commerce hubs Alibaba and JD.com, have shown a similar affinity for dollar-denominated bonds. In 2017, Alibaba sold $7 billion in dollar bonds across several maturity tranches, the longest of which are scheduled to mature in 2057.
These deals have not been limited to those firms with a listing in New York, as the Huawei case demonstrates. Hong Kong-listed tech giants, like Tencent and Xiaomi, both have large dollar exposures. In 2018, Tencent issued a $5-billion bond deal. Though New York frequently competes with Hong Kong for lucrative Chinese IPOs, the bond market is unquestionably the dollar's turf. The tech sector is far from the only consumer of these markets, as data confirms the acceleration of Chinese dollar borrowing from 2013 onward.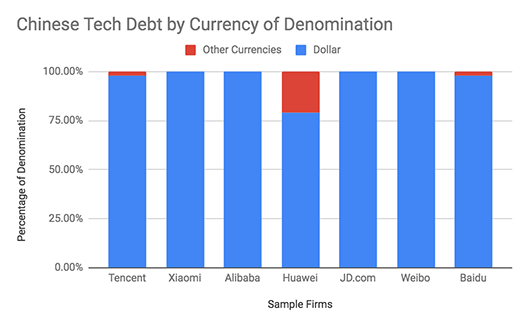 This has occurred in spite of Beijing's push to internationalize the renminbi as a currency for both payments and financing. These aspirations have been hindered by China's post-2016 deleveraging agenda, pursued in order to stabilize its chaotic and complex financial system.
The dollar has continued to expand its hegemony across international bond and loan markets. Its closest competitor, the euro, has seen its international issuance driven heavily by firms based in the United States and the United Kingdom, as opposed to the dollar's emerging markets-fueled surge. As Washington and Beijing clash over tech, these dollar exposures may prove to be a useful geo-economic tool for Washington, if utilized in the proper manner.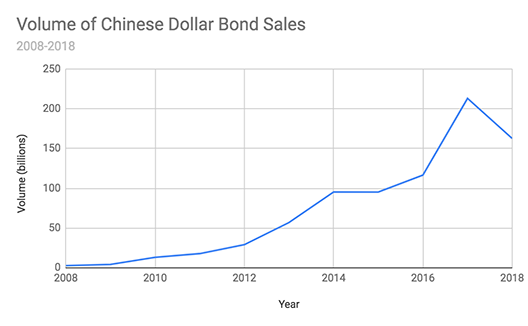 Despite being privately owned, tech giants like Huawei and Tencent play a key role in Beijing's quest to dominate global tech. The continued innovative success of these firms will power the landmark Made in China 2025 initiative, as well as enhance China's surveillance capabilities.
On a micro level, the existence of broad dollar exposures will encourage Chinese tech firms to respect US sanctions policy, even as they lead the way in global fintech. The mere psychological threat of a dollar sanction and the associated reputational concerns will keep these firms in line, ensuring that the US Treasury has a seat at the Chinese fintech table in the future.

On a macro level, the dollar bond market has found itself at the epicenter of Beijing's efforts to deleverage China's indebted property market. Access to dollar financing, typically at lower yields than domestic debt markets, has accelerated the spending binge of developers, like the behemoth Evergrande. Against this backdrop, the imposition of a dollar ban on a Chinese tech firm (although unlikely at this time) could have a ripple effect through the Chinese dollar bond market, affecting the sustainability of highly leveraged developers.
With this in mind, Washington will need to adopt a scalpel-like approach. If implemented properly, these macro risks could induce Beijing to better police the sanctions infractions of its firms. Should they fail, it is imperative that the US Treasury takes these financial risks into account and carefully weighs its options. Like any powerful weapon, the aim is key.
Michael B. Greenwald is a fellow at Harvard Kennedy School Belfer Center. He is deputy executive director of the Trilateral Commission, senior adviser to Atlantic Council President and CEO Frederick Kempe, and adjunct professor at Boston University. From 2015-2017, Greenwald served as the US Treasury attaché to Qatar and Kuwait. He previously held counterterrorism and intelligence roles in the US government.