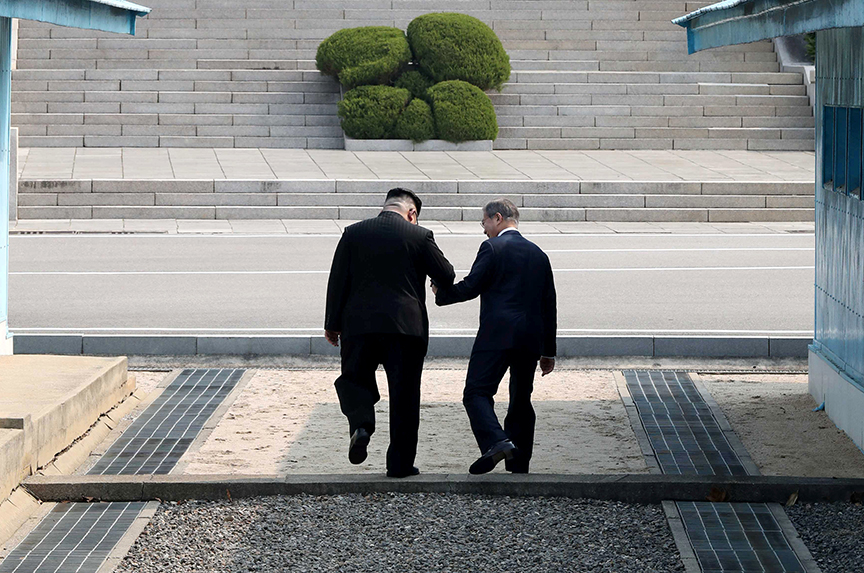 The leaders of North and South Korea agreed on April 27 to denuclearize the Korean Peninsula and work to formally end the Korean War this year.
Making history, North Korean leader Kim Jong-un walked across into South Korea where he was greeted by a beaming South Korean President Moon Jae-in. This was the first time that a North Korea leader has set foot in South Korea since the end of the Korean War in 1953. Kim then asked Moon to step back with him into North Korea; Moon obliged, eliciting applause from onlookers.
"South and North Korea confirmed the common goal of realizing, through complete denuclearization, a nuclear-free Korean Peninsula," according to a statement signed by Kim and Moon after their meeting at the so-called truce village, Panmunjom, on the border between the two Koreas.
"South and North Korea agreed to actively seek the support and cooperation of the international community for the denuclearization of the Korean Peninsula," the statement said.

The inter-Korean summit sets the stage for a summit between Kim and US President Donald J. Trump to be held in May or early June. Neither a venue nor a date have been finalized for that summit.
While the Korean War, which started in 1950, ended in 1953, the two Koreas have technically been at war for the past sixty-eight years. This is because an armistice, and not a peace treaty, was signed to end hostilities.
North Korea, the United States, and China signed the armistice in 1953. South Korea refused to do so. The United States and China, as signatories to the armistice, will need to be part of any peace treaty between the Koreas.
Atlantic Council analysts share their thoughts on the Kim-Moon summit. This is what they had to say.
Barry Pavel, senior vice president, Arnold Kanter chair, and director of the Atlantic Council's Scowcroft Center for Strategy and Security.
"This is indeed an historic day and represents an excellent start to the multi-phase, multilateral and bilateral intensive diplomacy that will be required to move forward effectively and sustainably toward denuclearization and peace on the Korean Peninsula.
"While this is not the first time that the leaders of the two Koreas have issued such a statement, there are new conditions, new leaders, and other factors that make this a fresh chance to make real progress.
"The devil is in the details, and at this point, we have only a piece of paper. But it could represent an important beginning to meaningful action."
Jamie Metzl, nonresident senior fellow in the Atlantic Council's Scowcroft Center for Strategy and Security.
"The Kim-Moon meeting is an important first step that sets the stage for the Kim-Trump summit, which now almost certainly will happen.
"The de-escalation of tensions in the Korean Peninsula is an inherent good, but there is absolutely no indication that North Korea will be willing to give up its nuclear weapons. If the goal of the Trump administration is to reduce tensions while ultimately accepting a North Korea with nuclear weapons, the path forward is clear.
"If the Trump administration, however, seeks to eliminate the North Korean nuclear weapons threat, it is extremely likely that after a series of confidence-building measures the negotiations will collapse. At that time, there is a very real possibility that such a breakdown will create a serious division between the United States and South Korea, as well as a return to significant tensions in the Korean Peninsula.
"The North Koreans are making a very smart and strategic bet that Donald Trump will be happy with the short-term gratification of meetings and photo-ops and will either be incapable of following through on his stated goal of eliminating the North Korean nuclear weapons threat or will be in such deep trouble or out of office at home in the United States so that his position simply doesn't matter.
"Now more than ever, the Trump administration needs a coherent North Korea and regional strategy and a leadership team able to implement it. Unfortunately, the chaos and strategic incoherence of the Trump administration are weakening the United States and significantly undermining its power and influence around the world."
Robert A. Manning, a senior fellow in the Atlantic Council's Scowcroft Center for Strategy and Security.
"It was a beautifully choreographed ceremony, heavy on symbolism and one that undoubtedly stirred the emotions of all Koreans and reflected some unique behavior for a member of the Kim family dynasty in terms of the appearance of graciousness and flexibility. But in the 1992 North-South denuclearization agreement, the 1994 Agreed Framework, and the 2005 Joint Statement North Korea also committed to denuclearization.
"While I cannot dispute that something new may be happening here, it is not obvious that this pledge to denuclearize will be realized any more than the previous ones.
"I think one test is a process toward a peace regime. They can't simply declare peace if all the thousands of artillery tubes and missiles are still in place. It would just be a piece of paper. If the confrontation is truly over, as Kim Jong-un said, then, like the end of the Cold War in 1991, both sides should get rid of the weapons (the United States and the USSR reduced 90 percent of nuclear weapons and dismantled intermediate-range missiles), negotiate mutual force reductions, and dismantle hardened artillery sites across the DMZ, missiles and corresponding force structures in South Korea, including the possibility of reducing US forces at the end of the process. This would then legitimately be a peace treaty endorsed by both Koreas, the United States, and China. The Trump administration urgently needs to articulate how it sees the steps needed to move toward a peace regime.
"The prospects for realizing the North-South declaration will depend in large part on whether or not Trump and Kim reach a deal to dismantle Kim's nuclear weapons that brings results. Conventional force reductions and nuclear dismantlement need to occur more or less at the same time if the confrontation is truly over. I think any agreement should be frontloaded—offer sanctions relief and other benefits up front if North Korea takes steps to dismantle and disable its missile facilities, nuclear reactor, highly enriched uranium facilities quickly and agree on a date certain for denuclearization—by 2020 is one often-discussed option. Then we would truly be in a new era of reconciliation and cooperation in Northeast Asia."
Evelyn Farkas, nonresident senior fellow in the Atlantic Council's Future Europe Initiative, Eurasia Center, and Scowcroft Center for Strategy and Security.
"While the North-South summit appeared to be positive on the surface, many questions remain about motives and future steps to achieve denuclearization. We should be cheering this event, but also remain cautious about what will follow. We have been down this road before with North Korea. Let's hope this is a true turning point."
LTG (retired) Patrick O'Reilly, nonresident senior fellow in the Atlantic Council's Scowcroft Center for Strategy and Security.
"Any progress towards permanent peace on the Korean Peninsula is welcome, but I would caution against optimism that the DPRK is conceding its ICBM development to negotiate peace. They may not be able to ultimately complete the development of ICBM capability due to inherent limitations of their testing infrastructure. The DPRK has never tested an ICBM-class missile in a realistic scenario or over an operational range.

"Additionally, no proof was ever shown that they had an ICBM-compatible nuclear weapon. Hopefully, negotiations with the DPRK will result in inspection regimes that will reveal and monitor the true status of their missile and nuclear programs."
Ashish Kumar Sen is deputy director of communications, editorial, at the Atlantic Council. Follow him on Twitter @AshishSen.