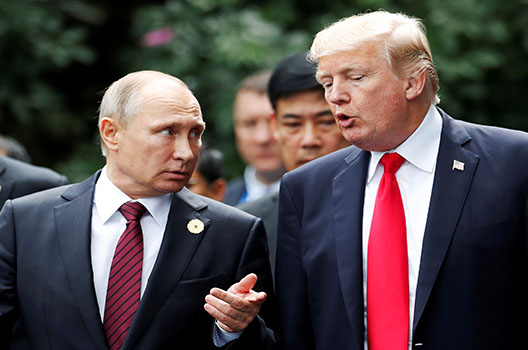 US President Donald J. Trump and his Russian counterpart, Vladimir Putin, will hold their first summit in Helsinki, Finland, on July 16, the White House announced on June 28.
The meeting will come days after the NATO Summit in Brussels and Trump's visit to the United Kingdom. US National Security Advisor John Bolton has said that Russia's alleged interference in 2016 US presidential election will be on the agenda. A Russian foreign ministry spokesman stated that the meeting would focus on Syria, Ukraine, and international terrorism.

The summit will occur as fears grow among Europeans about Trump's commitment to NATO and his willingness to push back on potential Russian aggression in Eastern Europe. NATO Secretary-General Jens Stoltenberg attempted to downplay these concerns on June 28, endorsing the summit, saying "It's absolutely, totally in line with NATO policies to talk to Russia, to meet with Russian leaders. . . We want to strive for a better relationship."
Atlantic Council experts comment on the forthcoming announcement of a Trump-Putin summit. Here is what they had to say:
John E. Herbst, director of the Atlantic Council's Eurasia Center
"President Putin will try to use his July 16 summit to persuade President Trump that Russia could be a useful partner for the United States and that contentious issues like Ukraine and Syria should not be obstacles to an improved bilateral relationship. But the outcome of the US-Russian summit will depend on which President Trump shows up. If the summit is attended by the President Trump who ill-advisedly recommended that Russia rejoin the G-8 and that Russian claims to Crimea are not invalid, the result will be a propaganda victory for Moscow. But if the United States is represented by the President Trump who offered the sensible notions that Mr. Putin should help out by ceasing Russian interventions in Ukraine and Syria, the summit may promote a more stable world by persuading the Kremlin strongman that US policy will only become stronger in opposition to his aggressive policies in those two countries and elsewhere.
"President Putin is encouraged by the scheduling of the summit itself, particularly since this happened right after he broke the ceasefire with us in southwest Syria. This is unfortunate because it sends the dangerous signal that we will still do what the Kremlin wants, even after it has just taken an active step against our interests. Presumably, President Trump's sober national security team understands this.
"If the soft President Trump does show up at the Helsinki Summit, it will not be more than a propaganda victory for the Kremlin because political dynamics in Washington would prevent a weakening of US policy toward Russia. Both Congress and the president's senior advisers understand that appeasing Russia by reducing support for Ukraine or easing sanctions would undermine our security."
Evelyn Farkas, nonresident senior fellow in the Eurasia Center, Future Europe Initiative, and Scowcroft Center for Strategy and Security:
"This meeting is taking place at the wrong time, with the wrong people, [and] with an unclear agenda. It's the wrong time because of the damage President Trump has inflicted on the transatlantic alliance. He has shaken the trust of our allies and weakened our consolidated front against the Kremlin's repeated assaults on the sovereignty of the United States, its allies, and its partners.
"The discussion is occurring at the wrong level. There are issues we need to discuss with Russia, in particular pertaining to arms control and Russia's dangerous military doctrine. However, much work needs to be done at lower levels among diplomats before any kind of deal can be reached.
"The time does not appear ripe for any substantive agreement with Russia. A constructive agenda would include a discussion of all the areas where the United States and its allies have concern about Russia's actions, including Ukraine, and Syria, but there is no evidence Russia will cooperate or compromise unless it is faced with firm resolve.
"Having said all of that, if President Trump is willing and able to deliver firm messages to Russia, this meeting would be constructive."
Daniel Fried, distinguished senior fellow in the Atlantic Council's Future Europe Initiative and Eurasia Center. In the course of his forty-year Foreign Service career, Fried played a key role in designing and implementing American policy in Europe after the fall of the Soviet Union:
"US-Russia (like US-Soviet) summits can work when the American approach is grounded in a strategy consistent with American values, as well as American interests. Given the nature of Putin's Russia, that strategy needs to include cooperation where possible but pressure where needed, and much is needed.
"So far, the administration's actions on Russia generally have been defensible and sound, e.g., maintaining and intensifying sanctions against Russia, and increasing American military support for our Allies on NATO's Eastern flank. But does the President support his own administration's approach? His suggestion that Russia rejoin the Group of Eight (G8), without Putin ending Russia's aggression against Ukraine which caused it to be expelled in the first place, and his apparent eagerness to meet with Putin, an adversary, while showing distain for meetings with America's friends, may be read by Putin as weakness and thus opportunity.
"National Security Advisor Bolton is no fool, and the National Security Council Senior Director for Europe and Russia, Fiona Hill, knows Putin and the Russians well. But President Trump's demonstrated impulsiveness and apparent weakness on substance, in combination with Putin's capacity for charm, risk producing a summit of misunderstandings and unilateral American concessions, with nasty on-the-ground consequences."
Brian O'Toole, nonresident senior fellow with the Atlantic Council's Global Business and Economics Program.

"The Trump-Putin summit is a political gambit with significantly more risk than his summit with Kim, when he offered to halt US-South Korean joint military exercises without apparently consulting with his advisors or allies in Seoul. There are significant legislative constraints on Trump's ability to offer sanctions relief, but there is still—rightly—enormous unease over a summit where the president's predilections are so divergent from his own national security experts and the Congress."

David A. Wemer is assistant director, editorial at the Atlantic Council. Follow him on Twitter @DavidAWemer.