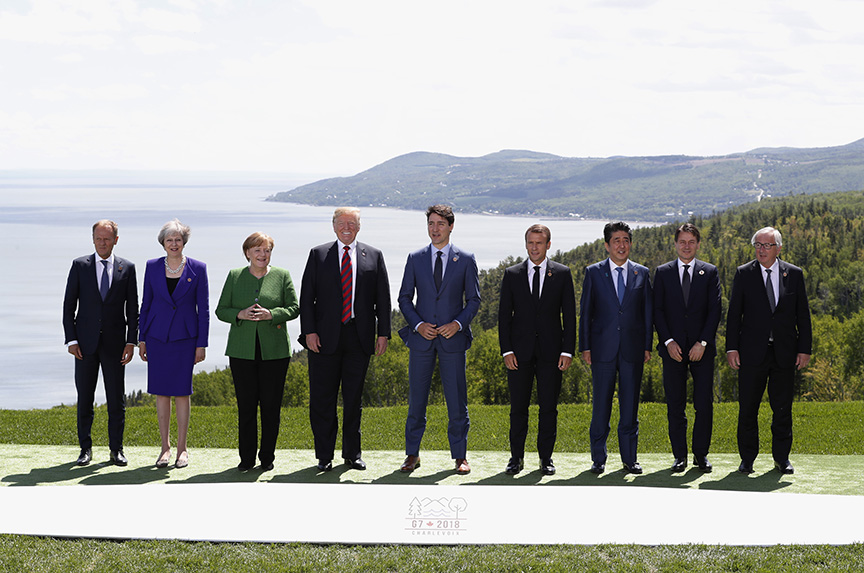 Cracks in the United States' relationships with some of its closest friends and allies were on full display at a meeting of the world's largest economies in Canada this week.
The fissures have been caused by US President Donald J. Trump's America First approach that has led to the US withdrawal from two multilateral agreements—the Iran nuclear deal and the Paris climate agreement—and imposition of metal tariffs on the European Union (EU), Mexico, and Canada on the pretext of protecting US national security.

Trump further strained ties with US allies by suggesting, before setting off for the G7 summit in Canada, that Russia be invited back into the group. In 2014, Russia was expelled from what was at the time the G8 in response to its annexation of Crimea from Ukraine. The other members of the G7—Canada, the United Kingdom, France, Germany, Japan, and Italy—mostly rejected Trump's suggestion. Italian Prime Minister Giuseppe Conte sided with Trump writing on Twitter in Italian that Russia's return to the G7 was in "everyone's interest."
The G7 summit, which got underway on June 8, wraps up on June 9. Trump said he would cut short his visit to the summit by several hours.
Daniel Fried, a distinguished senior fellow in the Atlantic Council's Future Europe Initiative and Eurasia Center, said Trump's comment on Russia "puts the president at odds with his own administration, as well as at odds with the US allies, US values, and US interests in leading a rules-based, free world which has worked well for us and for the world."
Donald Tusk, the president of the European Council, said: "The rules-based international order is being challenged, quite surprisingly, not by the usual suspects, but by its main architect and guarantor, the US."
Meanwhile, Dan Coats, Director of National Intelligence, delivered a forceful denunciation of Russia's actions that stood in stark contrast to Trump's comments.
Speaking at a meeting hosted by the Atlantic Council, Le Figaro, and the Tocqueville Foundation in Normandy, France, on June 8, Coats said Russia had undertaken an "unprecedented influence campaign to interfere in the US electoral and political process" in 2016 and had conducted cyberattacks and disinformation campaigns with the intent of "degrading our democratic values and weakening our alliances."
Coats said Russia, which he said had also meddled in France, Germany, Norway, and Spain, was continuing to attempt to influence the US midterm elections in November.
"These Russian actions are purposeful and premeditated and they represent an all-out assault, by Vladimir Putin, on the rule of law, Western ideals and democratic norms," Coats said.
"[Putin's] actions demonstrate that he seeks to sow divisions within and between those in the West who adhere to democratic norms," he added.
Ashish Kumar Sen is deputy director of communications, editorial, at the Atlantic Council. Follow him on Twitter @AshishSen.