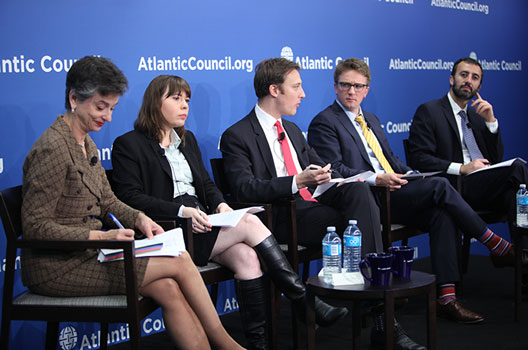 The United Nations' Syria envoy, Staffan de Mistura, called on US President-elect Donald Trump to work with Russia in the fight against the Islamic State in Syria, however, many other factors must be considered before the United States enters into such an alliance, according to an Atlantic Council expert.
"Putting together a coherent strategy around [the fight against the Islamic State] when you inherit the portfolio, I think the Trump administration is going to have a steep learning curve," said Aaron Stein, a senior fellow at the Atlantic Council's Rafik Hariri Center for the Middle East on November 29. "Cutting a deal with [Russian President Vladimir] Putin is great, but there's other players involved," he added.

During the election campaign, Trump consistently articulated his desire to repair relations with Russia. However, Russia has recently rekindled relationships with both Iran and Turkey, two countries with their own grievances against US policies in the Middle East.
According to Anna Borschevskaya, an Ira Weiner Fellow at the Washington Institute for Near East Policy, Putin is using Russia's alliance with Iran to subvert the West. "This is happening because, despite the differences Russia and Iran have, they share strategic goals," said Borschevskaya. "The two countries want to undermine the West, including in the Middle East."
Referring to Trump, she said: "He's very unpredictable…I suspect Putin will try to test him."
Russia's continued bombing in Aleppo in support of Syrian President Bashar al-Assad and involvement in the conflict in Ukraine have demonstrated the Kremlin's antagonistic stance on the world stage. In response, the international community has imposed sanctions for Russia's actions in Ukraine, though no action has been taken to address Russia's actions in Syria.
The Kremlin has demonstrated not only military aggression, but political influence as it supports right-wing parties throughout Europe, using energy as a political tool.
These circumstances threaten US global leadership. "Presence is relevance. By simply being there [in Syria], Russia is mocking our absence," said Borschevskaya. "The loss for American credibility is enormous," she added.
Stein and Borschevskaya joined Thomas Cunningham, deputy director of the Atlantic Council's Global Energy Center; and Alireza Nader, senior international policy analyst at the RAND Corporation, to discuss how the United States can begin to address Russia's mountain aggression in the Middle East, while considering the significance of the Kremlin's growing economic profile in the region. Barbara Slavin, acting director of the Atlantic Council's Future of Iran Initiative, moderated the discussion.
The Trump administration must consider "what Russia wants and what it means for [US] interests and the interests of our allies," said Slavin.
While Russia and Iran have maintained a historically strained dynamic, recently, "the Russian-Iranian relationship has been one of convenience," focused on undermining the United States in the Middle East, said Nader. According to Borschevskaya, "the Syrian crisis created a perfect storm for this."
Nader described how Russia has been able to manipulate Iran's influence in the region, while Tehran has relied on Moscow's military might to establish a significant presence in Syria. "If you look at the conflict now, Russia and Iran are going to own Syria. It's a wasteland," he said.
Borschevskaya described how Russia has pursued friendships not only with Iran, but with many other countries in the region, including Turkey. Stein described the complexity of the relationship between Turkey, Russia, and the United States.
On November 24, 2015, Turkish fighter jets shot down a Russian plane, souring relations between the two countries. Russia responded with sanctions that hurt the Turkish economy. "Concurrent to all these tensions with Russia, Turkey was having tensions with the United States over the PKK," said Stein, referring to the Kurdistan Workers' Party. Though Turkey has backed the Syrian rebels throughout the conflict, Turkish President Recep Tayyip Erdoğan remains frustrated with US military policy in the region.
Though divergences over policy in Syria have strained Turkey's relationship with the United States, and while Russia may now seem a viable alternative, Stein said he does not believe Ankara will turn to Moscow. However, he claimed that the United States needs to consider the possibility, and take Turkish interests into account in a new way in Syria.
Energy remains a significant undercurrent driving policy decisions among all players involved in the conflict. Cunningham described how, for Russia, "oil is about money and gas is about political power."
Turkey relies on energy imports from Russia and Iran, thereby giving the Kremlin leverage over Turkey, he said.
Russian energy company Gazprom has proposed a new Turkish Stream pipeline that will connect Russian gas directly to Turkey. However, Cunningham said, if the pipeline is diverted to Europe, this would impede the European Union's energy diversification efforts. He said: "The pipeline issue is a huge thorn, but it's a few moves down the chessboard."
"Russia does stand to gain a lot as a player in Syria's oil production if and when the conflict abates," Cunningham said. However, Stein said that it is impossible to determine Russia's ambitions for a post-Assad Syria.
Borschevskaya said: "I'm not sure [the Kremlin is] interested in a real political solution; they're interested in entrenching conflict," because Russia benefits from conflict through arms sales. Ultimately, "this is working out great for [Putin] because he didn't start the conflict. He is merely using the situation to make it worse."
Ultimately, Stein emphasized the need for the United States "to conceptualize security policies in a new way."
Trump's campaign rhetoric indicated a particular course of action, yet "I would caution to wait and see what he does," said Borschevskaya. She added, "there are a lot of unknowns, and we need to be careful about jumping to conclusions."
Nader said that even if Trump and Putin were to cooperate in the Middle East, the fundamental differences between the two countries would prevent a deeper relationship.
Borschevskaya said: "What happens in the Middle East never really stays in the Middle East, which is why it's important for America and Europe to remain engaged."
Rachel Ansley is an editorial assistant at the Atlantic Council.