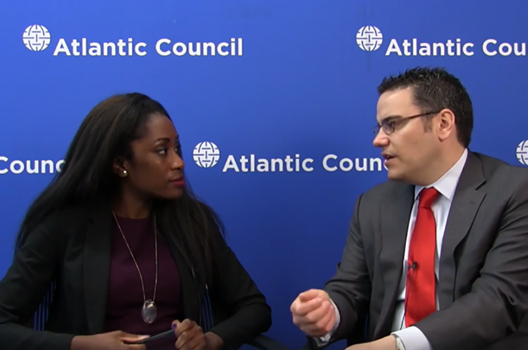 The cuts to foreign aid proposed in US President Donald Trump's new budget, if passed, would drastically diminish US influence in Africa, threaten US security interests, and make way for countries like China to fill the void, according to a former White House official.
"We can't be ceding this space to China and to other players to have them deepen their economic ties and their political ties and have the US really lose out," said Grant Harris, who served as special assistant to the president and senior director for African affairs at the White House from 2011 to 2015.
Trump's new federal budget would put an end to important US engagement on the continent, engagement which, according to Harris, is vital for US national security. This is the premise of his recently published Atlantic Council report: Why Africa Matters to US National Security. "Far too many people think that Africa is of secondary importance to US interests, where, in reality, it's really important to US national security," Harris said in a Facebook Live discussion with Karen Attiah, the global opinions editor with the Washington Post, at the Atlantic Council on May 25.


In order to stem the spread of transnational threats, from terrorism to pandemics, Africa must become stable, said Harris. However, achieving stability requires that the United States remain actively engaged, providing not only humanitarian assistance, but also promoting economic growth. "The budget cutbacks would hurt all of that," he said.
Attiah noted that in the "new US political climate—it's not just Africa—there's a real sense that the US may be retreating from its role as a global leader." This turn inward has opened the door for other nations, such as China, to strengthen their foothold in Africa.
China is already actively engaged in providing funds to many African nations in desperate need of improved infrastructure. Attiah described how China's influence in Africa is "visible," down to details such as Chinese signs in airports throughout the continent. However, Harris said, while Chinese funding of infrastructure projects in many African countries is good for those countries, the projects have "no strings attached," meaning there are no stipulations regarding labor regulations, human rights, or environmental concerns.
"The US holds itself to different standards, and it should," said Harris. He insisted that principled engagement bolsters not only US influence, but strengthens relationships with African partners, who are becoming increasingly significant voices on the world stage. African votes make up more than a quarter of the votes in the United Nations, therefore, "we need African partners to advance [US] priorities," said Harris.
Africa is vital not only to US national security interests, but to the United States' European allies as well, Harris claimed, citing the migration crisis as a major concern.
Harris said that while his report stresses Africa's importance to US national security, "even if you're skeptical of what I'm saying, you've got to believe that European allies are important to national security." Consequently, he said, while Europe seeks to promote stability in Africa in order to stem migration, the United States should engage as well, if not for its own interests, to promote the interest of its allies. "If the US retrenches and we pull back on our assistance… then we're going to be part of the problem," according to Harris.
Previous US administrations have promoted deep bipartisan engagement in Africa. Harris called for the Trump administration to follow suit, emphasizing the importance of a much-overlooked, but increasingly important part of the world.
Rachel Ansley is an editorial assistant at the Atlantic Council.