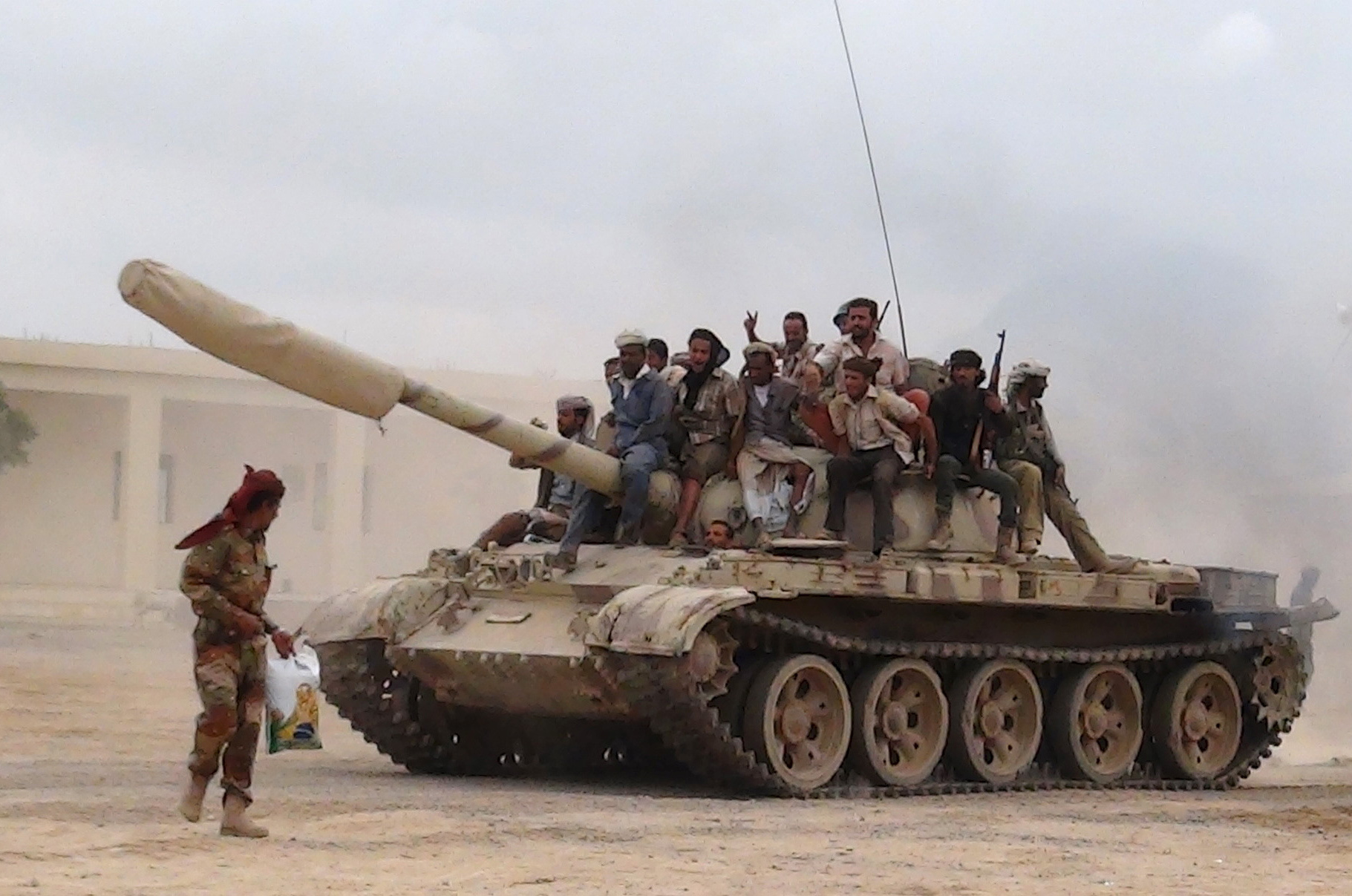 Risks are not predictions, but many of the threats posed to global security and stability highlighted in early 2017 have unfortunately materialized over the past year.
Despite Chinese President Xi Jinping's attempts to try to fill US shoes as it walks away from the world stage and defend globalization at last year's World Economic Forum, it is clear the international community is drifting toward a "leaderless world." China has taken a selective "a la carte" approach to filling the vacuum as Washington retreats from trade deals and plays hard to get with traditional US allies.
As the United States turns inward and a multipolar world takes hold, liberal values—their endurance constituted a major risk in 2017—have certainly retreated. However, one bright spot in this regard has been Europe. In early 2017 the risk of an imploding Europe posed a major concern, though happily that did not happen. Still, European Union (EU) reform appears to be slowing down.

A series of elections with right-wing populist candidates in Europe raised concern as to the future of the continent's political landscape. However, while both France and the Netherlands evaded this scenario and elected more centrist leaders, the right-wing Alternative for Germany (AfD) party's strong showing in the German elections overshadowed German Chancellor Angela Merkel's remarkable reelection for a fourth term. As a result, Germany still does not have a functional government almost four months after the election.
In the Middle East, Syrian President Bashar al-Assad's pyrrhic victory is disturbing, particularly as it has led to stronger Russian and Iranian influence in the region at a time of a shrinking US role. Though painful to say, it seems you can always win your bet about a worsening situation in the Middle East. Despite the relative lull in fighting, peace is not on the horizon for 2018.
While not predictive, the annual ritual of identifying the top risks helps analysts gauge progress or recession throughout the coming year. While 2017 was not quite the annus horribilis many feared, the trend lines for the Atlantic Council's core values—strong transatlantic ties and a vibrant West—still suffered a strong dip.
Outlined below are the top international political, security, and economic risks projected for 2018 based on geopolitical circumstances all around the globe. Overall, the events of 2017 and current global climate at the outset of the new year indicate the international community can and should prepare for the worst but hope for the best in 2018.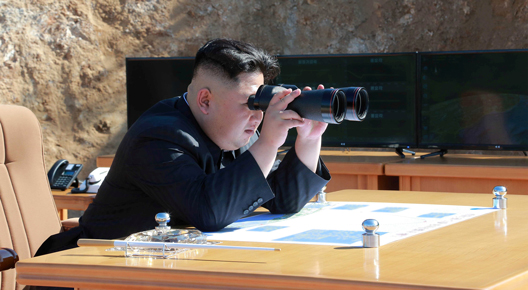 North Korean Leader Kim Jong Un looks on during the test-fire of inter-continental ballistic missile Hwasong-14 in this undated photo released by North Korea's Korean Central News Agency (KCNA) in Pyongyang, July, 4 2017. (KCNA/via REUTERS)

1. North Korea On the Brink: With each missile test, Pyongyang moves closer to achieving the capability of hitting the US mainland with a nuclear warhead. Officials in the administration of US President Donald J. Trump repeatedly emphasize that "time is running out" for stakeholders to find a solution to the crisis. Further, US National Security Advisor H.R. McMaster and other officials say US deterrence is inadequate as a means of mitigating the threat posed by North Korea's nuclear program, threatening "preventive" or "pre-emptive" war if North Korea acquires an operational intercontinental ballistic missile (ICBM) capability. This language is eerily similar to that used by the administration of former US President George W. Bush in the run-up to the Iraq War. Yet US Secretary of Defense Jim Mattis, presumably viewing the same intelligence as McMaster, said that North Korea "has not yet shown to be a capable threat against us now." Technical experts analyzing recent tests express a similar view. Though Pyongyang is probably at least two to three years away from obtaining reliable ICBM, Trump has deemed North Korean leader Kim Jong-un's possession of an ICBM as an unacceptable threat. Further, Trump's exaggeration of that threat, in combination with his skepticism of deterrence as a viable policy, suggests at least a 25-30 percent chance of a pre-emptive US strike on North Korea in 2018.
2. United States Poses Obstacle to Global Trade: Trump rode into office on a wave of critical rhetoric, with a particular focus on "bad" trade deals. He labelled multilateral trade agreements as sources of middle class malaise, denouncing the North American Free Trade Agreement (NAFTA), the Tran-Pacific Partnership (TPP), China's admittance to the World Trade Organization (WTO) and the US-Korea Free Trade Agreement (KORUS FTA). Trump withdrew the United States from TPP immediately after taking office, and—with great skepticism—launched renegotiations of NAFTA and KORUS. His focus on deficits rather than market access as the measure of "fair" trade has resulted in an impossible standard for judging trade deals. Trump's speech to Asia-Pacific Economic Cooperation (APEC) chief executive officers in DaNang was close to a declaration of war on the global trade system. He denounced the WTO as "unfair" (though the US has filed the most cases of any country—over one hundred—and won most). 2018 is likely to be the year Trump disrupts the global trade regime. There is a 40-50 percent chance that Trump will try to reject NAFTA and the KORUS, though legal challenges may impede his efforts. Meanwhile, the rest of the world is (partly in response) moving on with Canada-European Union (EU) and Japan-EU trade pacts. Tokyo finalized a revised TPP-11—a version of the Pacific trade deal which can move forward without the United States—along with the rest of the Indo-Pacific, led by China negotiating the Regional Comprehensive Economic Partnership (RCEP). US exporters will face increased discrimination as a result.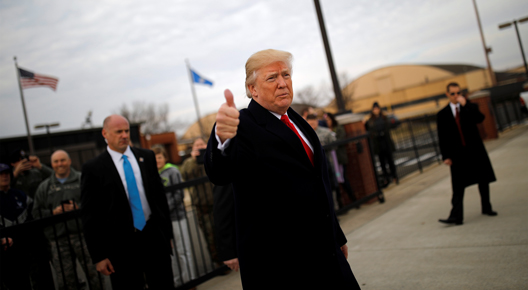 US President Donald Trump gives a thumbs-up to reporters as he boards Air Force One for travel to Palm Beach from Joint Base Andrews, Maryland, US, December 22, 2017. (REUTERS/Carlos Barria)
3. The United States in More Crisis?: The Trump presidency has not been as completely disruptive to the global world order as originally feared. Trump has tempered his early criticism of NATO and been blocked from improving US ties with Russia, but he did go ahead and withdraw the United States from the Paris climate agreement and the TPP. His de-certification of the Iran deal and handover of the problem to Congress indicates indecision. However, this level of moderation could be temporary. The United States faces midterm elections in 2018. A Democratic Party upsurge in the legislative elections is likely to make the Trump presidency more assertive of national interests with regard to trade and immigration, putting US ties with its allies in jeopardy. Ever more worrisome could be the administration's reaction to any additional charges brought to bear by the special counsel investigating ties between the Trump campaign and Russia. Any evidence of Trump's collusion with Russia in his campaign would cripple the administration and send the nation into crisis even if it did not result in his impeachment and removal from office.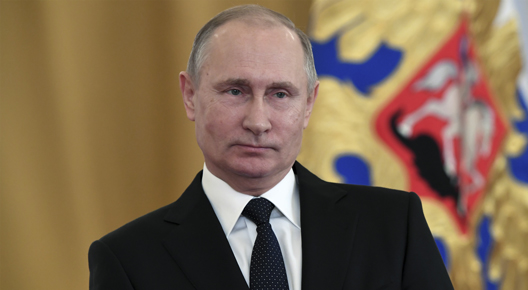 Russian President Vladimir Putin attends a state awards ceremony for military personnel who served in Syria, at the Kremlin in Moscow, Russia December 28, 2017. (REUTERS/Kirill Kudryavtsev/Pool)
4. Putin's Post-Electoral Dilemma: It is a sure thing that Russian President Vladimir Putin will be reelected in March of 2018. However, he faces tough choices in the aftermath. Without enacting economic reform, Putin could consign Russia to terminal decline. At the same time, such reform would be disruptive, potentially destabilizing Putin's rule. Back in 2016, he appointed Aleksey Kudrin as deputy chair of the president's economic council. Previously, Kudrin has served as Russia's finance minister for eleven years until 2011. Kudrin has spent the past year talking up the prospects for reform, saying he has Putin's support for his plans. However, Kudrin's reform plans emphasize tech innovation which would need an EU market to succeed. However, at the time of Kudrin's appointment, Putin hoped that Western sanctions, largely imposed by the EU, would be removed. Since they have only been strengthened and supplemented by a US sanctions package, Kudrin's reform proposals face a complicated future. Putin could achieve the weakening of European sanctions if he agreed to a compromise deal on Ukraine and increased Russian cooperation is other arenas, such as counterterrorism. However, he would face a nationalist backlash against such measures. Economic reform would also undercut the crony capitalism system that Putin has favored. Though, without reform, Putin's legacy—whenever he does step down—may be defined by a weakened Russia, more reliant on China.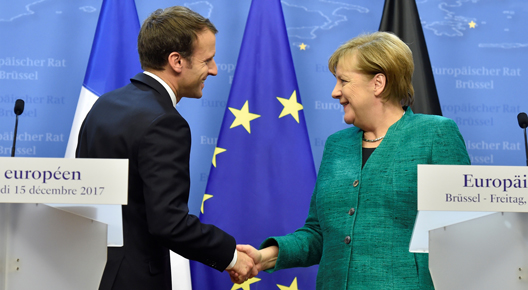 French President Emmanuel Macron and German Chancellor Angela Merkel shake hands after a joint news conference after the EU summit in Brussels, Belgium, December 15, 2017. (REUTERS/Eric Vidal)
5. Can Europe Function Without a Crisis? Though France has finally elected a leader willing to tackle its structural economic malaise, and Europe is pulling itself out of a prolonged recession, it remains uncertain whether Europe can reform itself absent a looming crisis. As ever, Germany and Merkel's appetites for risk-taking are key to setting the pace throughout Europe. The ability to take those risks, however, remains dependent on dire circumstances, such as the ongoing refugee crisis which drove Merkel to make the unpopular decision to open Germany's borders to migrants. However, due in part to this decision, the German public has grown weary of Merkel. She has had trouble forming a government because re-establishment of the former coalition with the Social Democrats increases the possibility of eventual EU financial reforms. Merkel and Macron have vowed to unveil their joint "vision" for Eurozone reforms next March. However, the risk is that the urgency for such reform is now gone with Europe growing faster than it has in years. Brexit will also drain desire to deal with other significant changes in Europe.
6. No End to Conflict in the Middle East: If anything, simmering political and diplomatic disputes in the region could lead to more flashpoints among a range of actors. Tensions between Iran and Saudi Arabia, stemming from regional competition for influence, are likely to remain high, with repercussions for neighboring states. Iran will maintain its dominant security position in the region in 2018, both by supporting transnational networks like Hezbollah, and benefitting from the policy stumbles of its rivals. Particularly in Iraq, Iran's influence is likely to remain intact, despite efforts by Iraqi Prime Minister Haider al Abadi's government and Shia nationalists like Muqtada al-Sadr to lessen the political clout of Iranian-backed sectarian militias. Saudi Arabia failed to break Hezbollah's stranglehold over Lebanese politics, and now both Iran and Hezbollah's leadership will be on the alert for any Saudi attempts at interference. Independence pushes by the stateless Kurds made in 2017 have also created the potential for political and military crises in both Iraq and Syria in 2018. Due to the diminishing US role in determining the final status of the Syrian state, a combination of Iran, Turkey, and Russia (alongside the surviving Assad regime) may move against the Syrian Kurds. In Iraq, potential military conflict among the Iraqi government, Kurds, and Iranian-backed Shia militias could allow the remnants of the Islamic State of Iraq and al-Sham (ISIS) to sow chaos, if not on the same scale as before.
7. Worsening Chaos in Yemen: Saudi Arabia and the United Arab Emirates have taken steps to cooperate with new actors on the ground, but a political solution to the civil war in Yemen appears unlikely. Further, the country's humanitarian catastrophe will only grow worse. The death of former Yemeni President Ali Abdullah Saleh at the hands of his one-time Houthi partners has added a further layer of complexity to the proceedings, making near-term peace prospects even less likely. Continuing Houthi ballistic missile launches against Riyadh could provoke a disproportionate military response from Saudi Arabia and lead to a blockade that pushes Yemen fully into famine.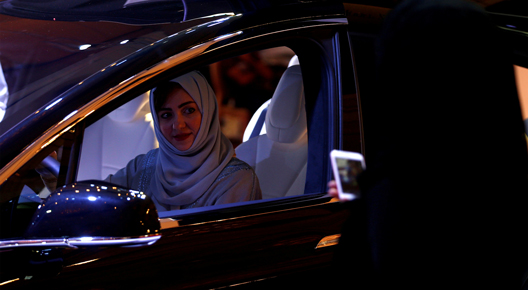 A Saudi woman is photographed as she checks a car at a showroom in Riyadh, Saudi Arabia October 5, 2017. (REUTERS/Faisal Al Nasser)
8. Slow Pace of Reform in Saudi Arabia Risks Sowing Frustration and Resentments: The implementation of Riyadh's comprehensive reform program, Vision 2030, will continue to move slowly, frustrating its supporters. Meanwhile conservative sectors resistant to changes such as allowing women to drive will continue to nurse ill feeling towards the government. Saudi King Salman bin Abdulaziz Al Saud may turn over the crown to his son, Crown Prince Mohamed bin Salman (MbS) in 2018, which could fuel resentment and potential conflict within the royal family. A Saudi Arabia with MbS at the helm could see an escalation of tensions with both Iran and Qatar. Given the Saudi royals' proximity to the Trump administration, they could also face domestic and regional blowback should there be an escalation in Israeli-Palestinian tensions stemming from the administration's recognition of Jerusalem as Israel's capital. At a time of uncertain US leadership in the Middle East, European powers like France and the United Kingdom will bear an increased burden for de-escalating crises and containing regional powers.
9. A Scuppered Sputnik Moment for the United States and Europe? As outlined in its new National Security Strategy (NSS), the Trump administration aims to revive the United States' innovation leadership. While Washington has accused China of trying to weaken the United States on this front, the Germans and the French also say they want to hinder Chinese investment in key industries. These endeavors stem from the belief that the Chinese are intent on stealing the West's technologies to better compete against it. China's attempts to outpace Western innovation are reminiscent of the space race to Sputnik in 1957. At the time, the United States not only feared a Soviet lead but acted on those fears by investing heavily in equipment, education, and agencies to strengthen the United States' competitive edge. By contrast, the Trump administration has proposed cuts to research and development in the National Institutes of Health, the Department of Education's national labs, and other sources of government-funded research.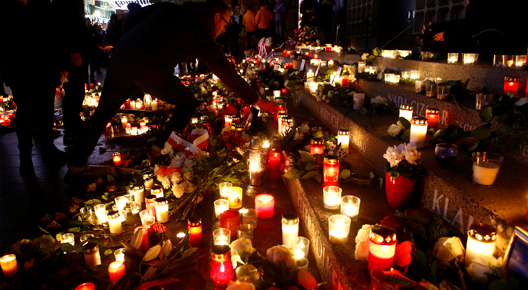 People place candles at the memorial at the site of last year's truck attack in a Christmas market, which killed 12 people and injured many others, at Breitscheidplatz square in Berlin, Germany December 19, 2017. (REUTERS/Fabrizio Bensch)
10. Terrorist Threat Increasing Outside the Middle East: The diminishing fortunes of ISIS in Syria and Iraq mean that terrorism may increase elsewhere, with the large number of foreign fighters returning to Europe and Russia. Europe has seen an uptick in terror attacks over the past couple of years, with growing numbers of deadly incidents in Eastern Europe, including Russia. The recent attempted large-scale attack in St. Petersburg is a reminder that Russia remains vulnerable to terrorist attacks, considering the scores of Russians who have joined terrorist groups and fought in the Middle East. There are more terrorist threats around the globe than any Western or Russian intelligence service can handle. Miscalculations about intent and the likelihood that suspects are planning an attack will be impossible to prevent.
11. Populism: It's Too Early to Dismiss In Italy, the Eurosceptic Five Star movement has been surging in the polls ahead of the likely March elections. While they are unlikely to be able to form a government, a coalition between populist right Northern League and center-right Forza Italia could feature an Eurosceptic platform. The driving force behind populism and Eurosceptism in Italy, and many other Western European countries that have fought their own battles against populist electoral candidates throughout 2017, is the popular opposition to the seemingly unstoppable stream of migrants arriving from Africa and the Middle East. Meanwhile, in Mexico, the former leftist mayor of the capital, Andres Manuel Lopez Obrador, is drawing increasing support as a presidential candidate, fueled by popular reaction against Trump and his disdainful remarks about Mexicans. An Obrador victory in the election in July could exacerbate US-Mexican tensions, further endangering NAFTA. Meanwhile, in Brazil, former president Luiz Inácio Lula da Silva appears poised for a comeback in the October elections, despite his recent conviction on corruption charges. However, further indictments could disqualify him. Other candidates include right-wing populist Jair Bolsonaro who has praised Brazil's past military junta, or regime. A Lula or Bolsonaro victory could be disruptive, potentially derailing Brazil's fragile economic recovery.
Mathew Burrows is the director of the Foresight, Strategy, and Risks Initiative in the Atlantic Council's Scowcroft Center for Strategy and Security. You can follow him on Twitter @matburrows.
Robert A. Manning is a senior fellow in the Atlantic Council's Scowcroft Center for Strategy and Security. You can follow him on Twitter @rmanning4.

Owen Daniels is associate director of the Middle East Peace and Security Initiative in the Atlantic Council's Scowcroft Center for Strategy and Security. You can follow him on Twitter @OJDaniels.