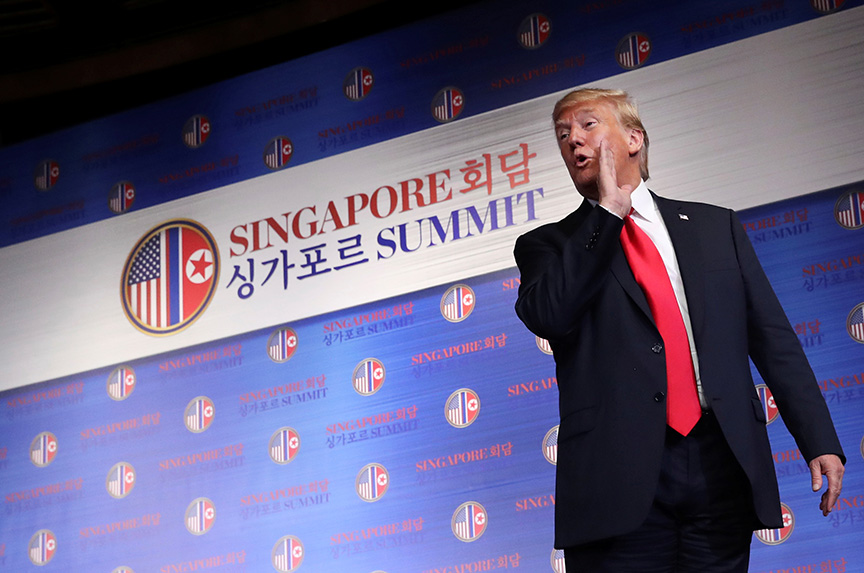 The summit between US President Donald J. Trump and North Korean leader Kim Jong-un in Singapore on June 12 was not itself a bad idea. But signing an empty paper is questionable. Adding a unilateral concession—suspending US-South Korean exercises without even consulting with our allies—smacks of careless frivolity. Tactical unpredictability can be a tool. Strategic unreliability is a liability.
China and Kim are winners. We are now operating within their policy framework: de facto nuclear status quo (which favors North Korea), suspension of US military exercises (ditto) , and de facto gradual weakening of sanctions, the leverage which the US administration deployed, developed, and now risks squandering.

Japan and South Korea (as the American security relationship is now on the table) are losers, and for no good reason.
Another big loser: American interests in Northeast Asia. We've pulled out of the Trans-Pacific Partnership and Trump now says he wants US forces out of South Korea. What we get is the joint statement's vague verbiage, the sort of weak deal that John Bolton used to make a meal of.
This has been a bad week, with the US president undermining our foundation of democratic alliances while surrendering the initiative to our adversaries, a sad and astonishing retreat of American power and credibility.
The administration can make up some of the losses by negotiating a serious framework for "complete, verifiable, and irreversible" North Korean disarmament, maintaining the sanctions in place and enforced until that deal is done and implemented, and postponing until after peace on the peninsula is secured any substantial change to the robust US-South Korea security relationship.
Daniel Fried is a distinguished senior fellow in the Atlantic Council's Future Europe Initiative and Eurasia Center.