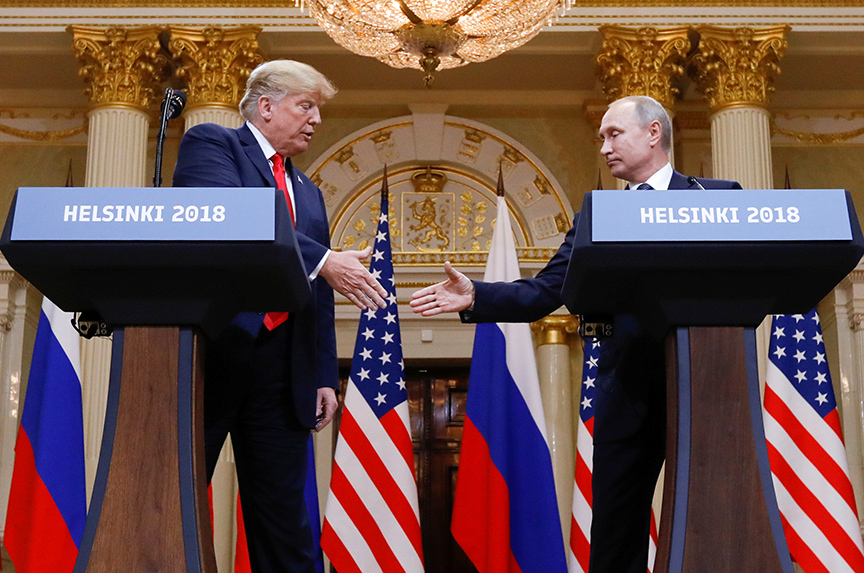 US President Donald J. Trump on July 16 appeared to believe Russian President Vladimir Putin's denials over the US intelligence community's assessment that Russia meddled in the 2016 elections, saying he saw "no reason why" Moscow would have acted in that way.
Speaking at a joint press conference following his first summit with Putin in Helsinki, Trump said: "President Putin was extremely strong and powerful in his denial today" on meddling.

Trump also insisted that there had been no collusion between his campaign and Russia. On July 13, the US Justice Department indicted twelve Russian intelligence agents for hacking the Democratic National Committee and Trump's Democratic presidential rival Hillary Clinton. On July 16, the Justice Department charged a Russian woman who tried to set up meetings between Trump and Putin in 2016. It made clear that the woman, Mariia Butina, was part of a Russian intelligence effort to influence the US elections.
Trump acknowledged that he had been told by some US officials, including Dan Coats, the director of national intelligence, that Russia was behind cyberattacks in 2016. "I don't see any reason why it would be," he said. "We ran a brilliant campaign, and that's why I'm president," he added.
While the US intelligence community has concluded that Russia meddled in the 2016 elections, Coats told a meeting co-hosted by the Atlantic Council in Normandy, France, on June 8 that Russia was also attempting to influence the US midterm elections in November while simultaneously seeking to divide the transatlantic alliance.
"These Russian actions are purposeful and premeditated and they represent an all-out assault, by Vladimir Putin, on the rule of law, Western ideals and democratic norms," Coats said.
"[Putin's] actions demonstrate that he seeks to sow divisions within and between those in the West who adhere to democratic norms," he added.
In the past few months, Trump has torpedoed the G7 summit in Canada, excoriated the United States' NATO allies over defense spending, criticized British Prime Minister Theresa May on her handling of Brexit, described Germany as a "captive" of Russia, characterized the European Union as a "foe," and directed the Pentagon to review the cost of withdrawing US troops from Europe.
Ahead of his meeting with Putin, a tweet from Trump appeared to set the tone for the meeting by blaming the strained US-Russia relationship on "years of U.S. foolishness and stupidity."
Russia's Ministry of Foreign Affairs promptly retweeted Trump with a two-word comment: "We agree."
Asked about that tweet by a journalist, Trump stood by its content but expanded the blame to include Russia. "I think we've all been foolish," he said.
The summit was panned by members of Congress, notably from his own party.
Sen. Lindsey Graham (R-SC), a member of the Senate Armed Services Committee, tweeted: "Missed opportunity by President Trump to firmly hold Russia accountable for 2016 meddling and deliver a strong warning regarding future elections."
Sen. Jeff Flake (R-AZ) called Trump's words "shameful."
Sen. John McCain (R-AZ) called the press conference "one of the most disgraceful performances by an American president in memory."
"The damage inflicted by President Trump's naiveté, egotism, false equivalence, and sympathy for autocrats is difficult to calculate. But it is clear that the summit in Helsinki was a tragic mistake," McCain added.
Chuck Hagel, a former chairman of the Atlantic Council who has also served as US secretary of defense and Republican senator from Nebraska, told CNN: "It's a sad day for America, it's a sad day for the world."
In an interview with CNN, Hagel exhorted Congress to stand up. "This is very serious because it ricochets around the world," he said. "Congress is going to finally have to get some backbone… and show some leadership as to what they were elected to do."
Sen. Mark Warner (D-VA) tweeted: "For the President to side with Putin over his own intelligence officials and blame the United States for Russia's attack on our democracy is a complete disgrace."
In Helsinki, Trump and Putin participated in a one-on-one meeting that lasted over two hours.
The two leaders discussed the situation in Syria, Ukraine, and arms control.
Atlantic Council analysts shared their assessment of the summit. Here's what they had to say:
Alexander "Sandy" Vershbow is a distinguished fellow in the Atlantic Council's Scowcroft Center for Strategy and Security. He served as US ambassador to Russia from 2001 to 2005, and NATO Deputy Secretary General from 2012 to 2016. Follow him on Twitter @ARVershbow.

"The big news, of course, is the president's unbelievable siding with Putin against the US intelligence community on election interference. It will raise questions about whether some of the members of the intelligence community that Trump has appointed will be able to do their job if he doesn't pay heed to the conclusions of their investigations.
"It is kind of ironic that [Trump and Putin] may have actually reached some constructive agreements. On this, we get more clues out of Putin's opening remarks at the press conference than from Trump; that seems to be the standard operating procedure under this administration.
"It is encouraging that they did agree to some kind of intensification of talks on strategic stability and nonproliferation, which could include discussions on extending New START and, most importantly, trying to find some way to resolve the dispute over compliance with the INF Treaty. They also agreed to cooperate on terrorism, to try to produce some kind of de-escalation in Syria, and to minimize risks between Israel and Iran. Whether this is just a statement of intent or something more concrete is hard to tell from what we have heard so far.
"It looks like Trump, at least according to what Putin said, did not compromise the US position on the illegal annexation of Crimea, although it is surprising that Trump didn't mention Ukraine even once in his press conference.
"Putin mentioned two interesting groups that may be established—one a high-level working group of industrial leaders that would provide recommendations on how to improve economic and trade relations, and the second a group of experts, including academics, former diplomats and military officers, to offer ideas for improving relations.
"If it was just about these specific issues, it would have been perhaps a better-than-expected meeting with no major faux pas by the president. Instead, the summit was overshadowed by the mindboggling and potentially treasonous rejection by Trump of his own intelligence community's conclusions and his whitewashing of what the Russians did to undermine our democracy. Some people have compared the interference in the elections to an act of war. The president basically condoned a direct political attack on our system and values.
"Trump's tweets [on July 16] and some comments at the press conference do certainly give credence to those who claim his policy is not America First, but Blame America First. What he said about election interference clearly shows that he is obsessed with any challenge to the legitimacy of the results of the 2016 election. This obsession is blinding him to the fact of Russian hacking.
"A KGB career officer like Putin is trained to lie. In light of the Indictment of twelve senior Russian intelligence officers, his claim that the Russian state has not interfered in US domestic affairs is absurd—unless he claims the twelve were on vacation (Putin has claimed that some of the troops in Eastern Ukraine were on vacation or volunteers, even though some of them were named career Russian general officers).
"The summit might have actually been useful to lower tensions in US-Russia relations, but at the same time, without confronting the threats Russia poses to our country and the international order, it could add up to a return to 'business as usual' without Russia paying any price for its behavior. It is, however, better talking than not talking."
R. Nicholas Burns is an Atlantic Council board member who served as US undersecretary of state from 2005 to 2008. Follow him on Twitter @RNicholasBurns.
"I don't think we have seen anything like this where our president chose not to criticize the Russian government at multiple points during a long press conference; went out of his way not to say a single word of criticism on Crimea, on the nerve agent attack, and especially on the Russian cyberattack on our elections.
"When the president was asked if he believes his intelligence community or Putin on the cyberattacks, he did not back up the intelligence community and he essentially sided with Putin. That is dereliction of duty. The president leads the government, he has an obligation to support the people in the government. The intelligence community is right about Russian meddling, the grand jury indictment is testimony to that. This is a low moment in the modern presidency.
"The president did himself a lot of damage today internationally. Our allies look at this entire trip and they see that he picked fights with [German Chancellor Angela] Merkel and [British Prime Minister Theresa] May, he demeaned NATO, he called the European Union a foe of the United States, and then he essentially gave the Russian dictator a giant pass on all the accusations made against Russia by the United States government. So, our credibility is diminished. The allies are looking at an American president who is erratic, who is not in command of the facts, who is treating our allies as competitors, and is seeking a relationship with Putin that we shouldn't have.
"What he should have done with Putin today is to have laid down red lines on Crimea, nerve agents, and election interference and told Putin specifically what would happen if there was another attempt by the Russians to interfere in our elections. This was the weakest performance by an American president in our lifetime—one who did not stand up to a Russian leader.
"The only silver lining could be on two issues; President Putin really spoke to both of them. He said that the United States and Russia had agreed to study the future of both the START agreement and the INF agreement. That could, possibly, be important. We'll see how it works out. The second was that on Syria there was a sensitivity that Israel's security has to be protected. The issue here is that the Iranian Revolutionary Guard Corps has been dangerously close to the Golan Heights. Putin said we might go back to the agreement Henry Kissinger negotiated in 1974 that separated the Israeli and Syrian warring forces. That agreement has held since 1974. That might be a way to separate the Iranians and move them away from the Golan Heights.
"Putin said there was an agreement to have exchanges of businesspeople. It's hard to know how that can be fruitful when we have so many American sanctions placed on Russia.
"I also think that Putin's idea of a mutual extradition where Robert Mueller would be able to question in Russia some of these Russian intelligence agents [named in the Justice Department indictment] but only in exchange for Russia interrogating on US soil American citizens, is a bad deal.
"On issue after issue, the enduring image from that press conference was a strong, confident Putin and a hesitant, weak, uninformed American president."
Evelyn Farkas is a nonresident senior fellow in the Atlantic Council's Future Europe Initiative, Eurasia Center, and Scowcroft Center for Strategy and Security. From 2012 to 2015, she served as deputy assistant secretary of defense for Russia/Ukraine/Eurasia, responsible for policy toward Russia, the Black Sea, Balkans, and Caucasus regions and conventional arms control. Follow her on Twitter @EvelynNFarkas.
"I had predicted that this summit was a bad idea and that it would be a win for Putin. But the fact that our president has effectively sided with Russian intelligence operatives who attacked our elections and are planning to attack our critical infrastructure, if need be, and our president doesn't stand up for America is astounding.
"When Putin suggested this reciprocity—that if Russia gives the United States access to the GRU operatives named in the Justice Department indictment, Russia should be allowed to interrogate US intelligence officers it accuses of meddling—the president seemingly agreed. That was an appalling suggestion on the part of Putin.
"There are a whole list of things that President Putin said that our president should have vehemently objected to. Among them was the idea that we should help rebuild Syria when in fact the Russian military today, as we speak, is bombing civilians in eastern Syria in violation of a ceasefire that Putin and Trump agreed to last year. The fact that the Russians would audaciously try to get our president to rebuild Syria while they are still bombing it is disgusting to me.
"The bottom line is that what the president said and what he didn't say today amount to borderline treason. I cannot come to any other conclusion but that our president is willfully denying the attack on the United States by the Russian government and the fact that the lights are blinking red—that the Russians have the ability and the will to attack our critical infrastructure should they deem it necessary."

John Herbst is the director of the Atlantic Council's Eurasia Center. He served as the US ambassador to Ukraine from 2003 to 2006. Follow him on Twitter @JohnEdHerbst.

"Taken alone, the Trump-Putin meeting was a propaganda victory for the Kremlin. President Trump scored a self-goal for his Russian counterpart when he blamed the United States for the sorry state of US-Russian relations. That is a point that the Kremlin and its media spokespeople have been trumpeting for years. It overlooks the fact that the Kremlin has been pursuing a revisionist policy for at least a decade, conducting aggressive war against Georgia and Ukraine, violating arms controls agreements, and seeking to undermine both NATO and the European Union. The one consolation is that this propaganda win for Moscow is unlikely to change US policy. The statement by Director of National Intelligence Dan Coats on July 13 was just the latest reminder that US institutions are hard at work maintaining a strong policy toward Russia and limiting Mr. Trump's options.
"Still, the spectacle in Helsinki is set against the background of the president's trips to Brussels and London. And we have the juxtaposition of a president who is tough on allies and soothing with adversaries. That creates confusion where clarity is needed. The long-term impact of this confusion is hard to quantify, but we know it is a negative. We are in a unique historical period that poses the question: Can US institutions alone, with at best a reluctant commander in chief, retain American global leadership?"

Frederic C. Hof is a nonresident senior fellow in the Atlantic Council's Rafik Hariri Center for the Middle East. He is a former special adviser for transition in Syria at the US Department of State. Follow him on Twitter @FredHof.
"The words of Presidents Putin and Trump at their joint press conference suggest that the outline of a grand bargain on Syria may not have been fully achieved. The two presidents agreed on increasing humanitarian assistance to needy Syrians. They also agreed that Israel should be secure in accordance with the 1974 disengagement agreement that followed Syrian-Israeli combat in 1973. But the balance of an agreed approach seems to have been left to their subordinates to work out.
"The Kremlin fears that Washington will successfully stabilize northeast Syria and produce a governance alternative to the Assad regime in the process. Putin will want Trump ultimately to give into his instincts and leave Syria quickly, once ISIS (ISIL, Daesh, Islamic State) is finished off. He will offer in return to keep Iran away from the Israeli occupied Golan Heights: something he is very unlikely to be able to do, even if he wanted to.
"If President Trump objected to his counterpart's violation of the southwest Syria de-escalation zone agreed to by Moscow, Washington, and Amman in 2017, he did not mention it. He also thanked Russia for helping with the battle against ISIS: undeserved praise. And both presidents cited Russian-American military cooperation in Syria, making no reference to an attack by Russian mercenaries across the Euphrates River toward American positions on February 7, 2018: an assault routed by American air strikes and artillery."
Michael Carpenter is a nonresident senior fellow with the Atlantic Council's Eurasia Center. He is a former deputy assistant secretary of defense with responsibility for Russia, Ukraine, Eurasia, the Balkans, and Conventional Arms Control. Follow him on Twitter @mikercarpenter.
"It's difficult to capture the degree to which the president of the United States has compromised the integrity of his office. What we witnessed at the joint news conference with Putin was disgraceful and borderline treasonous.
"President Trump had an opportunity to confront Putin over his cyberattacks on the United States, his ongoing aggression in Ukraine, and his continued bombing of civilian areas in Syria. He did none of that. Instead, he questioned the conclusions of the US intelligence community, and sided with Putin over the FBI. In doing this, the president showed his true colors and where his primary loyalties lie."
Brian O'Toole is a nonresident senior fellow with the Atlantic Council's Global Business and Economics Program. He worked at the US Department of the Treasury from 2009 to 2017. As senior adviser to the director of the Office of Foreign Assets Control (OFAC), he helped manage the implementation of all OFAC-administered economic and financial sanctions programs. Follow him on Twitter @brianoftoole.
"Weeks of punditry and analysis on the Trump-Putin summit in Helsinki today can be basically boiled down into the basic result that very little appears to have actually changed. President Trump remains personally committed to expanding dialogue with Putin and Russia, which more or less directly contravenes his own administration's national security strategy that recognizes Russia as a dangerous actor on the world stage and lays out a policy of containment and limited cooperation, rather than the broad-based engagement Trump favors.
"Trump remains unable or unwilling to confront Putin on Russia election meddling, and at one point during the press conference bizarrely stated that he has great confidence in both the US intelligence community's assessment that Russia interfered in 2016 and in Putin's denial of that interference. Both presidents spoke voluminously in platitudes about the need for increased cooperation and engagement between the two countries that control 90 percent of the world's nuclear arsenal, but the lack of details behind any of the issues discussed (Syria, Ukraine, counterterrorism, North Korea, etc.) indicates that both realize this meeting did nothing to change the status quo.
"What happens now will depend on how serious Trump is about directing his national security staff to follow through on engagements with Russia. There may perhaps be more open communication, but the major issues between the United States and Russia do not appear to have been addressed in seriousness at this summit. More likely is that things will continue along the same path they've been going since January 20, 2017. Trump will continue to praise Putin and be personally soft on Russia; his administration will continue to balance Trump's personal leanings with the need to work with allies and partners, including the Congress, to combat Russian malign behavior; Congress will continue to play a major role in formulating US pushback against Moscow; and Putin will continue to believe he can get away with most anything he wants, since it's clear that he does not have a foe sitting behind the Resolute desk.
"This was where we were 24 hours ago, and entertaining anecdotes (Putin's offer to trade his twelve GRU officers for Bill Browder) aside, that's where we are now."
Ashish Kumar Sen is deputy director of communications, editorial, at the Atlantic Council. Follow him on Twitter @AshishSen.