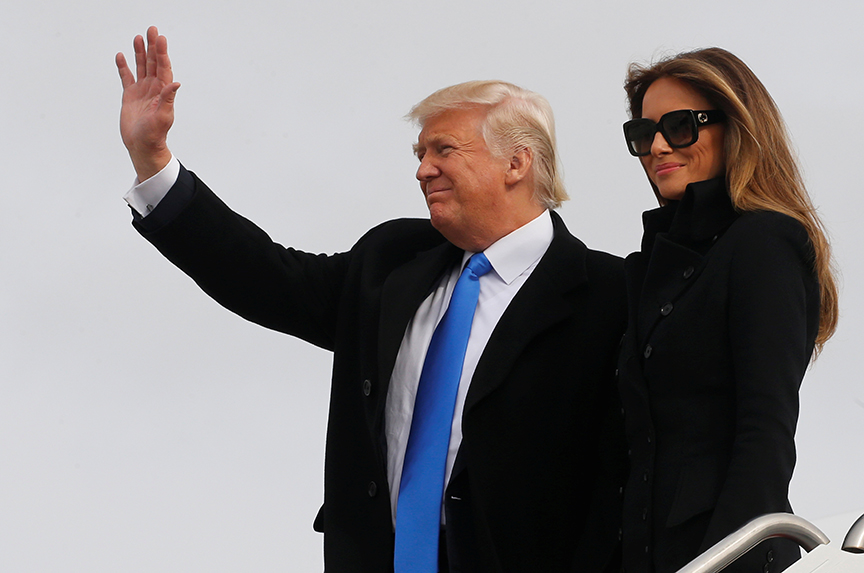 US President Donald J. Trump, in a late-night, all-caps tweet on July 22, threatened Iran with "consequences the likes of which few throughout history have suffered before" if Iranian leaders continued to threaten the United States with war.

Trump's tweet was an apparent response to a comment by Iranian President Hassan Rouhani to Iranian diplomats in Tehran. "America should know that peace with Iran is the mother of all peace, and war with Iran is the mother of all wars," Rouhani said, according to Iran's state news agency IRNA.
In many ways, Trump's tweet has echoes of his Twitter outbursts against North Korean leader Kim Jong-un, which ultimately led to a summit between the two leaders in Singapore on June 12.
Iran, however, is a different kettle of fish.
"Trump is hoping that tweeting a threat of war, similar to his 'fire and fury' comment about North Korea, will pressure Tehran to negotiate," said Holly Dagres, a nonresident fellow in the Atlantic Council's Middle East Security Initiative.
"Instead, Trump's saber-rattling is pushing Rouhani to match his rhetoric and join the hardline camp, thereby emboldening hardliners—who refuse to negotiate with the United States—and their stances," said Dagres.
"Any threats toward Iran, regardless of who is in power, stirs nationalist sentiments in the majority of Iranians to rally around the flag and their government," she added.
Similarly, Amir Handjani, a senior fellow in the Atlantic Council's South Asia Center, contended that it's "clear the Trump administration isn't interested in diplomacy with Iran."
"Anyone who has studied Iranian politics closely would know that threatening and humiliating them publicly only hardens their positions," said Handjani.
"[Trump's] approach could lead to rapid and unpredictable escalation, which seems to be what those around the president want. It's clear that the goal of this administration is regime change. It's still unclear how and to what extent they are committed to bring it to fruition," he said.
"Like the last Republican administration that went to war in the Middle East, [the Trump administration] has blinders on and has little appetite for appreciating the complexities that vex both Iran and the region," he added.
Unlike the George W. Bush administration, which "believed in democracy promotion, the Trump administration is cynically using 'human rights' as another club with which to bludgeon Iran," said Barbara Slavin, director of the Future of Iran Initiative at the Atlantic Council.
"The United States' unilateral withdrawal from the Iran nuclear deal and reimposition of sanctions—compounded by a hugely discriminatory travel ban—will punish ordinary Iranians far more than their leaders," Slavin said.
In May, Trump pulled the United States out of a deal that sought to curb Iran's nuclear ambitions. He called the deal "decaying and rotten" and an "embarrassment." The Joint Comprehensive Plan of Action (JCPOA) was agreed to by Iran and the P5+1—Russia, China, France, Germany, the United Kingdom, and the United States—in 2015. The other signatories of the deal have vowed to stand by it. Iran, too, has shown no sign of reneging on the agreement.
On July 22, US Secretary of State Michael Pompeo, in a speech in California, compared the Iranian regime to the "mafia" and said Rouhani and Foreign Minister Javad Zarif, who negotiated the nuclear deal, were "merely polished front men for the ayatollahs' international con artistry."
"Their nuclear deal didn't make them moderates; it made them wolves in sheep's clothing. Governments around the world worry that confronting the Islamic Republic harms the cause of moderates, but these so-called moderates within the regime are still violent Islamic revolutionaries with an anti-America, anti-West agenda," Pompeo said.
Making the point that it was telling that no Iranian-American introduced Pompeo at the event, Slavin said: "This reflected the community's lack of confidence in the Trump administration as an agent of change in Iran."
Handjani suggested that it would be preferable if the Trump administration worked with its allies and partners behind the scenes to build a coalition that could bring Iran to the negotiating table. "This approach has worked well in the past," he said.
Matthew Kroenig, deputy director for strategy at the Atlantic Council's Scowcroft Center for Strategy and Security, said the Trump administration's goal is to increase pressure on Iran in order to force it to the table to renegotiate a better nuclear deal.
"Better terms will require more pressure, so Trump's tweet, tougher sanctions, and calling out Iran's human rights abuses are all part of this broader strategy," he explained.
Ashish Kumar Sen is deputy director of communications, editorial, at the Atlantic Council. Follow him on Twitter @AshishSen.