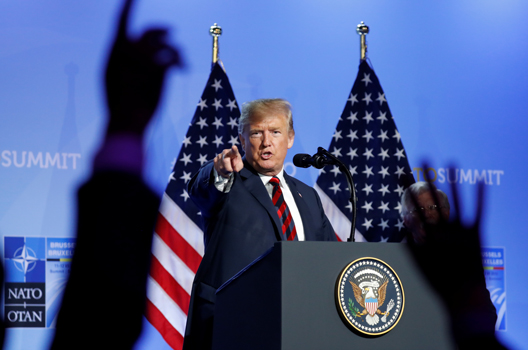 US President Donald J. Trump on July 12 reaffirmed the United States' commitment to NATO after declaring that allies had agreed to his demands to spend more on defense. This affirmation came hours after the US president chastised allies for not spending enough on defense and even threated to pull the United States out of the Alliance.
"The United States was not being treated fairly, but now we are," Trump said at a news conference in Brussels after NATO leaders held an emergency meeting to address the US president's complaints that allies are not spending enough on defense.
"Yesterday I let them know that I was extremely unhappy with what was happening and they have substantially upped their commitment," Trump said, "And now we're very happy and have a very, very powerful, very, very strong NATO, much stronger than it was two days ago."

Trump declared he had "really accomplished a lot with respect to NATO."
"For years presidents have been coming to these meetings and talked about the expense, the tremendous expense, for the United States, and tremendous progress has been made," he said.
"Everyone's agreed to substantially up their commitment. They're going to up it at levels that they've never thought of before," he said, claiming that allies will ultimately spend "quite a bit higher" than the 2 percent of GDP on their defense—a goal they agreed at their Wales Summit in 2014 to meet by 2024.
French President Emmanuel Macron, however, denied Trump's claim that NATO members had agreed to increase defense spending beyond previous targets.
Earlier in the day, Trump caused panic in the Alliance after he threatened to "do his own thing" if NATO members did not increase their defense spending. Some officials interpreted the president's comments as a threat to withdraw the United States from NATO.
Damon Wilson, executive vice president of the Atlantic Council, described Trump's handling of US allies as "leadership by intimidation."
"We have been a leader of this Alliance because we lead by inspiration, and our allies have wanted to follow us because we have set a ahistorical example of global leadership, [but] what we have watched is leadership by intimidation," said Wilson.
Wilson described the NATO Summit and Trump's performance at it as a "produced drama." Alluding to Trump's past as a reality TV star, Wilson said he has carried that persona into his presidency. "You create and fabricate crisis and drama; you create tension with the characters; and then you swoop in and solve it," he said.
Ahead of the NATO Summit there was a strategy to "pivot to the positive," said Wilson. "Many of us thought that was going to set the scene for the summit. The president decided otherwise. He elevated the drama and only pivoted to the positive in [his] press conference," said Wilson.
Atlantic Council President and Chief Executive Officer Frederick Kempe said Trump did "a victory lap" in Brussels.
"[President Trump] took credit for NATO being stronger than ever, and committing itself to greater spending on defense, and that's a big success. We might wish the journey had been a little smoother but did this turn out better than many had feared? The answer has to be yes."
While Trump has been critical of NATO, going so far as to describe it "as bad as NAFTA," the US-Canada-Mexico trade agreement that he has railed against, the US Congress this week affirmed its commitment to NATO.
The US House of Representatives and the US Senate passed resolutions in support of NATO. The House passed its resolution in a voice vote on July 11 while the Senate, in a 97-2 vote on July 10, overwhelmingly approved a motion of support for NATO.
Two senators, Sen. Thom Tillis (R-NC) and Sen. Jeanne Shaheen (D-NH), traveled to Brussels to attend NATO Engages—a two-day event jointly hosted by the Atlantic Council, the German Marshall Fund, Women in International Security, and the Munich Security Conference—to express Congress' commitment to the Alliance.
"Congress has your backs," Tillis, co-chair of the Senate NATO Observer Group and a member of the Senate Armed Services Committee, said in a panel discussion in remarks directed at jittery US allies.
Shaheen, who is the co-chair of the Senate NATO Observer Group and member of the Senate Foreign Relations Committee, declared: "We are stronger with allies than we are alone."
Trump has suggested that allies double their defense spending goal from 2 percent to 4 percent of GDP—a goal most allies will find impossible to meet and worry a serious effort to enforce could break up the Alliance. NATO allies agreed at their Wales Summit in 2014 to spend 2 percent of their GDP on defense by 2024. Trump demanded that rather than wait for 2024, allies immediately meet this target. Currently, only four members of the twenty-nine-nation Alliance—the United States, the United Kingdom, Greece, and Estonia—meet the 2 percent goal. Latvia is expected to meet the goal this year.
Trump said NATO Secretary General Jens Stoltenberg had given him "total credit" for the increased spending by allies. Speaking at NATO Engages in Brussels on July 11, Stoltenberg acknowledged that Trump had a "clear message" that allies need to invest more in defense.
Ashish Kumar Sen is deputy director of communications, editorial, at the Atlantic Council. Follow him on Twitter @AshishSen.