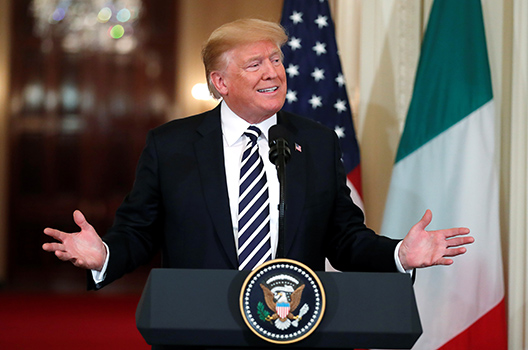 Eight days ago, US President Donald J. Trump warned Hassan Rouhani of dire "consequences" should the Iranian president persist with his threats against the United States.
On July 30, Trump said he would be willing to meet with the Iranian leader at any time "with no preconditions."
"If they [the Iranians] want to meet, we'll meet," Trump said at a joint press conference with Italian Prime Minister Giuseppe Conte at the White House in Washington.

Matthew Kroenig, deputy director of the Atlantic Council's Scowcroft Center for Strategy and Security, said Trump's willingness to meet the Iranian leader is "the textbook pressure and engagement strategy the United States has used for many years in dealing with rogue states."
"Trump is increasing the economic and military pressure on Iran so long as it pursues its threatening nuclear and missile programs and support for terrorism while simultaneously holding out the promise of talks if Iran is willing to choose a more responsible path," he said.
Barbara Slavin, director of the Atlantic Council's Future of Iran Initiative, said: "In principle, such a meeting would be great, but I question whether the president is really willing— or able—to enter a negotiation with Iran in good faith after unilaterally withdrawing from the Iran nuclear deal and imposing a travel ban on visits here by most Iranians."
Holly Dagres, a nonresident fellow at the Atlantic Council's Scowcroft Center for Strategy and Security and editor the IranSource blog, agreed with Slavin, arguing that the Iranians "believe in a dialogue of mutual respect. Thus far, the Trump administration has proven to be an untrustworthy actor since they withdrew from the JCPOA [Joint Comprehensive Plan of Action]."
"US President Donald Trump has done nothing to build confidence nor has his administration proven that it will keep its word. Trump will have to bridge a wide divide before the Iranians are willing to meet," she added.
Trump withdrew the United States from the JCPOA, an internationally negotiated deal to halt Iran's nuclear weapons program, on May 8.
On July 30, Trump doubled down on his opposition to the deal, calling it "a waste of paper." As a result of the US withdrawal from the JCPOA, US economic sanctions on Iran are set to begin snapping back on August 6.
"Trump's actions have been a principal cause of the collapse of the Iranian currency, the retreat of Western investors and general misery in Iran. Is he willing to reverse these actions in return for realistic concessions? Or is this just another publicity stunt?" Slavin asked.
On July 22, Trump directly attacked Rouhani on Twitter warning the Iranian leader not to "threaten the United States again or you will suffer consequences the likes of which few throughout history have ever suffered before."
Trump's tweet followed a comment by Rouhani to Iranian diplomats in Tehran. "America should know that peace with Iran is the mother of all peace, and war with Iran is the mother of all wars," Rouhani said, according to Iran's state news agency IRNA.
Explaining his willingness to meet Rouhani, Trump pointed to similar meetings with North Korean leader Kim Jung-un and Russian President Vladimir Putin this year as examples of meeting with foreign leaders traditionally opposed to the United States. He lauded both meetings as successes and hoped that if Tehran wanted to meet "we could work something out."
David A. Wemer is assistant director, editorial at the Atlantic Council. You can follow him on Twitter @DavidAWemer.