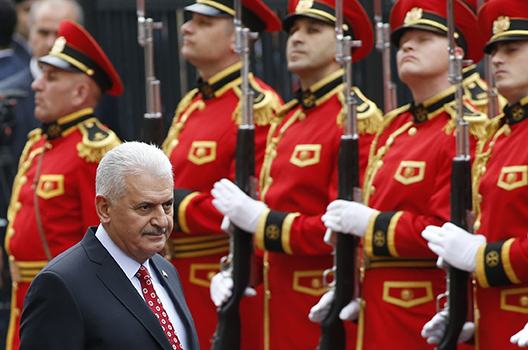 The 2008 war between Georgia and Russia was a critical test for Turkey. It highlighted Ankara's delicate balancing act between the West and Russia, one that President Recep Tayyip Erdoğan is still pursuing today.
The conflict presented a formidable challenge. Georgia was not just another neighbor for Turkey – the two countries had built robust diplomatic and commercial ties since the collapse of the Soviet Union. But Russia, too, had become a leading commercial and political partner for Ankara. Turkish policymakers viewed Russian pushback against the West in the Black Sea as a serious threat and sought to mitigate the conflict.

When asked about Russia's incursion in 2008, then Prime Minister Erdoğan responded, "it would not be right for Turkey to be pushed toward any side. Certain circles want to push Turkey into a corner either with the United States or Russia after the Georgian incident. One of the sides is our closest ally, the United States. The other side is Russia, with which we have an important trade volume. We would act in line with what Turkey's national interests require."
The truth is that he was neither here nor there. At the outset of hostilities in Southern Ossetia, on 8 August, Erdoğan called President Mikheil Saakashvili to assure him of his support. Soon enough, however, as the Russian army pushed back, he changed tack.
On 12 August, the Turkish prime minister travelled to Moscow to pitch the so- called Caucasus Stability and Cooperation Pact, which was little more than a statement of neutrality. To accommodate Moscow, Turkey was adamant that American military ships delivering humanitarian aid to the Georgians must abide by a special provision of the 1936 Montreux Convention, in effect barring two large American hospital vessels, USNS Comfort and Mercy. Turkey's Ministry of Foreign Affairs assured Moscow that the smaller ships the United States dispatched instead would depart before the expiry of the treaty's mandated twenty-one day period.
This tilt towards Moscow did not go unnoticed in Washington. Turkey was excluded from Vice President Dick Cheney's tour of regional allies, which included stopovers in Tbilisi, Baku, and Kyiv. At the same time, Foreign Minister Sergei Lavrov came to Istanbul, on 2 September 2008. Back in 2005, American diplomat Richard Holbrooke had written about "a little noticed charm offensive [by Moscow] to woo our all- important (but deeply alienated) ally Turkey into a new special relationship that would extend Russia's influence." The war in Georgia made everyone notice.
Deep down, Turkey's response to the crisis reflected distrust of the West, and the United States in particular. Turkey doubted that America had firm commitment to the Black Sea region. In a worst case scenario, Ankara would be left to fend alone against resurgent Russia. Therefore, it chose to bandwagon with Moscow.
The lessons of 2008 are still relevant today. Russian-Turkish security cooperation, having taken a downturn in 2015-2016 over Syria, is now blossoming, just as Turkey's ties with Western allies, the United States first and foremost, are at an all-time low. Putin and Erdoğan have become something of a double act in diplomacy, no matter if the issue at hand is the war in Syria, energy, or multibillion dollar defense trade. There are more than a few, in Washington and in big European capitals, who fear that Turkey has jumped ship, and scrapped NATO in favor of a partnership with Putin. Such concerns are amplified by what goes on inside Turkey, where Erdoğan's unqualified dominance over the country feels like a replica of the Kremlin's system of governance.
Turkey, however, is at best a fellow traveler rather than an ally of Russia. Erdoğan is pursuing a multi-vector policy in the Black Sea region. Far from aligning fully with Russia, he has also been nurturing ties with pro-Western countries such as Ukraine and Georgia and keeping options open. Three-way cooperation between Turkey, Georgia, and Azerbaijan is growing stronger. The Baku-Tbilisi-Kars railway became operational in October 2017 and in June this year the Transanatolian Pipeline (TANAP) started pumping natural gas from the Caspian Sea to Turkey.
Ankara has been supportive of NATO's tailored forward presence in the Black Sea. Even if NATO allies and foreign policy experts bemoan Erdoğan's embrace of Putin and fear that Turkey is no longer an outpost of the West in the neighborhood, the Turkish government continues to back the Alliance's enlargement. At the recent NATO summit in Brussels, Foreign Minister Mevlüt Çavuşoğlu argued that NATO should extend membership to Georgia and Bosnia and Herzegovina, in addition to Macedonia, which received an invitation to launch accession talks. At the end of the day, NATO remains an insurance policy rather than an unwanted burden for Turkey, escalating tensions with the Washington aside.
It is therefore premature to speak of a Russian-Turkish entente now, as much as it was in 2008. The war in Georgia came as a sobering reminder to Turkey that it plays second fiddle in the South Caucasus compared to Russia. The March 2014 annexation of Crimea only reaffirmed this conclusion when it comes to the Black Sea as a whole.
Ankara's response: a strategy of soft balancing and hedging through NATO. The trouble is that the "Make Turkey Great Again" foreign policy pursued by Erdoğan is both nationalist in content and unilateralist in method. From a Turkish perspective, the transatlantic alliance is merely an instrument to further national objectives, rather than a community of values.
Dimitar Bechev is a nonresident senior fellow at the Atlantic Council's Eurasia Center. You can follow him on Twitter @DimitarBechev.
This piece is part of a week-long series on the New Atlanticist marking the tenth anniversary of the 2008 Russian-Georgian War. To read all the pieces, check the New Atlanticist homepage from August 7 until August 10.