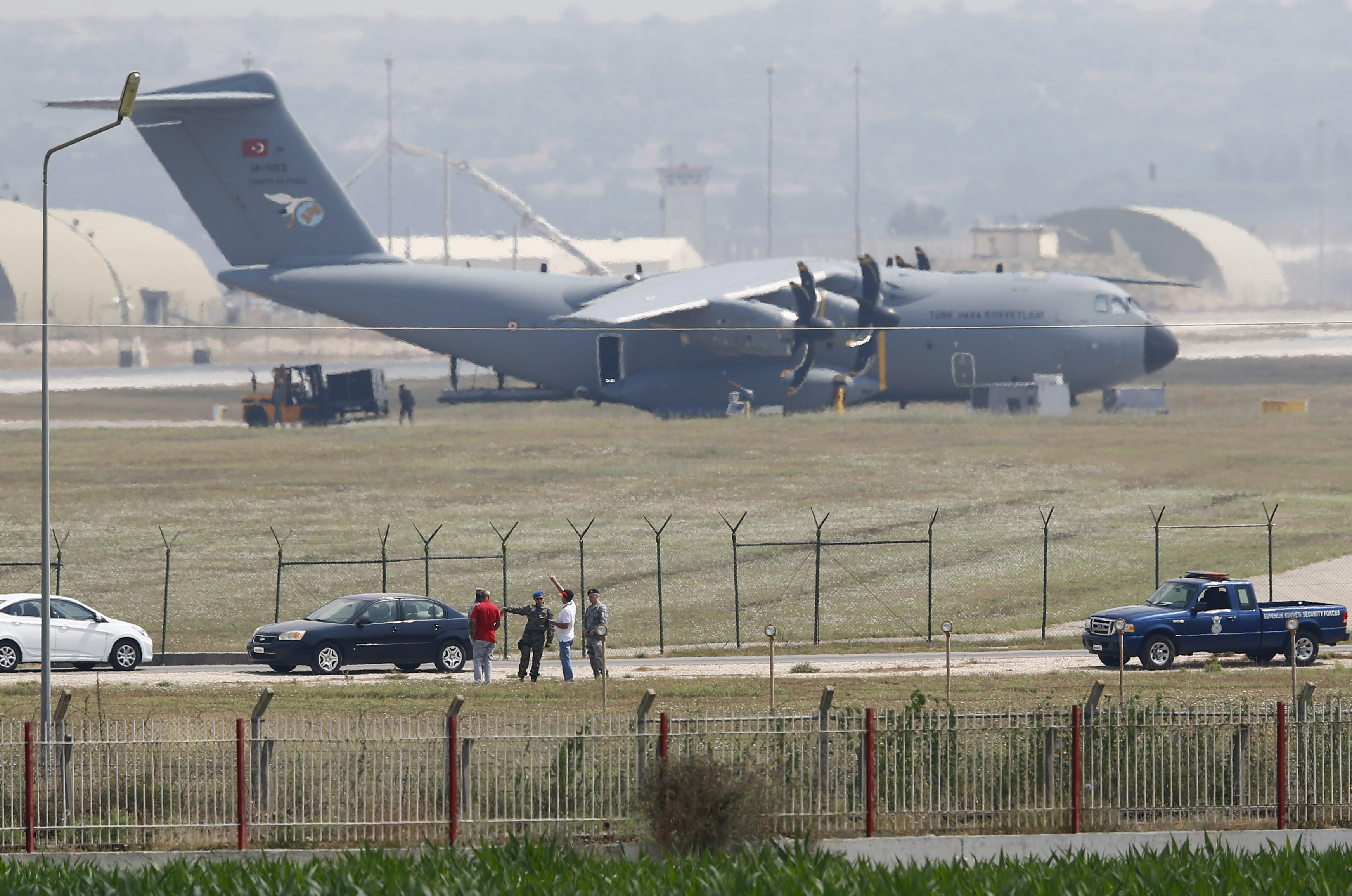 Deal envisages creation of 'safe zone' in Syria, allows US jets to use Turkish base
A landmark agreement between the United States and Turkey—that allows US jets to use a Turkish air base to launch strikes against Islamic State of Iraq and al-Sham (ISIS) militants and envisages the creation of a "safe zone" in war-ravaged Syria—is a step in the right direction, but also raises some important questions.

The deal draws Turkey deeper into the four-year-old war in Syria and is likely to boost the intensity of US airstrikes against ISIS.
The United States and Turkey have different objectives in Syria. Washington's agenda is aimed at degrading ISIS, the Islamic militant group also known as the Islamic State of Iraq and the Levant (ISIL), the Islamic State, and Daesh. Ankara wants to topple Syria's embattled leader Bashar al-Assad.
"US-Turkish cooperation in the battle against ISIL is vital, and news of a protected area north of Aleppo is most welcome as it would complete the expulsion of ISIL forces from the Syria-Turkey border," said Frederic C. Hof, a Resident Senior Fellow in the Atlantic Council's Rafik Hariri Center for the Middle East.
"The key questions, however, are the following: does the very limited territorial scope of this arrangement presage a broad Turkish ground and air intervention against ISIL in eastern Syria, one supported by coalition aircraft; and will this tiny zone enable some form of protection for Syrian civilians living near, but not inside, the zone from the Assad regime's brutal and illegal barrel bombing campaign?" he added.
The deal
Turkey announced last week that it had agreed to a longstanding US request: that US fighter jets be allowed to use the Turkish base in Incirlik to conduct bombing runs against ISIS. Turkish jets are now also conducting airstrikes in northern Syria.
The United States and Turkey also agreed to set up a "safe zone" along Turkey's border with Syria. This zone will be created after ISIS militants have been pushed out of a 68-mile-long area west of the Euphrates River and extending into Syria's northern Aleppo province, according to the Washington Post.
Who will secure this safe zone? The United States and Turkey have ruled out sending ground troops into Syria and it's unclear that a no-fly zone will be enforced over this area. The task of securing the zone will ultimately fall to Syrian rebels vetted, equipped, and trained by the United States in Turkey, Hof said in an Atlantic Council phone briefing July 28. The US training program has, however, only produced around sixty moderate Syrian rebels.

Turkey and the Kurds

Turkey's conflict with the Kurds, meanwhile, could become an obstacle in US-led efforts to degrade ISIS.
Turkish troops reportedly attacked fighters of the Kurdish People's Protection Units (YPG) near the town of Kobane in northern Syria this week. Ankara considers the YPG to be terrorists, but the group has, aided by US airstrikes, been an effective fighting force against ISIS. Now that US forces have access to the Incirlik base they will be able to provide even "more timely and perhaps even more effective" support to the Kuridsh forces, State Department spokesman John Kirby said July 27.
Turkey may see its agreement with the United States "as a way to water down or mitigate Washington's current dependence on the Kurdish PYD in Syria to provide ground forces to fight ISIS," said Hof.
Turkey has denied shelling YPG positions in northern Syria, but admitted that it is bombing another Kurdish group—the Kurdistan Workers' Party, or PKK—in Iraq. PKK has links to YPG's political arm, the Democratic Union party (PYD). The United States has designated the PKK a foreign terrorist organization and endorses Turkey's right to self-defense.
While the United States has made a clear distinction between the PKK and the PYD, Turkey has not done so—until now.
Turkey's firm denial of reports that its forces had attacked YPG fighters signals an "evolution" of its approach toward PYD, said Francis J. Ricciardone, Vice President and Director of the Atlantic Council's Rafik Hariri Center for the Middle East.
"Who knows what the facts are in the fog and confusion of war? But one of the facts is that the Turkish government denied it, so at least they wish not to be perceived as attacking them," he said in the July 28 phone briefing.
"It sounds as if the Turkish state [believes] the Kurds of Syria, although closely aligned with the PKK in the case of the PYD, can be dealt with in a separate way; that is to say, accepted as fellow combatants against ISIS, if not outright allies against ISIS," he added.
However, Ricciardone predicted that if Turkey decides to attack Kurdish forces inside Syria that would dissolve the coalition fighting ISIS.

Advantage Turkey?
Turkey's decision to play a larger military role in the war in Syria followed a July 20 suicide bombing in the Kurdish-majority town of Suruc. Thirty-two people were killed in the attack, which was blamed on ISIS.
The US-Turkish deal delivers a win for Turkey by setting the goal of creating a safe zone—a key Turkish demand for joining the coalition effort in Syria, but it also allows US jets use of Incirlik.
Turkish Prime Minister Ahmet Davutoglu was quoted July 27 as telling Turkish journalists that while the United States and Turkey still have differences over their goals in Syria, there was enough common ground to justify the new agreement.
"At this point, I'm most interested in seeing whether or how the Turks manage to play this in a manner that suits their key interests in northern Syria," said Faysal Itani, a Resident Fellow in the Rafik Hariri Center for the Middle East.
"Whatever the official positions, there is no way to perfectly align the US and Turkish goals here," he added.
Davutoglu was quoted by the Hurriyet newspaper as saying an important Turkish concern was air cover for rebel Free Syrian Army fighters and other moderate rebel groups.
"If we are not going to send in land units on the ground, and we will not, then those forces acting as ground forces cooperating with us should be protected," Davutoglu reportedly told Turkish journalists.
Itani sees this as challenge in the US-Turkish plan.
Turkey would want to turn a "safe zone" in northern Syria to the advantage of its rebel allies in the region, many of whom would not pass US vetting, said Itani.
"Removing ISIS from these groups' eastern flanks would greatly facilitate their struggle against the regime in Aleppo province," he said.
"In short, I expect that the US would try hard to keep this safe zone from turning into a haven for Turkish-supported insurgents, and that it may well fail. On the other side, Turkey will want to make sure any safe zone is 'safe' for its allies to conduct their war against the regime (or their rivals in the insurgency). The safe zone could not possibly be of an offensive character against ISIS and purely defensive or passive against other parties," he added.
Defining targets: ISIS or Assad?
Any effort to degrade ISIS will be seriously hamstrung as long as Assad remains in power, said Hof, who served as a special advisor for transition Syria in the Obama administration.
He described ongoing atrocities committed by Assad's forces—including barrel bombings of residential neighborhoods—as a "recruiting asset" for ISIS.
"Trying to beat ISIL while standing aside as Assad and his Iranian supporters do their worst to Syrian civilians is the political-military version of one hand clapping," said Hof.
"So although recent developments are positive, they can be decisive only to the extent they transcend what's being reported," he added.
Ashish Kumar Sen is a staff writer at the Atlantic Council.