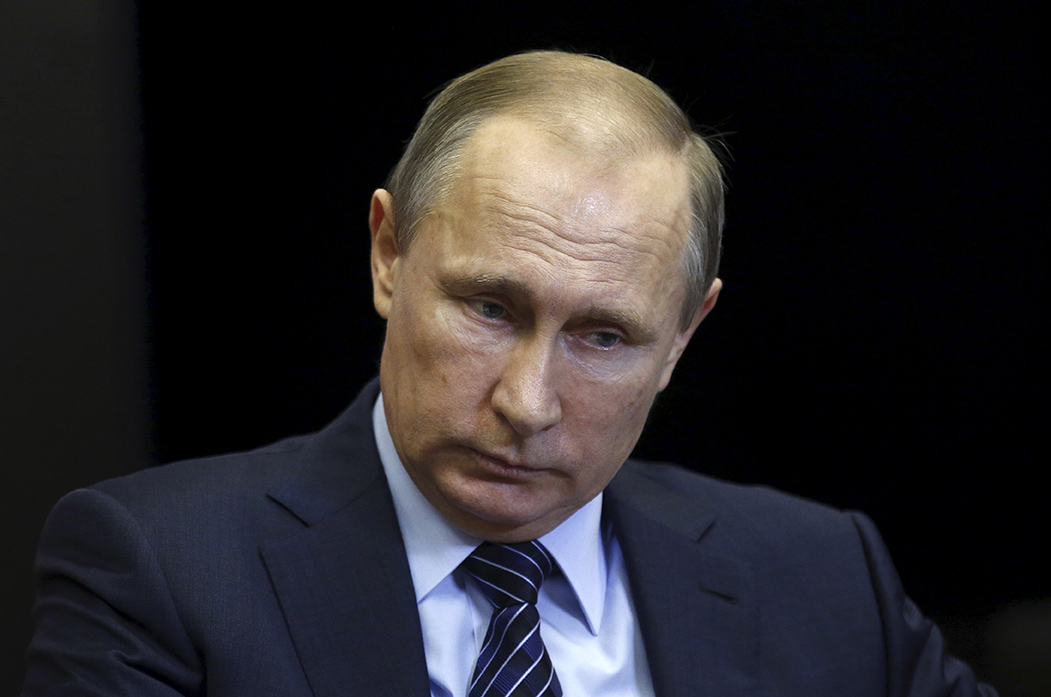 The downing of a Russian SU-24 fighter jet by Turkey after it violated Turkish airspace and ignored ten warnings exemplifies the danger of Russian military support for Syria's embattled President Bashar al-Assad. But it will also complicate French President François Hollande's quest to include Moscow in a unified coalition against the Islamic State of Iraq and al-Sham (ISIS).
Hollande, who has taken on the mantle of a wartime leader following the Nov. 13 terrorist attacks in Paris, met US President Barack Obama at the White House on Nov. 24 in a diplomatic effort aimed at building an all-inclusive coalition. He will also meet German Chancellor Angela Merkel and Russian President Vladimir Putin this week.
Hollande has said he will urge Russia to focus its attention on fighting ISIS instead of propping up the Assad regime. But at least one member of the US-led coalition will resist a Russian role in the grouping.
"On the Turkish side, there is no appetite for greater coalition-Russian cooperation vis-a-vis the Islamic State inside Syria," said Aaron Stein, Nonresident Senior Fellow in the Atlantic Council's Rafik Hariri Center for the Middle East.

The Turkish government maintains that Assad and ISIS are in a "de facto alliance, wherein both groups fight the Syrian rebels, but not each other," Stein said. "This means that ISIS is able to take advantage of the Assad regime's airstrikes to expand its territory, while the Assad regime uses ISIS to justify its war. Thus, to defeat ISIS, one must first defeat Bashar al-Assad," he added.
To achieve this goal, Turkey wants the coalition to provide greater support to Syrian rebel groups with the aim of turning up the heat on Assad, forcing him to step down and accept the terms of the Geneva communiqué — a roadmap for political transition in Syria.
"France's call is antithetical to this policy, and therefore is not something that Ankara would like to see happen," said Stein.
Barry Pavel, Director of the Atlantic Council's Brent Scowcroft Center on International Security, said Hollande's vision of a more unified coalition in Syria could make a difference, but would depend on how Russia responds to the downing of its jet.
"If [Russia] takes a really escalatory step that makes it impossible to coordinate at the military level or a diplomatic level, then we will have lost an important opportunity," Pavel said in an Atlantic Council phone briefing.
"If, on the other hand, it does something small to save face… playing a more constructive role both in the coalition going after ISIS targets and showing flexibility on moving Assad out of there toward a legitimate transition, then we have a different ballgame," he added.
The fate of the two Russian pilots will be a key factor in Russia's response to the downing of its aircraft.
Photographs and videos of bloodied Russian pilots — one of whom is believed to be dead; the other is reportedly in the hands of Turkmen rebels — will have "an unfortunate, triggering, escalatory effect that undoubtedly will stimulate additional Russian action," said Pavel.
Turkey has close ties with the Turkmen and could use this leverage to secure the release of the Russian pilot in a step that could help deescalate tensions with Russia.
Russian incursions
The downing of the Russian jet by Turkey marked the first time since the end of the Cold War that a NATO member has shot down a Russian warplane. If the violation is confirmed, it will be the fourth time that Russian jets have penetrated Turkish airspace since October.
In October, a complaint from Turkey prompted a protest from NATO over Russia's incursions into Turkish airspace, and Turkey shot down what US officials believed was a Russian drone.
On Nov. 23, a day before the shoot-down of the Russian jet, Turkey had called for a United Nations Security Council meeting to discuss Russian attacks on the Turkmen — who are Syrians of Turkish descent — in northern Syria.
Francis J. Ricciardone, Vice President and Director of the Hariri Center, doubted that Turkey shot down the Russian aircraft to protect the Turkmen against Russian bombing.
Turkey acted "entirely correctly" by informing the public, NATO, and the United Nations of the incident, said Ricciardone, a former US Ambassador to Turkey.
"These public actions are consistent with a prudent aim to de-escalate with Russia," he added.
Turkey says the Russian jet was shot down after it failed to heed ten warnings. "Turkey has clear rules of engagement and enforced them in this latest instance," said Stein. "Moscow clearly miscalculated in this latest instance and — for whatever reason — did not take Turkey's very public redlines seriously. Obviously, Moscow made a mistake."
Russia's role in Syria
Frederic C. Hof, a Senior Fellow in the Hariri Center, noted the significance of the area over which the Russian jet was shot down — an area where Syria's western Latakia province adjoins Turkey.
"It is not as if Russian aircraft were busy hitting ISIL targets near Raqqa or Deir Ez Zor or Palmyra — all far to the east," said Hof. ISIS is also known as ISIL, the Islamic State, and Daesh.
"This Russian air campaign, notwithstanding Moscow's anti-ISIL pretext for military intervention, is predominantly directed against Syrians rebels fighting the Assad regime: not ISIL, whose recruiting efforts are aided by Assad's attacks on civilian residential neighborhoods," Hof added.
The presence of fighters from the Nusra Front, al Qaeda's affiliate in Syria,across northwestern Syria has given Russia the excuse to attack other rebel groups that are backed by the United States and Turkey, said Hof, who previously served in the Obama administration as a Special Adviser for transition in Syria.
Russian warplanes began bombing Assad's enemies, but mostly Syrian rebel groups backed by the United States, in September. The presence of Russian jets in Syrian airspace already packed with US, French, British, Canadian, Turkish, and Arab aircraft has considerably heightened the possibility of a confrontation. (The US-led international coalition is conducting operations against ISIS in Syria and Iraq.)
Russian and US warplanes have had close calls in the past, coming within 500 feet of each other. As a consequence, the United States and Russia agreed in October to safety protocols to regulate aircraft and drone flights over Syria. These protocols include a ground line of communication.
Turkey had reportedly reached a similar agreement with Moscow, but this agreement failed, said Stein.
NATO's response
Russia's overt support for Assad has drawn Moscow deeper into the war in Syria and, US officials hope, could create an incentive for Russian President Vladimir Putin to help bring an end to the war in Syria, which is now in its fifth year.
Russian intervention in Syria has improved the prospects of a political transition in Damascus because Moscow "cannot risk the growing costs of its actions," US Deputy Secretary of State Antony Blinken said at the Atlantic Council's Energy & Economic Summit in Istanbul on Nov. 20.
A meeting of seventeen of stakeholders in Syria, including the United States and Russia, in Vienna in November produced an agreement that UN-supervised elections will be held in Syria in eighteen months.
Turkey's NATO allies are eager to cool tempers with Russia so as not to jeopardize this progress — however marginal — toward ending the war in Syria. The war has killed more than a quarter million people and created more than four million refugees, hundreds of thousands of whom are now pouring into Europe.
NATO held an emergency session on Nov. 24 to discuss the downing of the Russian jet. "Diplomacy and de-escalation are important to resolve this situation," NATO Secretary-General Jens Stoltenberg said after the meeting in Brussels.
"Ankara is probably not expecting much in the way of American support in the wake of this incident," said Hof. "Let's hope the Turks will be pleasantly surprised."
In a phone conversation with Turkish President Recep Tayyip Erdoğan on Nov. 24, Obama expressed US and NATO support for Turkey's right to defend its sovereignty. The leaders "agreed on the importance of deescalating the situation and pursuing arrangements to ensure that such incidents do not happen again," the White House said.
Consequences for Turkey
Putin said the downing of the jet was a "stab in the back that will have serious consequences for Russia's relationship with Turkey." Russian Foreign Minister Sergey Lavrov promptly cancelled his trip to Turkey.
Turkey is heavily reliant on Russia for natural gas raising concern among some analysts that Russia may shut off energy supplies, just as it did with Ukraine and some Baltic States in the past.
The immediate fallout will be on negotiations on Turkish Stream — the proposed natural gas pipeline from Russia to Turkeyacross the Black Sea, the flow of Russian tourists to Turkey (a significant source of income for Turkey), and a $20 billion Turkish deal with a Russian state-owned firm to build a nuclear power plant, said Stein.
"These are the areas where Russia can retaliate without exceeding the military threshold … but the attack on the economic front can make life for Turkey very difficult in the coming months," he added.
Ashish Kumar Sen is a staff writer at the Atlantic Council.