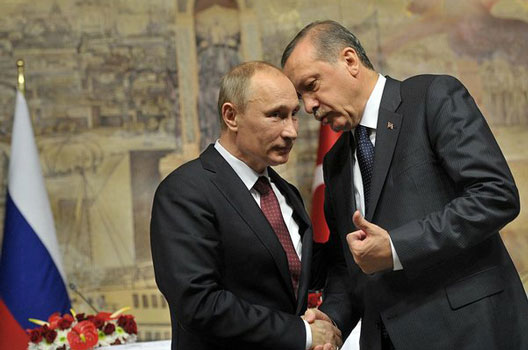 When Turkish President Recep Tayyip Erdoğan holds talks with Russian President Vladimir Putin in St. Petersburg on August 9, one of the leading items on their agenda will be the revival of the proposed Turkish Stream pipeline across the Black Sea.
Russia's determination to pursue this project was made clear in a series of statements that followed hard on the heels of Russia's official announcement on June 27 that it had received an apology from Erdoğan for the shooting down of a Russian warplane over the Turkish-Syrian border in November of 2015.

There are sound political and commercial reasons as to why both countries wish to see the project revived, although it is far more likely to be developed—at least initially—as a two-string 31.5 billion cubic metres a year (bcm/y) system rather than in its original form as a four-string 63 bcm/y system.
Russia has already invested billions of dollars in two key elements necessary for the completion of the project. The first is the development of a system capable of delivering as much as 63 bcm/y for export to the Russkaya compressor station at Anapa on the Black Sea coast. This project, which Gazprom—the state-owned energy giant—dubs its Southern Corridor, was started in 2010 and is due for completion in 2017, although it would not be surprising if the project was delayed and actual capacity thus reduced. In addition, Russia has already spent at least two billion dollars on purchasing piping to be used for a sub-sea line across the Black Sea, most of which has already been delivered to Varna in Bulgaria.
From a Turkish perspective, the country's reliance on Russian gas remains acute. Almost all of Turkey's gas is imported. In 2015, it imported 48.4 bcm of gas, which accounts for roughly ten percent of all European consumption—including EU member states, Ukraine, and Turkey itself. Of this, 27 bcm came from Russia, 55 percent of Turkey's total supply.
As Russo-Turkish relations deteriorated in late 2015, Erdoğan declared that Turkey could find alternative suppliers. But the president's efforts to secure alternatives were met with limited success. Turkish officials were able to secure a modest speed up of gas to be delivered from the second phase of Azerbaijan's Shah Deniz project (SD2), which is now expected to start arriving in Turkey in the second half of 2018.
While visiting Qatar in December of 2015, Erdoğan was present when a memorandum of understanding was reached concerning delivery of Qatari liquefied natural gas (LNG) to Turkey. However, no firm supply contracts appear to have emerged from the memorandum, with Turkey's actual efforts to secure LNG firmly focused on the spot market.
Erdoğan's visit to Turkmenistan—also in December 2015—produced nothing in terms of easing Turkey's long-term gas problems. A 1999 agreement under which Turkmenistan agreed to supply Turkey with 16 bcm/y, with a further 14 bcm/y heading through Turkey to Europe, remains as distant as ever.
For Turkey, the best hope of alleviating its reliance on Russia is the implementation of a current plan to bring an initial 10 bcm/y of gas from Northern Iraq to Turkey by the beginning of 2020 and then to raise this to 20 bcm/y. However, given Turkey's steadily increasing demand for gas, its imports from Azerbaijan of SD2 gas and gas from Kurdistan may only just exceed its own increase in consumption. It simply cannot do without current volumes of Russian gas. And, in practice it will almost certainly require additional volumes.
Turkey cannot afford to upset Russia commercially, as was demonstrated by the loss of billions of dollars in earnings from tourism when Putin banned charter flights to Turkey from Russia in late November of 2015. The embargo, which has now been lifted, also halted the profitable so-called suitcase trade—which was estimated to have secured Turkey 4.2 billion dollars in export earnings last year.
The revival of Turkish Stream makes sound political sense for Russia, since it enables Gazprom to terminate the supply of gas to Bulgaria, Turkey, and Greece via Ukraine and the trans-Balkan pipeline system once the current agreement on transit with Ukraine comes to an end in 2019. In effect, the first 15.75 bcm/y string of Turkish Stream would be a substitute for the Trans-Balkan Pipeline which carried around 11.4 bcm of gas to Turkey and around 5.8 bcm to Greece in 2015.
A second string of Turkish Stream would be able to provide additional gas for a growing Turkish market, whilst enabling Gazprom, if it so wishes, to seek an estimated 10 bcm of capacity in the Trans-Adriatic Pipeline currently under construction between the Turkish-Greek border and southern Italy.
However, a four-string system remains unlikely unless there is a radical change in Russia's and Gazprom's finances, since it would require considerable expenditure on new infrastructure to carry the gas beyond the Turkish-Greek border at Ipsala-Kipoi to the European Union and member states of the European Energy Community.
John Roberts is a senior fellow with the Atlantic Council's Global Energy Center and Dinu Patriciu Eurasia Center.