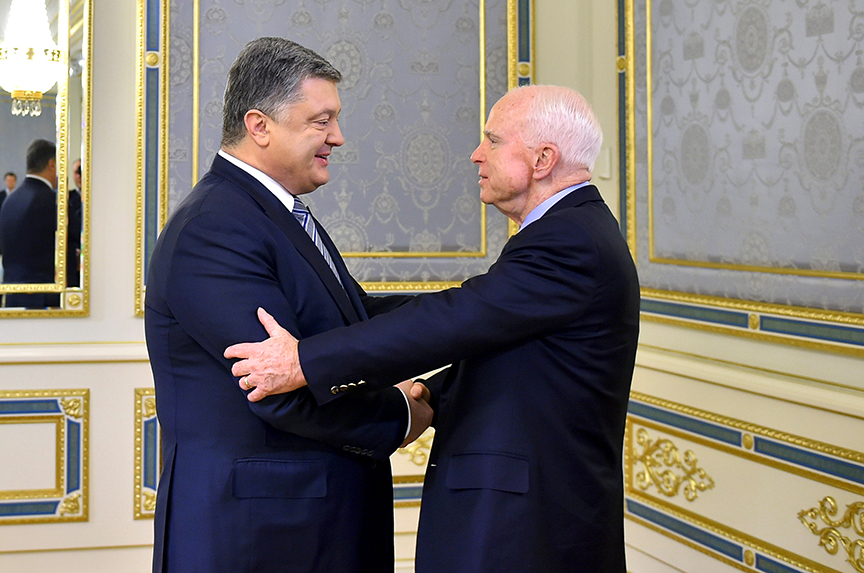 'Channeling Brussels' with Yehor Bozhok, Ukraine's acting head of mission at NATO
While the United States' allies in Europe have been shaken by US President-elect Donald Trump's description of NATO as "obsolete" and his suggestion that he may consider relaxing US sanctions imposed on Russia for its actions in Ukraine, Ukraine's top diplomat at NATO is confident that US commitment to his country will remain firm.
Whatever is said on the campaign trail, said Yehor Bozhok, Ukraine's acting head of mission at NATO, every US administration turns out to be a strong supporter of Ukraine. Bozhok attributed that to a recognition by US leaders that the conflict is not a "bilateral conflict between Russia and Ukraine," but an attempt to attack "democracy, the rule of law and respect" between nations. He said there's no option other than to defend Ukraine, otherwise "we will have to deal with the opened Pandora's box all over the world."

Bozhok said in an interview with me that he has faith that no matter how friendly Trump and Russian President Vladimir Putin may become, the Ukrainian leader will hold his own. "[Ukrainian] President [Petro] Poroshenko was one of the first to have a telephone conversation with President-elect Trump" after the US presidential elections, he said, and they have agreed to have a meeting, though the exact date is still unknown.

"I'm confident that this meeting will put the record straight," he said, "on US' unwavering support."
---
Bozhok and I spoke just as news broke that Kyiv is suing the Kremlin at the International Court of Justice, the United Nations' highest court. The exact timing was news even to him, Bozhok said, as his government had been working on the file a long time and Poroshenko had just given instructions to send it on to The Hague, where the court is based.
"We are going to sue the Russian Federation for what it did with MH17, with all the shellings, with all this discrimination and deterioration for Crimean Tatars and Ukrainian population in the occupied Crimea," Bozhok explained. Some claims have been filed under "financing of terrorism," i.e. support to the Ukrainian separatists, and others under the international convention on prohibition of all forms of racial discrimination.
Bozhok said his government has "unfortunately" had plenty of opportunity to collect evidence of activities it believes qualify as Russian support for terrorism, even if, for example, there's been no definitive conclusion from investigators that the downing of the Malaysia Airlines Flight 17 on July 17, 2014, can be pinned directly on Russians.

"What is obvious for the overwhelming majority of nations and what is obvious here at NATO [is] that Russia supports militants operating in the occupied territories of eastern Ukraine," he said. "What is obvious is that MH17 was shot from the territory occupied by the militants."

The Ukraine monitoring mission from the Organization for Security and Cooperation in Europe (OSCE) issues reports at least daily updating its efforts to verify whether the two sides in Ukraine's Donbas region are moving toward fulfillment of their obligations under the Minsk Accord, which should have long ago seen a bilateral ceasefire and withdrawal of heavy weapons. OSCE monitors are currently reporting hundreds of explosions and other incidents, along with being blocked from seeing what's happening on the ground, and it's not just the separatists getting cited.
Bozhok's defense is not surprising. "If the only possibility to stop an assault is shooting back, you have to do it," he said. "Otherwise we will have the militants and terrorists deeper inside Ukraine," he added.
He said before Ukrainian troops fire, they warn the separatists and even the Russians directly to stop the shelling. On one occasion, he said, Ukrainian military authorities warned them "600 times… and there was no reaction at all."
Teri Schultz is a Brussels-based freelance journalist. You can follow her on Twitter @terischultz.