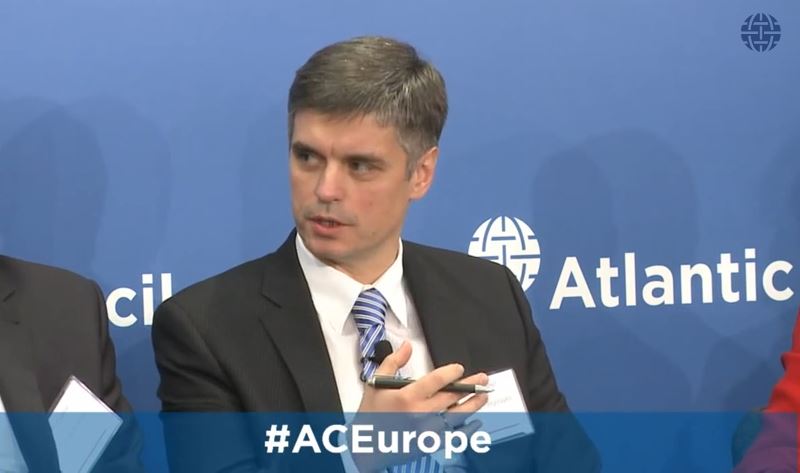 Kyiv Official says Financial Support From US and EU Is 'Crucial'
Ukraine is "bleeding not just blood, but money" as it fights Russian-backed separatists in the country's southeast, according to Deputy Foreign Minister Vadym Prystayko. US and European Union financial support is "crucial" for his country, Prystayko said January 30.
Prystayko spoke as US and International Monetary Fund officials have visited Kyiv in talks to provide loans to Ukraine. He addresseed a conference — "Toward a Transatlantic Strategy for Europe's East" — hosted by the Atlantic Council and the Embassy of Latvia.

Latvia, which took over the rotating presidency of the Council of the European Union in January, has made Ukraine and the EU's Eastern Partnership initiative its priority. The EU's Eastern Partnership initiative is aimed at cultivating relations with non-EU members — Armenia, Azerbaijan, Belarus, Georgia, Moldova, and Ukraine. Russia has opposed efforts among those countries — all former Soviet republics once ruled by Moscow — to build closer trade and political ties to the European Union.
---
Senior officials from Ukraine, Georgia, Azerbaijan, Slovakia and Poland discussed Eastern Europe in Russia's shadow at the Atlantic Council's January 30 conference. Watch the webcast, above.
---
Speaking alongside Prystayko, Slovak Deputy Prime Minister and Minister of Foreign and European Affairs Miroslav Lajčák said the West is "unable and not prepared to respond" to Russia's actions in Ukraine. The best way for the EU to stand up to Russia's aggressive behavior is to create a "successful and democratic Ukraine," said Lajčák.
EU and US policymakers have signaled that Ukraine's long-term success hinges on its economy. Ukraine's economy contracted by 8 percent in 2014, according to some estimates.
On January 28, US Treasury Secretary Jack Lew traveled to Kyiv to sign an agreement providing $2 billion in loan guarantees to the Ukrainian government. This visit followed an International Monetary Fund mission to Kyiv earlier in January to discuss releasing $5.5 billion of a $17 billion bailout program negotiated with Ukraine last year. While many see the new US deal as an important political signal, EU officials estimate that war-torn Ukraine will need $15 billion more than current EU, US, and IMF support to keep its economy propped up.
Renewed attacks in southeastern Ukraine by Russian proxy forces has convinced many transatlantic leaders that Russia is not committed to the ceasefire deal brokered in Belarus' capital Minsk in September of 2014. Latvian Foreign Minister Edgars Rinkēvičs, a central player in the renewed Eastern Partnership initiative, said earlier in January that the Minsk ceasefire is "being constantly violated by militants" supplied by Russia. And Russian news reports have detailed the recruitment across the country of Russian active-duty troops and veterans as paid 'volunteers' to fight in the Ukraine war.
Latvia will host an EU Eastern Partnership Summit in Riga in May to sharpen the EU's strategy toward its partners against the backdrop of the Ukraine conflict. Still, many EU and partner policymakers are unclear what the EU's strategy actually entails. Lajčák asserted that the EU "[does not] set the agenda," and it needs to switch from a "reactive to proactive" approach to engaging its eastern partners. Georgian Foreign Minister Tamar Beruchashvili reaffirmed these sentiments and expressed the hope that European leaders will have "enough courage and vision" to keep EU and NATO enlargement open to convince aspiring members that there is "light at the end of the tunnel."
The Ukraine crisis revealed not just the absence of a coherent EU Eastern Partnership strategy, but also reminded European leaders of frozen conflicts in partner countries. Samad Seyidov, Chairman of the International and Interparliamentary Relations Committee in Azerbaijan's National Assembly, drew parallels between the conflict in Ukraine and the frozen conflicts in Azerbaijan and Georgia. Roughly 20 percent of territory in Georgia and Azerbaijan is disputed, said Seyidov. Separatists control a similar size of territory in Ukraine today.
Beruchashvili said Ukraine "was not an isolated case" in Russia's efforts to prevent NATO and EU enlargement. Seyidov said countries are looking to strengthening ties to the EU not just for economic prosperity and structural democratic reforms, but also because they "were looking for justice" on their longstanding territorial disputes. This has made the EU's Eastern Partnership initiative a strategic priority.
Russia's strong reaction to Ukraine expanding cooperation with the EU under the auspices of the Eastern Partnership initiative justified the initiative's political significance, according to Konrad Pawlik, Undersecretary of State for Development Cooperation, Polish Diaspora, and Eastern Policy in Poland's Ministry of Foreign Affairs.
The Eastern Partnership Summit in Riga in May is expected to attract high-level attention across the transatlantic community and Russia. The summit's outcomes will signal how seriously the EU takes Russia's actions toward its neighbors and the EU's commitment to building a strong and democratic Ukraine.
"If Ukraine fails, we have failed," said Lajčák.
Robbie Gramer is Assistant Director of the Transatlantic Security Initiative at the Atlantic Council. He tweets at @RobbieGramer.