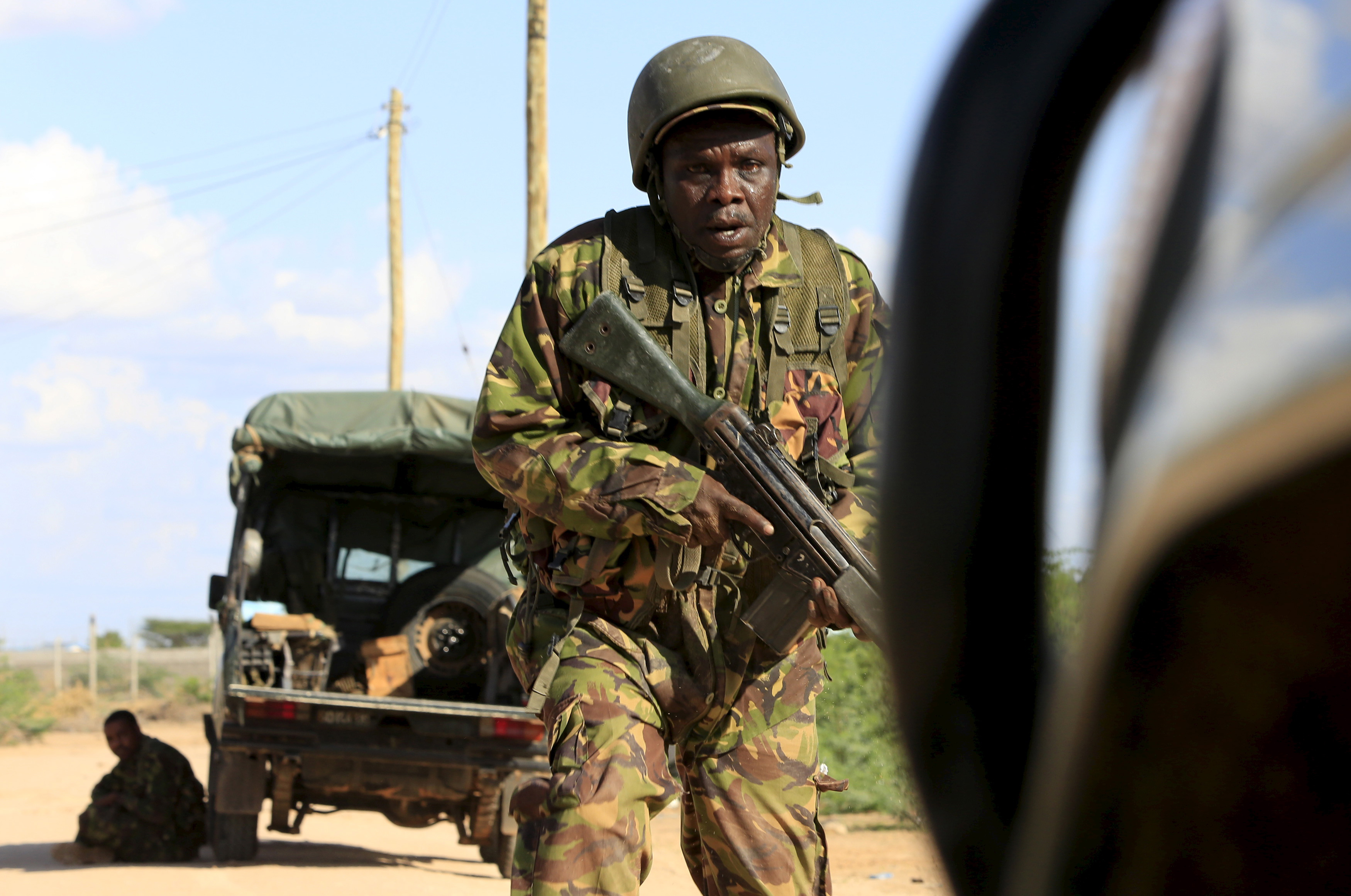 Atlantic Council's Bruton says Somali terror group embracing more deadly tactics
Al-Shabaab's deadly April 2 assault against a Kenyan university—the country's bloodiest attack in 17 years—is a sign that the Somali terrorist group is trying to pivot toward the Islamic State in Iraq and al-Sham (ISIS), said Atlantic Council analyst Bronywn Bruton.
"A schoolyard massacre like this really is the signature of Boko Haram," Bruton, Deputy Director of the Atlantic Council's Africa Center, told the New Atlanticist. "Al-Shabaab engaging in this is essentially al-Shabaab saying to IS, 'Hey, don't forget us.'"

Boko Haram, the terrorist group currently under attack from troops in northern Nigeria, has pledged allegiance to the leader of ISIS.
At least 147 people were killed in al-Shabaab's attack in Garissa, a town in eastern Kenya.
Bruton spoke with the New Atlanticist's Ashish Kumar Sen. Excerpts below:
Q: Al-Shabaab attacked the Westgate Mall in Nairobi in 2013. Today it attacked a university in eastern Kenya. Why is the Somalia-based terrorist targeting Kenya?
Bruton: Ostensibly, al-Shabaab is attacking Kenya because Of Nairboi's invasion of Somalia in late 2011. Kenya has also informally annexed a very strategic piece of Somali real estate—the port of Kismayo. Al-Shabaab says that its attacks on Kenya are a retaliation for this occupation and meddling in Somali affairs.
Though al-Shabaab started out in Somalia as a populist resistance movement, it now has an eye to becoming an international terrorist organization. Somalia was at best a steppingstone towards that goal, since, although it is strategically located on the Gulf of Aden, it is isolated and doesn't have any Western targets to speak of. Kenya is a much richer target since it has Western tourist and business interests. It is the ability to strike Western targets that would make al-Shabaab a more valuable affiliate to al-Qaeda or ISIS than, say, Boko Haram, which is largely confined to northern Nigeria.
Q: Does the group target Westerners?
Bruton: Al-Shabaab has rarely attacked Western targets. Throughout its entire existence it has almost exclusively focused on African victims. The Westgate Mall attack is the closest that it has come, so far, to deliberately targeting Western victims.
Q: To what extent are al-Shabaab's attacks a consequence of the growing influence of groups like ISIS, Boko Haram, and al-Qaeda in the Arabian Peninsula?
Bruton:I think it is. When al-Shabaab bombed a medical graduation ceremony in 2009 and killed the first class of graduating Somali doctors in two decades, it caused an enormous public backlash. After initially claiming responsibility for the attack, al-Shabaab disowned it. The fact that al-Shabaab is turning again to an attack on students is a sign of a final evolution where it is no longer interested in maintaining political credibility or gaining the support of local communities. If anything, this is an attack based on the Boko Haram model. Boko Haram is famous for going into schoolyards and massacring students and kidnapping children. In so deliberately evoking Boko Haram, a-Shabaab is probably signaling an intention to realign itself with Islamic State, whose tactics are very different from the tactics of al-Qaeda. Al-Qaeda is not associated with murdering schoolchildren.
Q: What links does al-Shabaab have with other terrorist groups?
Bruton: Al-Shabaab is affiliated to al-Qaeda, but this attack today is probably a sign of a pivot to the Islamic State. I would think they are deliberately sending that message. Al-Qaeda does not prey on local communities. Al Qaeda wants Muslim communities to feel that it is a vehicle to express their grievances. Boko Haram and the Islamic State are famous for preying on local populations. This is a kind of movement that says 'We are the enemy of the public, and we are engaging in tactics that are so brutal, we don't want political credibility; we just want to inspire terror.' That the Islamic State has taken Boko Haram as an affiliate, and understanding that a schoolyard massacre like this really is the signature tactic of Boko Haram, al-Shabaab engaging in this is essentially al-Shabaab saying to IS, 'Hey, don't forget us.'
Q: How big is al-Shabaab and what does it want?
Bruton: Al-Shabaab is a movement in flux. It has cells and fighters in Somalia and those fighters are engaged in a tactic of spoiling progress. They do things like roadside bombs, assassination, sort of mosquito-bite attacks that are intended to promote instability but are not signature strikes.
Most of al-Shabaab's energy has shifted toward Kenya. More and more, al-Shabaab is trying to reimagine itself as not a distinctly Somali group but as an East African terror organization.
I think al-Shabaab has abandoned its territorial ambitions. Its defeat in Somalia, the loss of its territory, the fact that it no longer has to worry about governing has made it free to become just a pure terrorist group.
Q: What is the United States doing to counter al-Shabaab?
Bruton: The United States is working with Kenya and Somalia. In Somalia, al-Shabaab is on the back foot. In Kenya, the group is gaining prominence. It is becoming ever more virulent. It is being greatly assisted by the brutality of the Kenyan police and military. They have conducted dragnets in which hundreds of people have been swept up for no other reason than they look Somali. The Kenyan brutality is counterproductive not only in terms of limiting the amount of intelligence they can get hold of, but it also reaffirms al-Shabaab's radicalization messages.
Q: Has that had an impact on US support for Kenya, as it did in Nigeria?
Bruton: The United States is certainly aware of the problem, but unlike in Nigeria where the Leahy Amendment prohibited support for some small period of time until the forces could be vetted, I don't think we have done enough in the Kenyan context. The United States is trying hard to train Kenyan troops and make them more responsible, but the corruption and lack of professionalism is just so endemic, they are not able to make any progress.
Ashish Kumar Sen is a Staff Writer at the Atlantic Council.