'Proportionate' Response Will Be Hard to Shape, Atlantic Council's Jason Healey Says
The US government faces a tough challenge in determining how to fulfil President Obama's promise to "respond proportionately" to North Korea's cyber attack on Sony Pictures, according to Atlantic Council analyst Jason Healey.
"What this really means for now is that the administration will keep the issue quiet, continue the focus on Cuba, and allow DC to take a year-end vacation," Healey wrote today in an essay for the Christian Science Monitor.

"Mr. Obama's punt is not a big surprise as there simply are no good options for responding to North Korea" over the attack that shut down the movie company's computer systems, Healey said. The attack and other threats led Sony to cancel the release of a comedy film about a fictional assassination attempt against North Korea's leader, Kim Jong-un.
"How do you calibrate a 'proportional response' when not countering a military attack but one that targets freedom of expression?" asked Healey, who directs the Cyber Statecraft Initiative at the Council. "How do you penalize a dangerous pariah state that might strike out even more dangerously and has been nearly undeterred from far more dangerous behavior?"
A cyber counterattack is not necessary and perhaps not practical against a country with little internet infrastructure, Healey said in an interview with Bloomberg News. "It's a little like unleashing the Air Force on the Islamic State," he said. "If the bad guys only have pickup trucks, there is only so much damage you can do."
Reining in North Korea may more realistically involve putting pressure on its main ally, the government of China, and by acting alongside allies, Healey said. In 2010, the US helped form an international commission to investigate North Korea's apparent attack on a South Korean navy ship that killed 46 of its sailors.
Healey also discussed the attack and US options for response on MSNBC's Rachel Maddow Show and on the CNN program Situation Room.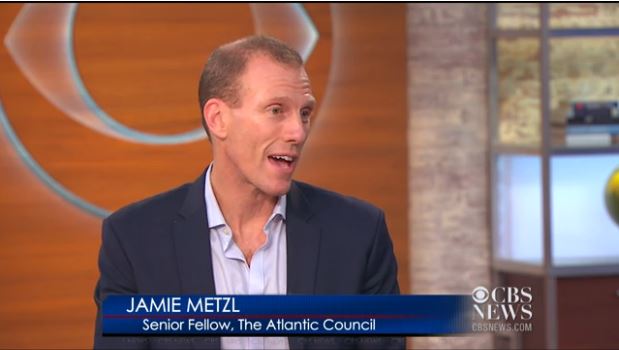 Despite its almost invisible public technology sector, North Korea has a significant cyber war capacity, said Jamie Metzl, a senior fellow on technology and national security at the Council. It operates "an elite cyber unit that has up to 6,000 people, many of whom were trained in China," he said in an appearance on CBS News.
"Certainly North Korea could do it on their own because all you need is one or two or five or ten people who have this level of capability," he said. And even if it lacked certain capacities it needed, "in this area, you as a state, or as anybody, you don't need to have all of the capabilities yourself, because there's a whole black market of hackers."
Metzl visited North Korea in May and recounted staggering poverty. In a five-day tour through rural north of the country, "I counted maybe four tractors," with many farmers pulling plows themselves through their fields. North Korea is the "world's worst violator of human rights," and "the world needs to be talking about what's happening" there.