Despite significant progress made in Latin America and the Caribbean over the past few decades, women in the region still face numerous challenges that hinder their social, economic, and political advancement. Narrowing the gender gap is pivotal for charting a more prosperous future for the region. Policymakers looking to narrow that gap will need to pursue broad goals like economic empowerment and digital inclusion—and will need to address pervasive issues including violence against women and girls.
But what should policymakers know about the lingering challenges that women in the region face? And what are the specific measures that can bring about real change? Below, five experts on the region provide their recommendations for strategies that can help promote gender equality and advance women's rights across Latin America and the Caribbean.
How should Latin American and Caribbean countries begin their renewed efforts to narrow the gender gap?
Latin America and the Caribbean have historically struggled with gender inequality and discrimination, particularly against women.
Economic empowerment is a crucial way to help attain gender equality. However, achieving economic empowerment requires solutions that are designed with more than the near term in mind. It is essential to create opportunities for women in which they can earn a sustainable long-term income, and it is equally essential to design these opportunities in a way that meets the needs of all women and the girls or elderly women in their care. Regrettably, gender biases are rampant not only in the workplace but also in the policymaking sphere, which significantly hinders female candidates from reaching their full potential. According to a report by the World Economic Forum, the global gender gap in politics will take more than a century to close if the current gender biases continue. To overcome this obstacle, policymakers need to introduce targeted policies aimed at reducing gender discrimination.
Closing the digital gender gap is also an important step. According to the US Agency for International Development, 1.1 billion women and girls in middle- and low-income countries do not have access to mobile internet, putting them at a disadvantage and limiting their economic opportunities. By closing the digital gender gap and by ensuring women can gain access to digital skills and literacy, societies—and their economies—will reap significant spillover rewards.
Additionally, the issue of violence against women and girls in the region cannot be ignored. Domestic violence correlates with juvenile violent behavior, meaning that as young people grow up in the presence of domestic violence, they are more likely to replicate the same behavior later in life. Furthermore, women are vulnerable to becoming subject to emerging crimes (like trafficking) due to higher levels of insecurity. According to a United Nations report, 35 percent of women worldwide have experienced physical or sexual violence, and this percentage is even higher in Latin America and the Caribbean. To achieve true gender equality, policymakers must prioritize measures that address violence against women and girls. These measures include providing adequate support to survivors and holding perpetrators accountable for their actions.
—Isabel Chiriboga is a program assistant at the Atlantic Council's Adrienne Arsht Latin America Center.
What is the relationship between women's economic empowerment and broader social issues such as poverty, inequality, and gender-based violence? How can these problems be addressed?
Economic empowerment must be understood as a holistic, cyclic process in which multiple social and economic-development dimensions are linked, building upon each other over time. It is necessary to enact immediate solutions for women in vulnerable situations. A first solution could include making cash transfer systems available to women; these systems allow them to not only survive but also thrive, by respecting and guaranteeing their decision-making capacity. A second solution could include creating systems that allow women to ensure they have a steady flow of income for the medium and long term; to accomplish this, those systems could offer them support in entering into the formal labor market or in pursuing a self-employment opportunity in specific cases. It is important that these programs target not only women but also their dependents— both minors and seniors whose care, often provided by women, presents one of the biggest barriers to women's economic and job stability. A third solution could include economic empowerment policies that particularly address girls, giving them employment skills and protecting them from threats to their independence that loom from childhood, such as teenage pregnancies or forced marriages.
Finally, it is important to note that women's empowerment processes in some social spaces, especially patriarchal or sexist ones, can generate conflict or violence against women. Mechanisms for preventing violence and protecting women must be provided, including social and institutional support for empowerment projects and the women at the center of them.
—Erika Rodríguez is a nonresident senior fellow at the Atlantic Council's Adrienne Arsht Latin America Center, a professor and associate researcher at Complutense University, and a special advisor to Josep Borrell, the EU high representative for foreign affairs and security policy and vice president of the European Commission.
What policies can best address institutionalized gender biases and discrimination in Latin America's political and official leadership structures?
To address women's underrepresentation in politics and leadership, policymakers should look at some of the factors that contribute to a significantly lower number of women on the ballot and in official leadership structures. In other words, rather than create an expectation of more female candidates, leaders should try to address some of the persistent gender biases that present obstacles for female politicians already on the scene. The data on the various gender biases exists—and the region sees the unfortunate outcome of those gender biases: Mostly men are elected or appointed to key leadership roles.
There is copious data now available on women being more frequent targets of abuse and threats online in comparison to their male counterparts. On March 5 this year, Costa Rica's Latina University published research that showed there is significant political digital violence toward women, with most of the attacks included in the research focusing on casting doubt on the capacity for women to be in public service, on disparaging women's appearances, and on issuing physical threats. That kind of consistent harassment becomes a deterrent for women when they decide whether to take a step forward and aspire to political leadership roles. That digital violence should be addressed.
Policies aimed at reducing gender discrimination should not only focus on recruiting and electing, but also on supporting and protecting women in public leadership roles. Those policies can offer an effective strategy to minimize existing gender inequality and create a safer and more democratic environment.
—Erika Mouynes is the chair of the Atlantic Council Adrienne Arsht Latin America Center's Advisory Council and former Panamanian minister of foreign relations.
How can the development of digital skills and literacy among women in Latin America help promote innovation and gender equality? How can public-private partnerships help foster women's digital literacy?
In Latin America, women still lag behind men in terms of their access to the internet and mobile broadband, mastery of digital skills, and representation in digital jobs. Leveling this playing field is an economic imperative—it can help grow the pool of qualified talent for local and regional companies, empower women to access good-paying jobs, and close gender gaps in pay and labor-market participation, which are directly correlated with gross domestic product growth. This economic imperative has captured the attention of business leaders across the region who recognize that businesses benefit from employing qualified women and that limited digital parity is a drag on growth.
But while the economic case for closing the digital gender gap is strong, it's important to look at it as a social imperative too. Empowering women with digital skills and digital literacy allows them to successfully navigate an increasingly digital world. Indeed, digital literacy is now needed to open a bank account, access health care, take full advantage of quality education opportunities, grow a business, and thrive at work. Around the world, women are known to invest more in their families and their communities than men. This means that the benefits of closing the digital gender gap will generate positive spillover effects that will be felt by societies and economies more broadly.
The private sector has a vested interest in closing the digital gender gap. My experience working in the consulting sector and with clients has shown me firsthand that diverse teams think more creatively and operate more dynamically. This, combined with the many other socioeconomic benefits of gender parity, makes it clear that the private sector must play a role in closing the digital gender gap and that the business case for doing so is strong.
The private sector has an important role to play as a partner for governments. Private-sector businesses, as significant employers, can help public officials design better policies that take into consideration the skills gaps in the labor market. And the private sector can provide insights about how policies—related to everything from health to education—impact women every day. Finally, the private sector can lead by example by creating an environment in which women can thrive and learn and using peer pressure across the sector to push all companies to get on board.
—Ana Heeren is a member of the Atlantic Council Adrienne Arsht Latin America Center's Advisory Council and senior managing director at FTI Consulting.
How do crime and violence affect women and girls in Latin America and the Caribbean? What strategies can governments employ to help prevent, address, and respond more effectively to that violence?
In Latin America and the Caribbean, women and girls are at greater risk of facing violence. According to estimates conducted in 2018, one in four women in the Americas have experienced physical and/or sexual violence by their partner. Recent evidence shows a correlation between juvenile violent behavior and exposure to domestic violence during childhood. Women also report higher levels of insecurity: A study in three cities in the region showed higher levels of concern among women than men regarding their safety while taking public transportation (72 percent versus 58 percent in Buenos Aires, 61 percent versus 59 percent in Quito, and 73 percent versus 59 percent in Santiago). In addition, women and girls are more likely to be affected by emerging crimes. Women and girls constitute the majority of victims of human trafficking. Women environmental or human-rights activists also face attacks (1,698 violent acts in Mexico and Central America from 2016 to 2019), and about nine out of ten women have experienced or witnessed online violence.
My team at the Inter-American Development Bank proposed a strategy to respond to this complex problem in a coordinated way. The approach includes initiatives focused on empowering women and preventing violence. It includes recommendations on how to ensure that any actions or initiatives intended to solve this problem are targeted toward the most vulnerable women and girls and are tailored toward the specific social, political, and economic contexts of each community. It also includes guidance on strengthening the capacities of the citizen-security and justice sector to detect, prevent, address, and respond to violence. Moving forward, it is necessary to have better data to generate evidence-based policies.
—Nathalie Alvarado is a technical leader and coordinator of the Citizen Security and Justice Cluster at the Inter-American Development Bank.
Further reading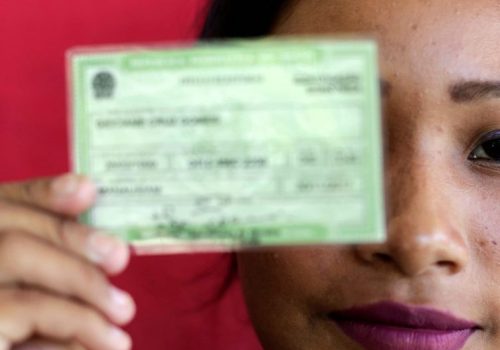 Tue, Mar 21, 2023
Report By Valentina Sader, Isabel Bernhard
Women are essential to democracy, yet face systematic barriers to political entry and impact. Using the case of Brazil, we analyze the state of women's political participation and of political violence against women. We propose timely, actionable approaches to reduce women's unique political challenges and to further strengthen democratic health.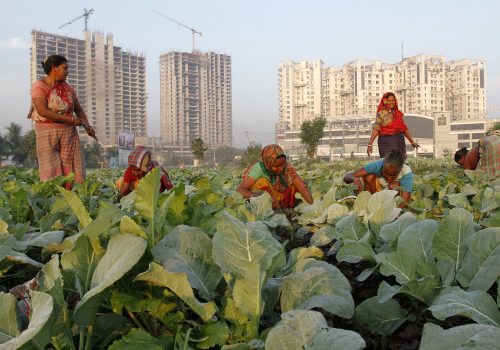 Wed, Mar 8, 2023
New Atlanticist By Nicole Goldin
This year's International Women's Day is taking place against a backdrop of an inflation surge that is disproportionately impacting women.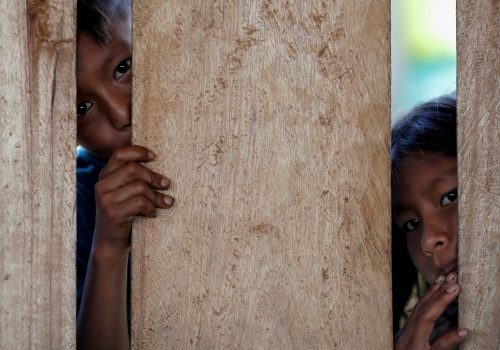 Tue, May 31, 2022
In-Depth Research & Reports By Gregory W. Meeks
Without the participation of Afro-Colombians, Indigenous communities, and women, it is unlikely we will achieve lasting peace and stability in Colombia and meet our global climate goals. Those in power— including Congress—must make the systemic change needed for these groups to be part of the solution.