What will Hezbollah do next? Here's how the Hamas-Israel conflict could engulf the region.
BEIRUT—As Israel prosecutes its offensive against Hamas in Gaza, eyes are nervously turning toward Lebanon, where a series of clashes along the border has raised fears of a second front breaking out, an outcome that could trigger a full regional war. Neither side appears to want an escalation, but the risks are high for a disastrous miscalculation.
So far, the pattern of violence along the Blue Line, the United Nations­–delineated boundary that corresponds to Lebanon's southern border, has been relatively predictable, consisting of shelling and minor incursions. There has been some talk in recent months about the "unification of the fronts," meaning the closer coordination between anti-Israel groups such as Hezbollah in Lebanon, Hamas, and Palestinian Islamic Jihad (PIJ), along with myriad other Iran-backed groups in Syria, Iraq, and Yemen. Therefore, it would have been difficult for Hezbollah to simply stand back and do nothing as Israel wages its massive offensive against Hamas in Gaza.
Lebanon's caretaker Prime Minister Najib Mikati has said that his government's priority is to maintain calm and stability in south Lebanon. Yet, given the weakness of the Lebanese government in the face of the powerful Hezbollah, there is little the state can do to maintain stability in the south.
The risk lies in Hezbollah possibly feeling compelled to raise its operational tempo closer to the threshold point as the war in Gaza intensifies.
Hezbollah has an array of options to put pressure on Israel along the Blue Line. It could ambush Israelis with improvised explosive devices or launch mortar or rocket attacks in the Shebaa Farms, a mountainside running along Lebanon's southeastern border that has been occupied by Israel since 1967 and claimed by Beirut as Lebanese territory. It would likely claim those attacks as its own. But it could also initiate unclaimed, deniable operations, such as launching anonymous rocket attacks into Israel (as seen in past conflicts between Hamas and Israel in Gaza and usually blamed on Palestinian groups) or organizing infiltration attempts by Palestinian militants (like the October 9 attempt, which Hezbollah almost certainly facilitated). Israel could also face attacks from inside Syria in areas of the Golan Heights, where Hezbollah and other Iran-backed groups have a presence.
At this initial stage, it appears that Hezbollah wants to keep its actions (whether claimed or unclaimed) below a certain threshold so as not to force Israel into a more powerful retaliation. If Hezbollah were to overshoot, it could trigger an unintended escalatory cycle. It is, however, Iran that has the final say in whether Hezbollah goes to war with Israel. Iran recognizes Hezbollah as its most potent external asset and a key component of its deterrence architecture against a potential attack by Israel or the United States. It is unlikely that Tehran will want to waste Hezbollah in a futile full-scale war with Israel for the sake of supporting Hamas in Gaza. By the same token, it seems evident that Israel is not seeking the opening of a second front with Lebanon while it focuses on prosecuting its offensive against Hamas. The risk lies in Hezbollah possibly feeling compelled to raise its operational tempo closer to the threshold point as the war in Gaza intensifies and the destruction and loss of life mounts, especially in the event of a major ground incursion by the Israeli military. The closer Hezbollah moves to the threshold level, the higher the chance of miscalculation that leads to a war that neither side currently appears to desire.
Waging major air and ground offensives in Gaza and Lebanon simultaneously would be a tough call for the Israeli government.
Israel has long recognized that if war breaks out with Hezbollah, employing air power alone will be insufficient to defeat the organization. Israel would have to commit a sizeable number of ground forces for an incursion deep into Lebanon at the inevitable cost of high combat casualties. Waging major air and ground offensives in Gaza and Lebanon simultaneously would be a tough call for the Israeli government, especially as it would not be confined to just Lebanon and Israel. A war with Hezbollah would turn regional with the Syria front opening up and the possibility of attacks from Iraq, Yemen, and even Iran.
As for Hezbollah, if Iran's calculus was to change and its leadership ordered its Lebanese proxy to attack Israel with full force, the organization would comply, such is the discipline inherent in the concept of the wilayat al-faqih, which is the hallmark of the Iranian system of governance. As a result, Hezbollah's military capacity would face a mauling, Lebanon would be plunged into even further misery, and there would likely be a strong cross-sectarian backlash against Hezbollah, including from its Shia constituency.
Given the reluctance on both sides for a full-scale war, there is a possibility that clashes could escalate into several days of sustained fighting that remains localized to southern Lebanon and northern Israel but falls short of all-out war. In such a scenario, Hezbollah's Radwan Brigade might mount its own cross-border raids—it has been training for such operations since at least 2007. In response, Israel might launch air strikes on Lebanese infrastructure targets and stage limited armored incursions across the Blue Line. Such a scenario raises the risk of miscalculation to a breaking point.
For example, after, say, five days of fighting, Hezbollah's military commanders might assess that Israel is on the brink of launching a major pre-emptive strike against the organization's arsenal of long-range precision-guided missiles. They might then recommend to the group's leadership that a mass missile attack must be launched against targets across Israel before the weapons can be destroyed, a case of "use them or lose them." Such a move would guarantee all-out war. By the same token, the Israelis might conclude that, after five days of fighting, Hezbollah is about to launch its missiles toward Israeli cities and that Israel must launch a preemptive strike, thus guaranteeing a full war that neither side had sought.
With the unprecedented and deadly Hamas assault on southern Israel and Israel's punishing response on Gaza, the Arab-Israeli conflict has entered uncharted, unpredictable, and extremely dangerous waters. The coming days will determine whether the region heads to a full-scale war.
---
Nicholas Blanford is a Beirut-based nonresident senior fellow with the Atlantic Council's Middle East Programs, consultant, and defense and security correspondent for IHS/Janes.
Further reading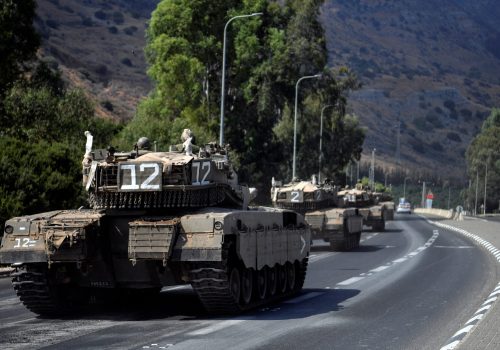 Sun, Oct 8, 2023
New Atlanticist By William F. Wechsler
Israel must not make the same mistakes that the United States made after 9/11. Here are some critical questions to ask now.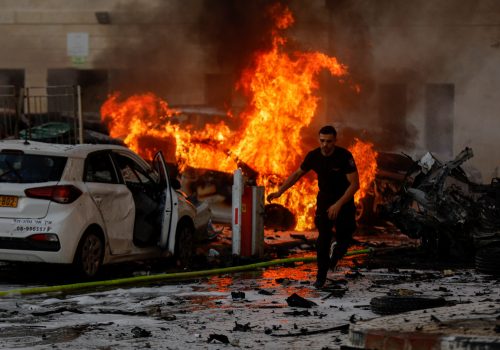 Sat, Oct 7, 2023
New Atlanticist By Atlantic Council experts
The Palestinian militant group Hamas launched its boldest assault on Israel in decades. Atlantic Council experts offer their thoughts on the events.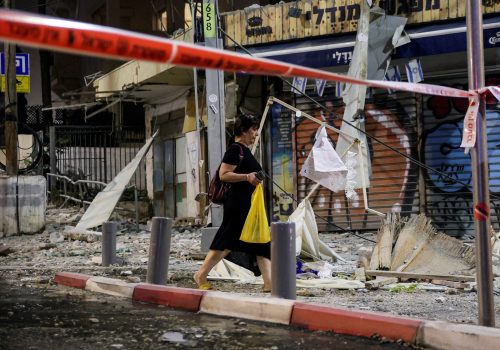 Sat, Oct 7, 2023
New Atlanticist By William F. Wechsler
The international community cannot reflexively repeat the threadbare slogans that have accompanied previous cycles of Israel-Hamas clashes.