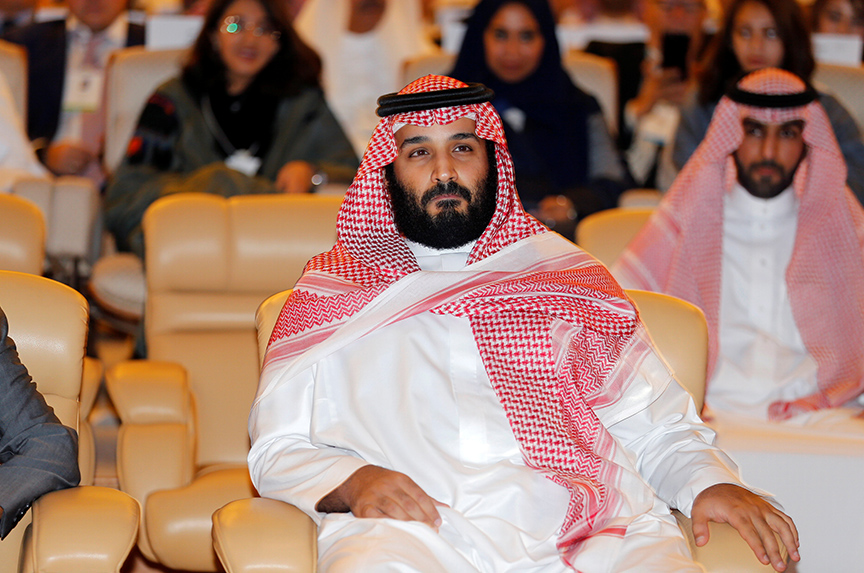 Anti-corruption crackdown targets princes, wealthy businessmen
Saudi Crown Prince Mohammed bin Salman has unleashed an unprecedented crackdown on corruption that has, so far, resulted in the detention of more than two hundred people, including almost a dozen princes.
The most significant targets are former crown prince, Mohammed bin Nayef, whose assets have been frozen; Prince Alwaleed bin Talal, one of the world's richest men and a critic of US President Donald J. Trump; and Prince Miteb bin Abdullah, the chief of the National Guard—the only security service not under the crown prince's control—who was removed from his post. The detainees are not exactly roughing it out during their detention in Riyadh's Ritz Carlton.
There are two prevailing views on the crackdown. One, that it is an attempt by the ambitious thirty-two-year-old crown prince to consolidate power, and two, that he is removing potential obstacles—read: conservative rivals—to his plans for social, religious, and economic reform in the ultraconservative kingdom.

Who is Mohammed bin Salman?
Mohammed bin Salman, commonly known as MBS, is the eldest son of Saudi King Salman's third wife, Fahdah bint Falah bin Sultan.
Salman elevated MBS to the position of crown prince in June, replacing then-Crown Prince Mohammed bin Nayef (commonly known as MBN). MBS has had a meteoric rise to become one of the kingdom's most influential personalities; he also serves as first deputy prime minister and defense minister of Saudi Arabia.
MBS is the architect of Vision 2030, a plan that envisages sweeping social and economic change and seeks to end, or at the very least diminish, the kingdom's addiction to oil. The crown prince wants to build the world's largest sovereign wealth fund with money generated in part by the partial privatization of Saudi Aramco, the state oil company.
MBS has championed easing strict social restrictions. Most significant so far has been his perceived role in the royal decree to allow women to drive. That decree will go into effect in June 2018.
The crown prince's forays into foreign policy have been far less commendable. In March 2015, in one of his first acts as defense minister, MBS launched a military campaign in Yemen after Yemeni President Abdrabbuh Mansour Hadi was forced to flee in the wake of an Iranian-backed Houthi rebel advance.
Saudi Arabia has since become bogged down in Yemen where it stands accused of human rights violations and contributing to a humanitarian crisis—one that is likely to only worsen as a result of its blockade.
MBS is also believed to have spearheaded a controversial diplomatic isolation and trade blockade of Qatar. Saudi Arabia, which is joined by the United Arab Emirates, Bahrain, and Egypt in the boycott, accuses Qatar of supporting terrorism. The tiny, gas-rich Persian Gulf nation, denies this accusation. The boycott, which went into effect in June, continues with no end in sight.
"What I think we are seeing here is an overall approach by the king, and particularly by the crown prince, to change the direction of Saudi Arabia fundamentally—economically, socially, religiously, and in foreign policy," said Franklin D. Kramer, an Atlantic Council board member and distinguished fellow.
Kramer, a former US assistant secretary of defense for international security affairs, spoke in an Atlantic Council phone briefing on November 9. He was joined by H.A. Hellyer, a nonresident senior fellow in the Atlantic Council; and F. Gregory Gause, III, head of the international affairs department at Texas A&M University's Bush School of Government and Public Service. Barry Pavel, director of the Atlantic Council's Brent Scowcroft Center on International Security, moderated the discussion.
'The Night of the Long Knives'
On the night of November 4, Saudi Arabia announced the arrest of almost a dozen princes, four ministers, and several former ministers.
The Wall Street Journal reported that the crackdown targeted up to $800 billion in assets. The foreign media has dubbed the crackdown "the night of the long knives." The term was previously used to describe the purge by Adolf Hitler of perceived political opponents on June 30, 1934.
Hellyer, noting the notorious opacity of the Saudi kingdom, cautioned against drawing definite conclusions about developments there. "We are operating very much in a black hole," he said.
"We're trying to find a logic and a system of thought that is at work here," he said of the anti-corruption crackdown.
While the logic behind the anti-corruption crackdown may not pan out very well, said Hellyer, it does "send a message [from MBS], which is probably what he was after, to the entirety of the business elite that 'I am the show in town, I am the only show in town, and I expect you not only to bend the knee, but to bend it as far as I want it to go,'" he added.

Hellyer said that over the past year, MBS has displayed "a brashness, a rashness" as exemplified by the Saudi military campaign in Yemen and the boycott of Qatar.
While acknowledging that there is "grumbling" among some senior princes about MBS' moves to consolidate power, Gause said the anti-corruption crackdown was not about an internal power struggle in the kingdom.
"The most surprising element of [the crackdown] was the targeting of so many high-profile members of the Saudi private sector," he said.
Coordination with the Trump administration?
Jared Kushner, Trump's son-in-law and senior adviser, was in Saudi Arabia on the eve of the anti-corruption crackdown. Kushner has established a close relationship with MBS and his visit has raised speculation about the Trump administration's role in developments unfolding in the Middle East.
Gause said it appears that MBS is "going out of his way to try to coordinate with the Trump administration and show himself to be a good ally."
"In exchange, the Trump administration has been extremely supportive of his efforts to consolidate power within Saudi Arabia," he added.
The recent rollout of the Trump administration's anti-Iran strategy and Kushner's presence in Saudi Arabia raise the question: "is this something being coordinated with Washington," asked Gause.
Here's why the anti-corruption crackdown could backfire
MBS has talked about the return of "moderate Islam" to the kingdom. In September, more than twenty influential clerics and intellectuals, perceived to be opponents of MBS' reform agenda, were arrested.
However, going after secular businessmen—likely stakeholders in MBS' reform agenda—could potentially undermine Vision 2030.
"So, why target these guys at a time when you need the confidence of the private sector and of foreign investors to move Vision 2030 forward," asked Gause. "I have always thought that capital is a coward, and when your first step toward a transparent and law-based economy is rather arbitrary arrests about which there is no transparency at all, it might not be the best start," he added.
While there are early indications that the anti-corruption drive is popular among Saudis, Gause said people in the kingdom are now more afraid about expressing their true opinions because MBS has shown that he is "quite willing to throw people in jail."
Gause wondered whether the anti-corruption arrests have paved the way for a more transparent, rules-based economic environment or if the wealthy will see it as an attack on their money.
"If there is going to be a general belief now in Saudi Arabia that your money is not safe and you have to keep it out of the country, that runs exactly against the goals of Vision 2030," said Gause. "That's the big long-term question here."
Hellyer said the crackdown on wealthy Saudis risks sending the wrong message. "Will people begin to worry about whether or not Saudi [Arabia] is somewhere where they can reliably invest… That may not be the case anymore, and even if that is the case anymore the perceptions will be very difficult to overcome," he added.
Regional developments
Other significant regional developments have occurred alongside the crackdown in Saudi Arabia.
November 4, for instance, was an eventful day in Saudi Arabia.
On a trip to the kingdom, Saad Hariri, the prime minister of Lebanon, resigned, stating that he feared for his life and accusing Iran of meddling in the region. Saudi Arabia has since asked its citizens to leave Lebanon.
That same day, the Saudi military intercepted a ballistic missile fired by Yemen's Houthi rebels over Riyadh.
"There are quite a few threads there that we have to tie together," said Hellyer.
Kramer added: "You have got a tremendous amount of moving parts going on for Saudi Arabia right now, and whether or not they can all come together in a positive way or whether some of these fall through is to be determined."
Ashish Kumar Sen is deputy director of communications at the Atlantic Council. Follow him on Twitter @AshishSen.