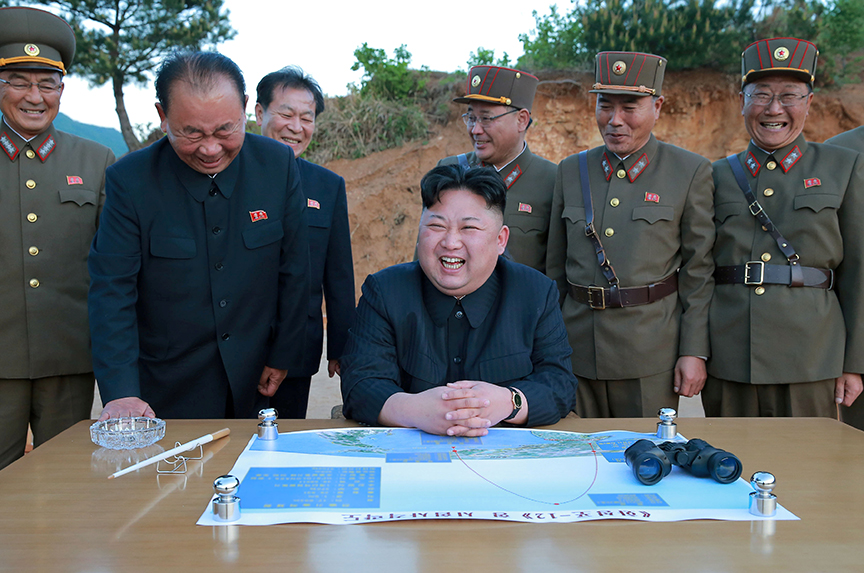 Several recent articles on North Korea's relationship with the Gulf Cooperation Council (GCC) states have drawn this Northeast Asian country into an ongoing crisis within the bloc. From Washington's perspective, GCC-North Korea relations threaten to undermine US efforts to isolate Pyongyang and squeeze it economically in response to its belligerent behavior marked by the recent testing of intercontinental ballistic missiles.
Pyongyang's interest in the Arabian Peninsula states dates back to the Cold War. Despite Washington's efforts to isolate North Korea, the Hermit Kingdom's ties with GCC member states have only deepened over the past twenty years.

In May 1992, Oman became the first GCC member to establish diplomatic ties with North Korea, formally known as the Democratic People's Republic of Korea (DPRK). Until that point, the North Korean regime had poor relations with the pro-Western conservative sheikdoms of the Arabian Peninsula. From the 1950s until the Soviet Union's implosion in 1991, Pyongyang had a highly ideological foreign policy in the Arab world, partnering with and supporting the socialist/Marxist republics of Algeria, Egypt, Libya, Syria, and South Yemen. In fact, the DPRK worked with other communist powers and Arab nationalist states to sponsor the Dhofar rebels who fought to overthrow Oman's Al Said rulers and install a second Marxist regime in the southern Arabian Peninsula.
By the 1990s, Pyongyang began reaching out to the GCC as a result of the Soviet Union's collapse, the cooling of DPRK-China relations, the famine of 1995-1998, and growing isolation as a result of pressure from the international community. Determined to establish trade partnerships with any willing country, North Korea established diplomatic relations with Qatar in 1993, Kuwait and Bahrain in 2001, and the United Arab Emirates (UAE) in 2007; Saudi Arabia is the only GCC member that maintains no officials ties with North Korea. Today these Arab sheikdoms and the Hermit Kingdom have intricate and perplexing relations.
For years, labor has been at the heart of GCC-DPRK relations. With international economic sanctions choking the North Korean economy, the regime in Pyongyang has relied on deploying its labor force abroad—primarily to China, the Czech Republic, Mongolia, and Russia—to accumulate revenue required for the state to carry out its functions, including the development and maintenance of nuclear weapons and long-range missiles. For Pyongyang, the GCC states have been easy places to gain hard currency as it heavily taxes its citizens' remittances. In Kuwait, Oman, Qatar, and the UAE there are approximately 6,000 North Korean laborers who work primarily in the construction sector and do so under the surveillance of the DPRK's intelligence agents planted in the Arabian Peninsula. Companies in the GCC value laborers from the DPRK over competition from other Asian countries because of North Korean workers' work ethic and willingness to accept lower wages.
There is also a soft power dimension to the GCC's relationship with Pyongyang. In 2010, the North Koreans opened a state-owned restaurant, Okryu-gwan, in Dubai's Deira City Center. Since then, the DPRK has opened two other restaurants in the UAE, one in Abu Dhabi and another in Dubai. Although these restaurants serve as hard-currency-generators for the DPRK, as do the regime's 100-200 similarly-styled restaurants across Asia (Cambodia, China, Indonesia, Nepal, Thailand, etc.) and one in Amsterdam, the restaurants also serve to promote North Korean culture and depict the Hermit Kingdom in a positive light.
Considering their national interests in economic development through imported Asian labor it was logical for the smaller GCC states to establish their labor-based relations with the DPRK. In Qatar, for example, North Korean laborers along with their counterparts from other Asian countries have been helping the emirate prepare for the FIFA World Cup in 2022, which requires completion of ambitious projects in a relatively short period of time. The Qatar crisis, that has seen a Saudi/UAE-led bloc sever diplomatic ties with Doha, has complicated this project.
But it is China that is North Korea's main foreign partner. Chinese trade with the DPRK increased tenfold from 2000 and 2015 and now accounts for roughly 90 percent of the Northeast Asian country's foreign trade. Thus, even if the GCC severed all economic ties with Pyongyang it is not clear how much of an impact it would have in terms of pressuring the regime to change its provocative behavior. In any event, North Korea is likely to place a high value on its labor relations with Kuwait, Oman, Qatar, and the UAE as it desperately seeks to secure revenue to keep its economy afloat and maintain its current nuclear and missile programs.
Last year, the Obama administration began addressing the GCC-North Korea nexus with Arab Gulf officials. In October, then-Secretary of State John Kerry met with Kuwaiti Foreign Minister Sabah al-Khalif Al Sabah and expressed Washington's gratitude for the Kuwaiti government's decision to stop flights between the Kuwaiti and North Korean capitals which the DPRK's state-owned airline had operated for five years. In Kerry's words, by stopping Air Koryo's flights from Pyongyang to Kuwait City, Kuwait was helping with "efforts to help counter the proliferation" of North Korea's "illegal and illegitimate" regime. Qatar has also maintained that Doha has been compliant with sanctions against Pyongyang since 2015 and that all North Korean laborers will leave the emirate after their visas expire and that no new visas will be issued to North Korean citizens.
Ultimately, while the GCC states have much to gain from North Korean labor from a development and economic standpoint, there are clearly risks such as the possibility of Washington slapping sanctions on firms or individuals that might be in violation of international sanctions on the DPRK.
Multiple GCC members have provided some financial oxygen to North Korea, somewhat sparing the country from further pressure under international sanctions. What remains to be seen is the extent to which the Trump administration views the GCC-North Korea nexus as a hindrance to Washington-led efforts to mitigate the DPRK threat.
Giorgio Cafiero is the CEO of Gulf State Analytics (@GulfStateAnalyt), a Washington, DC-based geopolitical risk consultancy. You can follow him on Twitter @GiorgioCafiero.

Theodore Karasik is a senior advisor at Gulf State Analytics. You can follow him on Twitter @Tkarasik.