Reshaping the order
This month's topline events
China Deepens Arab Ties. In what was billed as the "largest and highest-level diplomatic event" between China and the Arab world since the founding of the People's Republic, Chinese President Xi Jinping received a grand welcome in Riyadh, where he arrived for a series of summit meetings with Arab and Gulf leaders. Xi joined Saudi crown prince Muhammad bin Salman in signing a "comprehensive strategic partnership" agreement, and new technology agreements, including one involving Huawei. Beijing also pledged to increase oil purchases, while calling for future payments to be settled using the Chinese yuan rather than the US dollar. 
Shaping the order. Xi's visit to Saudi Arabia, which follows Biden's trip there last summer, illustrates the intensifying strategic competition for influence between the two powers in the Middle East. Beijing is seeking to deepen its ties to the Arab world and position itself as a stable and reliable partner in a region of autocracies. At the same time, Saudi Arabia and other Gulf states are looking to diversify their alliances amid growing strains with the United States, partly in light of Riyadh's recent decision to join Russia in reducing oil production and continuing fallout from the brutal killing of journalist Jamal Khashoggi.
Hitting home. Americans benefit from the dollar's status as a global reserve currency. Despite Xi's call to use the yuan for energy payments, the dollar will likely remain the currency of choice for oil purchases in the region.
What to do. As Beijing expands its ties in the region, Washington should seek to maintain its own influence by bolstering security partnerships with the Gulf states to deal with shared threats, including Iran. At the same time, the US should also make clear that it views the protection of human rights as a key component of a stable, rules-based order.
Zelensky Goes to Washington. Leaving Ukraine for the first time since Russia's invasion last February, Ukrainian president Volodymyr Zelensky traveled to Washington, meeting with President Biden at the White House and delivering a rousing address to a joint session of Congress. Zelensky's visit, amid concerns that change in congressional control might lead to reduced aid, was followed by a US announcement that it would provide the highly sophisticated Patriot missile system, as part of a nearly $2 billion security assistance package for Ukraine. Increased support for the country's air defenses comes as Russia continued its barrages of missile and drone attacks.
Shaping the order. Zelensky's decision to make Washington the destination of his first trip outside of Ukraine illustrates just how important Kiev views American support for the war effort. The US has led a successful coalition of allies firmly united behind Ukraine, while providing increasingly sophisticated military equipment that has put Russian forces largely on the defensive.
Hitting home. The enthusiastic reception for Zelensky at the US Capitol and repeated standing ovations during his speech illustrates the continued bipartisan support for Ukraine, even as Republicans get set to take control of the House of Representatives.
What to do. The Biden administration should work with allies in Congress on both sides of the aisle to provide more advanced military equipment to Ukraine and help ensure that Kiev has what it needs to ultimately force Russia to withdraw its troops. 
Biden Hosts Africa Summit. Forty-five African heads of state joined President Biden in Washington for the US-Africa Leaders Summit, with discussions focused on climate change, public health, and food security. The White House pledged $55 billion in investments in African and announced new initiatives to grow two-way trade and investment, as well as bolster African health systems and technological innovation. The summit excluded the leaders of four nations who took power in military coups, and Biden separately hosted a session with a select group of democratic leaders to highlight US support for free and fair elections across the continent.
Shaping the order. With China investing heavily in development initiatives and building relations across the continent, Africa has emerged as an important battleground for strategic competition. The summit follows other regional summits where Biden has met with leaders from Asia, the Middle East, and Latin America, as the US seeks to make inroads in the Global South
Hitting home. Given the potential new trade and investment opportunities, and with so many Americans tracing their roots to the continent, strengthening US-African ties is likely to have broad political support at home.
What to do. Washington should build on the summit by expanding investments in health and infrastructure across Africa and the developing world. The US should also seek to strengthen relations with key African democracies, particularly Nigeria and South Africa. 
Quote of the month

"[S]haring democratic values and systems will help us define joint priorities and achieve common goals… [I]t makes a huge difference whether capitalism is organized in a liberal, democratic way or along authoritarian lines." 

– German Chancellor Olaf Scholz, December 5, 2022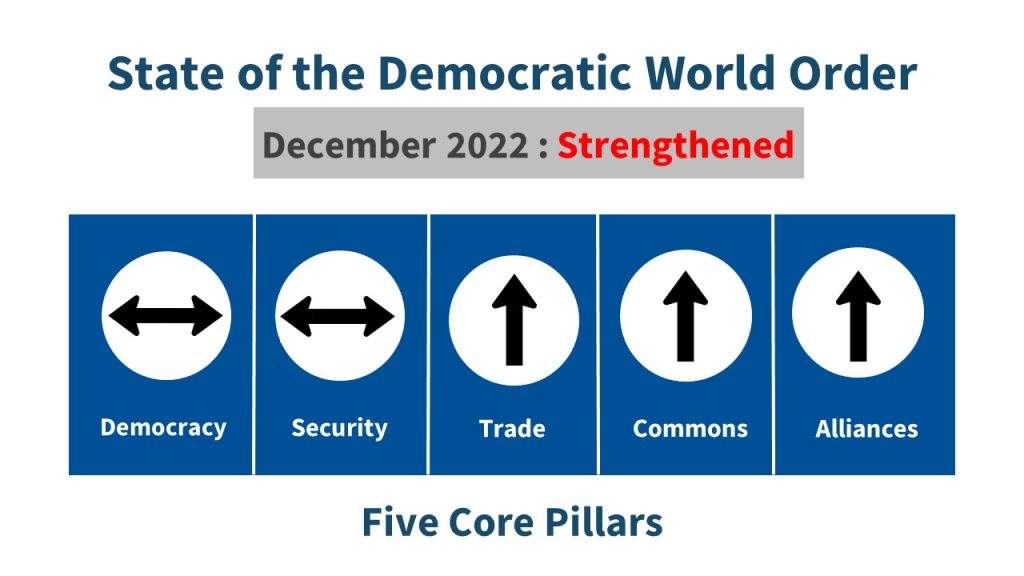 State of the Order this month: Strengthened
Assessing the five core pillars of the democratic world order
Democracy (↔)
In response to the Iranian regime's systemic repression of women and girls, the US led a successful effort to remove Iran from the UN Commission on the Status of Women. Anti-regime protests continued across the country, despite the government's violent crackdown and imposition of the death penalty for certain individuals.
The FBI warned that Beijing is seeking to silence criticism of the Chinese government by Chinese citizens based in the United States, by using agents to threaten, harass, stalk, blackmail, and surveil them. Canada raised similar concerns, issuing a "cease and desist" warning to China over monitoring stations it has illegally established in the country to surveil Chinese citizens.
Sudan's ruling generals and the country's main pro-democracy group signed an agreement to establish a civilian-led transitional government following the military takeover in 2021, which, if implemented, could set a path toward new elections.
On balance, the democracy pillar was unchanged.
Security (↔)
The Biden administration announced plans to provide the Patriot missile defense system to Ukraine to bolster its air defense capabilities, a part of a $1.85 billion package of new military assistance. Russia continued its aerial barrage of Ukraine, launching cruise missiles and Iranian-made drones on Kiev and other cities, while the Ukrainian military successfully intercepted many of the attacks. 
Following a meeting with former Russian prime minister Dmitri Medvedev, a close Putin ally, in Beijing, Xi Jinping reaffirmed China's support for Russia, saying that relations between the two countries had "stood the test of international changes" and that their partnership was a "long-term strategic choice made by both sides."
North Korea provided arms shipments to the Wagner Group, a private Russian military company, to support the Kremlin's war effort in Ukraine, as part of growing partnership between Moscow and Pyongyang.
Xi Jinping, on a visit to Riyadh, touted closer security and energy ties with Gulf nations, amid reports that Saudi Arabia purchased US $4 billion worth of weapons from China, including drones and anti-ship missiles.
Overall, the security pillar was unchanged.
Trade (↑)
The G7, along with the EU and Australia, agreed to set a joint cap on the price of Russian oil at $60 per barrel, with the goal of further restricting Putin's primary source of revenue for the war in Ukraine. But Moscow welcomed the decision by India, a major purchaser of Russian oil, not to abide by the cap.
The Biden administration signed a memorandum of understanding in support of the proposed African Continental Free Trade Area, which, if fully implemented, would create a continent-wide common market, constituting the fifth-largest economy in the world.
At the third meeting of the US-EU Trade and Technology Council, both parties agreed to establish an early warning system for semiconductor supply chain disruptions and endorsed common standards for electric vehicle charging stations.
In light of these developments, the trade pillar was strengthened.
Commons (↑)
The US announced a major scientific breakthrough in the decades-long effort to harness nuclear fusion, an energy source that has the potential to create abundant clean electricity – though practical applications could still be years away.
A landmark conservation deal was reached at a UN biodiversity summit in Montreal, with measures aimed at halting species extinctions, conserving thirty percent of the world's land and sea by 2030, and mobilizing $200 billion per year for conservation.
The US and the EU agreed to a joint roadmap to find ways to ensure that artificial intelligence meets common standards and values of democratic countries.
Chinese authorities began to shift away from the country's "zero Covid policy," relaxing rules on quarantines and surveillance in response to widespread protests, as hospital struggled to cope with the rapidly growing numbers of infections across the country. 
On balance, the global commons pillar was strengthened.
Alliances (↑)
In a display of allied unity, the G7 came together, with Australia and the EU, to approve a joint price cap on Russian oil. 
In the first state dinner hosted by the Biden administration, French president Emmanuel Macron joined Biden in reaffirming the longstanding friendship between France and the United States based on a "shared commitment to democratic principles, values, and institutions."
Overall, the alliance pillar was strengthened.
Strengthened (↑)________Unchanged (↔)________Weakened (↓)
What is the democratic world order? Also known as the liberal order, the rules-based order, or simply the free world, the democratic world order encompasses the rules, norms, alliances, and institutions created and supported by leading democracies over the past seven decades to foster security, democracy, prosperity, and a healthy planet.
This month's top reads
Three must-read commentaries on the democratic order
Robert Kagan, in Foreign Affairs, contends that in a world where autocratic hegemons are challenging the free world, Americans must understand that only US power can maintain stability, as it has over the past century.
Aaron Friedberg, in The Economist, argues that the West should abandon efforts to integrate a revisionist China into the global order, and focus instead on protecting a perimeter bloc of liberal nations and strengthening ties among them.
Liana Fix and Michael Kimmage, in Foreign Affairs, lay out three scenarios for Russia's defeat in the Ukraine war, including potential benefits for the US and Europe and how to deal with the risks of instability that could follow. 
Action and analysis by the Atlantic Council
Our experts weigh in on this month's events
__________________________________________________
The Democratic Order Initiative is an Atlantic Council initiative aimed at reenergizing American global leadership and strengthening cooperation among the world's democracies in support of a rules-based democratic order. Sign on to the Council's Declaration of Principles for Freedom, Prosperity, and Peace by clicking here.
Ash Jain – Director for Democratic Order
Dan Fried – Distinguished Fellow
Danielle Miller – Assistant Director
Otto Hastrup Svendsen – Georgetown Student Researcher
If you would like to be added to our email list for future publications and events, or to learn more about the Democratic Order Initiative, please email AJain@atlanticcouncil.org.