The Atlantic Council has established a bold and ambitious initiative aimed at strengthening cooperation among the world's democracies and reenergizing principled American leadership to advance a democratic, rules-based international order. The initiative facilitates meaningful dialogue among officials from the United States and its allies and partners and seeks to develop actionable recommendations for advancing democratic cooperation and addressing the most significant global challenges facing the order today.
The initiative has four key focus areas:
Strengthening habits of democratic cooperation
Adapting global rules and institutions for the 21st century
Tracking and assessing the core pillars of the democratic world order
Reenergizing US leadership and public support for the free world
Key activities
Public statement
Featured work
Declaration of Principles for Freedom, Prosperity, and Peace
Commentary and analysis

Thu, Mar 21, 2019
Read the full article here
In the News by Carl Bildt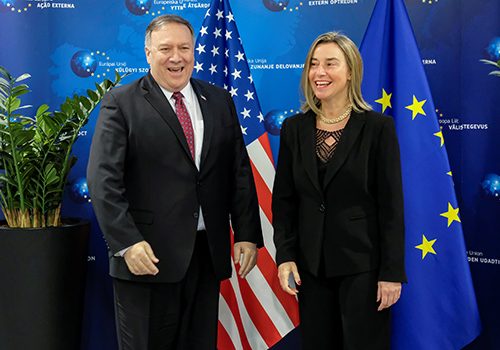 Fri, Feb 15, 2019
The greater peril in Munich is that the US and its allies, by focusing so much on preventing worst-case outcomes over the past couple of years, haven't prepared for the future.
Inflection Points by Frederick Kempe

Fri, Feb 16, 2018
The order is holding for now, but the trends are worrisome The state of the global order one year into Donald Trump's presidency will be at the top of the agenda when global security experts meet in Munich from February 16-18. The outlook was bleak even before the 2016 US election. The rules-based, democratic order, […]
New Atlanticist by Ash Jain
Featured media
Former Prime Minister of Sweden Carl Bildt and former US National Security Advisor Stephen Hadley join CNN's Fareed Zakaria GPS to discuss the Declaration of Principles for Freedom, Prosperity, and Peace.
Fri, Jun 12, 2020
Russia Today covers the launch of the Declaration of Principles at the Munich Security Conference. The Declaration was put together by a bi-partisan task force led by former US Secretary of State Madeleine Albright and former US National Security Adviser Steve Hadley to provide a clear and compelling statement of values around which political leaders […]
In the News by Atlantic Council
Tue, Mar 17, 2020
The Economist covers the work done by the D-10, a group made up of the world's leading democracies which co-ordinates strategies to advance the liberal world order. Related reading
In the News by Atlantic Council
Mon, Feb 18, 2019
CBS News covers the launch of the Declaration of Principles at the Munich Security Conference. The Declaration was put together by a bi-partisan task force led by former US Secretary of State Madeleine Albright and former US National Security Adviser Steve Hadley to provide a clear and compelling statement of values around which political leaders […]
In the News by Atlantic Council
Leadership
Experts