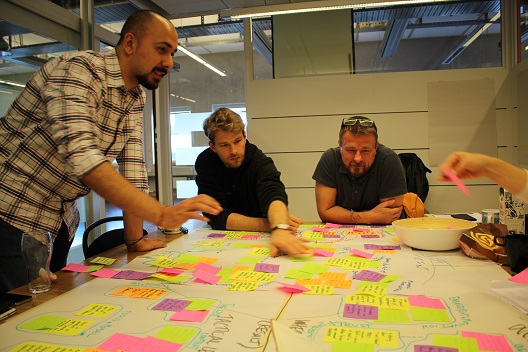 Mohammed Alsaud is the cofounder and chairman of The Young Republic, an NGO based in Sweden with the aim to support the Syrian youth diaspora with their participation and social inclusion in Europe. SyriaSource interviewed Alsaud on the development of the organization and its successes and challenges.

Why did The Young Republic start? What was the inspiration?
The Young Republic idea started in mid-2014 and was registered in Sweden in January 2015. The concept was to mobilize, organize, and build the capacity of the Syrian youth in the diaspora, who believe in democracy and human rights, and to build a movement that produces the foundations of a new democratic republic in Syria and be the dynamo of its establishment. We have worked on this project until the end of 2015, when it was clear it was not moving forward. We decided to have a consultation with a sample from our target group and organized a needs assessment with a group of young Syrians in Europe. We found out that the priority for many of them is "here and now"; i.e. the host community.
Thus, The Young Republic team decided on a strategic redirection in January 2016 to change the mission and scope of the organization to answer the needs of our target. It currently focuses on young Syrian refugees in Europe in the field of participation and inclusion in their host communities.
How large is the organization and what is the number of youth supported to date?
Our team consists of 12 people; all work on a voluntary basis. We are based in different countries across Europe: Sweden, the Netherlands, France, Belgium, United Kingdom, Italy as well as the United States. These volunteers are experienced in youth work and civil society. The team comes from different backgrounds and nationalities, which enriches the work we are doing. The team is divided into smaller functions: research, pedagogical, advocacy, communication, fundraising, and coordination.
We have reached around 170 young people between 18-35 in Sweden across Europe so far. Those people have participated in different programs and activities that we organized, mainly GAMIFY and the youth exchanges.

The Young Republic has three areas of focus: research with "The Young Syrian Refugees in Europe," education with "Gamify," and advocacy. Can you explain the scope of each program?
We are currently working on a research project on "The Young Syrian Refugees in Europe," to assess the realities, needs, and expectations of the young Syrian diaspora related to their lives in Europe, and to map initiatives created by or working with them in the fields of inclusion, democracy, participation, and human rights.
In terms of education, GAMIFY is a series of interactive local events, where young people from different backgrounds living in the same community, come together, meet each other and play a game that tackles democracy and human rights values. The event combines education, entertainment, and human connection to build inclusive communities. GAMIFY is a local event and we aim to engage a very diverse and mixed group to participate. Participants come from different social and economic backgrounds: refugees, migrants, and local residents. It is open to all ages and genders with a primary focus on the youth between 18-35 years old. Participants learn about the event through Facebook or by word of mouth. We have organized GAMIFY so far in Stockholm, Oslo, and Vienna. We are currently working on designing a manual with 10 tested games that will be available for other organizations to use. Several GAMIFY events are planned for 2017.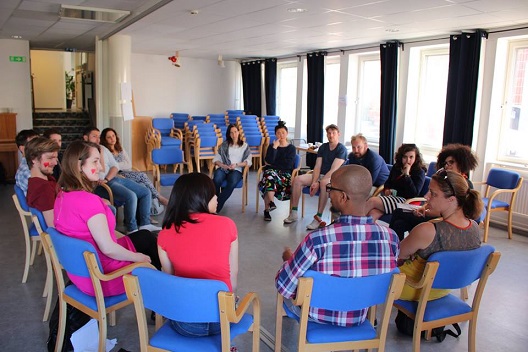 We advocate for social inclusion as a human-rights based approach, youth participation, human rights, inclusive policies towards refugees and other issues within its framework and priorities both on the European level and on member states level. The Young Republic is part of a wider coalition of Syrian refugee activists advocating the EU to adopt more inclusive migration and refugee policies.
What are your current challenges two years into the organization?
It is challenging to mobilize young refugees to engage and participate as they are faced with several obstacles and challenges, mainly related to basic needs such as finding housing, employment, and learning the language. The other challenge is financial. We are working on a voluntary basis and cover the expenses of our activities by ourselves, which is possible for a number of projects, but can also limit us in others. A crowdfunding campaign is planned in the future once our new website is ready. Also, we are searching now for a small office where we can have interns to support our daily operations like communication. An ongoing call for volunteers is planned throughout 2017.
Does The Young Republic intend to expand, and if so how?
We have organized education, youth exchanges, and advocacy meetings activities in Sweden, Norway, Austria, and Belgium so far and plan to expand to the rest of the European Union. We are currently working on a manual for GAMIFY that includes 10 tested games which will be available for other organizations to use if they want to work on social inclusion or human rights and democracy education. The research that we are working on now targets 5 countries: Sweden, Germany, France, Belgium, and the Netherlands. Our goal is to recruit more volunteers, organize more activities, and target more countries in Europe.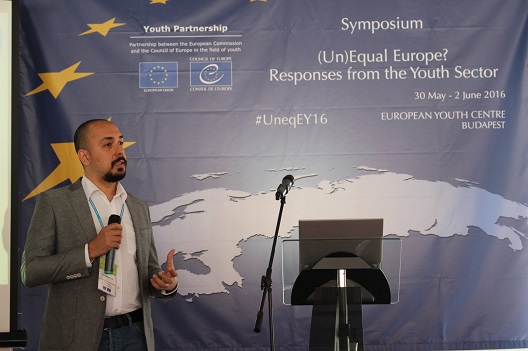 What challenges do you see for expanding to other countries in Europe? What about the MENA region?
Since we made our strategic redirection, we have decided that we only work with young Syrian refugees in Europe, so the MENA region is not included in our scope, though it is clear that there is a lot of work to be done about inclusion of young refugees in neighboring countries such as Jordan, Lebanon, Turkey, etc. For us, the challenges for expansion in Europe are finding and recruiting more volunteers along with securing financial support to organize our activities in more countries.
Mohammed Alsaud is an award-winning Syrian activist, co-founder and chairman of The Young Republic organization. He has been working for democracy, human rights, youth inclusion and refugees rights for more than 9 years in the Middle East, North Africa and Europe. His work has been published and quoted by media like: BBC, the Swedish Radio, Newsweek and Alarabyia. Mohammed is currently a political refugee in Sweden.