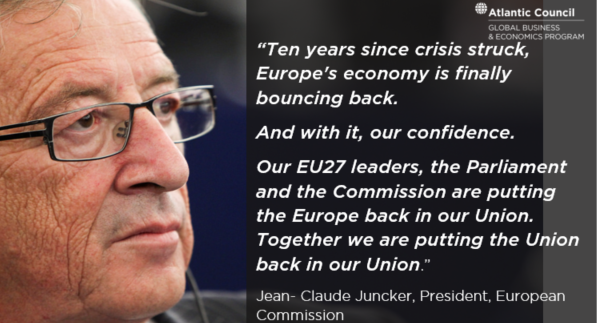 THIS WEEK IN TRADE
We are back after the summer break! And so is trade: The second round of NAFTA re-negotiations took place in Mexico City earlier this month with very little new proposals introduced across the board. A major point of contention is a controversial provision for resolving investment disputes- the US is reluctant to keep the provision in, but Canada and Mexico have both signaled that any change to the dispute resolution system is off-the-table. Maybe we will get more concrete answers during the next round which is scheduled for Sept. 23-27 in Ottawa.

Domestically, there has been a lot of talk on US tax reform in recent weeks, with House Republicans promising to release a plan the week of Sept. 25.
On the other side of the Atlantic, European Commission President Jean- Claude Juncker outlined his vision for the European Union in which he put an emphasis on strengthening the European trade agenda, and creating stronger, more competitive industry.
Brexit Update: The fourth round of negotiations has been postponed from September 18 to September 25.

SPOTLIGHT
NAFTA Negotiations: Why Are They So Controversial?
In the midst of North American Free Trade Agreement (NAFTA) renegotiations in August, US President Donald J. Trump tweeted saying that NAFTA is the "worst trade deal ever made," and threatened to withdraw the United States from the agreement because Canada and Mexico are being "difficult". While many have brushed these statements off ahead of the third round of discussions, set to begin on September 23, one cannot help but wonder: How close are we to a new and improved NAFTA?
With the third round of NAFTA negotiations fast approaching, Sara Van Velkinburgh writes for the New Atlanticist about the different public perceptions of NAFTA between the three nations and the challenges that lie ahead in the talks. Read her analysis here.
TRADE
News: NAFTA Partners Vow to Press Accelerated Timetable to Reach Deal,
Doug Palmer, Politico
News: Ross Calls NAFTA Withdrawal 'Right Thing' to Do if 2.0 Talks Fail,
Megan Cassella, Politico
Opinion: Trump Can't Withdraw from NAFTA without a 'Yes' from Congress, Joel Trachtman, The Hill
Video: NAFTA: The View from Canada and Mexico, Politico
Briefing: A Path Forward for NAFTA, C. Fred Bergsten and Monica de Bolle, Peterson Institute for International Economics
Official Statement: Tax Reform Unleashes America's Economic Potential, The White House
Analysis: Big Six Still Divided Over Basic Elements of Tax Reform, Brian Faler, Politico
Podcast: Trade Talks Episode 3: Nerves of Steel: Waiting for Trump's Trade War, Soumaya Keynes & Chad P. Bown, Peterson School of International Economics
News: Finance Panel Unanimously Approves Trump's Pick for Commerce Trade Slot, Inside Trade
News: US, Malaysia Talk Trade, Vicki Needham, The Hill
News: Trump Names Richard Burkhauser as Final Member of Council of Economic Advisers, Nick Timiraos, The Wall Street Journal
Press Release: European State of the Union 2017 – Trade Package, European Commission
Opinion: Latin America May Be Where Europe's Trade Luck Runs Out, Hans von der Burchard and Jakob Hanke, Politico
Press Release: EU to Launch Global Alliance for Torture-Free Trade, European Commission
News: Hammond Says U.K. Is Seeking 'Status Quo' Brexit Transition, Robert Hutton, Bloomberg
Analysis: Why Italy's Troubled Economy is Returning to Form, The Economist
News: EU Weighs Strategy to Compete in Fintech with Global Rivals, Francesco Guarascio, Reuters
News: ASEAN, Partners Eye 'Substantial' Free Trade Progress by Year- End, ABS-CBN News

TWEET/FACTOID OF THE WEEK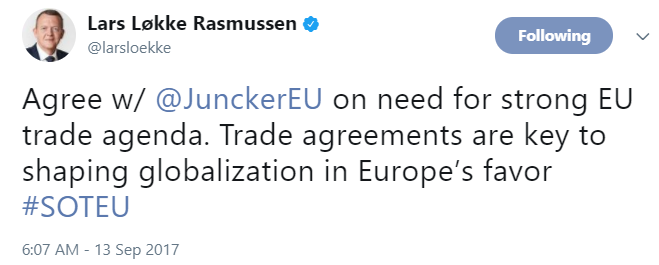 Did you know...…that there is no term limit for a German Chancellor? Germany's current Chancellor, Ms. Angela Merkel, is running for her fourth term this fall (Germans are heading to the polls at the end of September). Need to brush up on your knowledge on the German electoral system? Find regular updates on the current election here.

GLOBALIZATION
Opinion: Globalization on the Cheap: Why the U.S. Lost Its Way on Trade, Jennifer Mason, Mireya Solis, Brookings
Report: The New Dynamics of Financial Globalization, Susan Lund, Eckart Windhagen, James Manyika, Philipp Härle, Jonathan Woetzel, and Diana Goldshtein, McKinsey&Company
Book: From Global to Local: The Making of Things and the End of Globalisation, Finbarr Livesey, Profile Books
Opinion: China and the U.S. Can Work Together to Shape the World Order, Sam Zhao, University of Denver
News: Nations Should Maintain Free Trade Amid Fragile World Economy, China Says, Reuters
Poll: A Survey Finds Support for Both Globalisation and Import Tariffs, The Economist
Report: Nordic Countries Most Committed to Development, Gaby Galvin, US News
Poll: Greater Acceptance for Immigration, Globalization and Gay Marriage in the US, Mark Murray, NBC News
WHAT WE ARE READING
Opinion: In Upcoming Elections, Will Germany's Turks Obey Erdogan? Bethany Allen- Ebrahimian, Foreign Policy
Opinion: Germany After the Hartz Reforms, Christian Odendahl, Centre for European Reform
Analysis: Calichina Dreaming: Apple, the iPhone, and the Future of the Chinese Economy, Salvatore Babones, Foreign Affairs
Analysis: Juncker's Report Card, Ryan Heath, Politico
Opinion: The EU Is Not Out of the Danger Zone, Stefan Lehne, Tomas Valasek, Carnegie Europe
Report: What is the Ideal Mix of Federal, State, and Local Government Investment in Infrastructure? Hunter Blair, Economic Policy Institute
Analysis: Does the U.S. Trade Deficit Matter? James McBride, Council on Foreign Relations
Report: EU–China Economic Relations to 2025 Building a Common Future, Alicia García-Herrero, K.C. Kwok, Liu Xiangdong, Tim Summers and Zhang Yansheng, Bruegel
UPCOMING EVENTS
September 18: U.S. Trade Policy Priorities: Robert Lighthizer, United States Trade Representative, Center for Strategic & International Studies (CSIS)
September 19: Anti-Globalism In China?, U.S.-Japan Research Institute
September 19: Maximizing Women's Economic Leadership, Participation, and Impact in Africa, Woodrow Wilson International Center for Scholars
September 21: Investment Plan for Europe – A Status Update, European American Chamber of Commerce
September 21: The Future of NAFTA and the State of U.S.-Mexico Relations, Progressive Policy Institute
September 27: Author, Kelsey Timmerman on Globalization and Sustainability, Illinois State University
October 3: Economic Sanctions After Brexit, Atlantic Council
October 3: Smart Cities & Smart Buildings: The Future of Commercial RE in the U.S. and Across Europe, European American Chamber of Commerce
October 17: Global Services Summit: Charting the Course For Growth, Coalition of Services Industries
Your Newsletter Team:
Marie Kasperek, Associate Director, Global Business & Economics, Atlantic Council
Michael Farquharson, Intern, Global Business & Economics, Atlantic Council
Jack Reynolds, Intern, Global Business & Economics, Atlantic Council
Please send us suggested news stories, opinion pieces, publications, and upcoming events that you would like us to highlight! Email [email protected] with your ideas and suggestions.
The views expressed in this newsletter and linked external articles and content do not necessarily reflect the opinions of the Atlantic Council, its staff, or its sponsors.
© 2017 Atlantic Council
Atlantic Council
1030 15th St. NW
Washington, DC 20005
Subscribe to the New Atlanticist | Unsubscribe from our emails