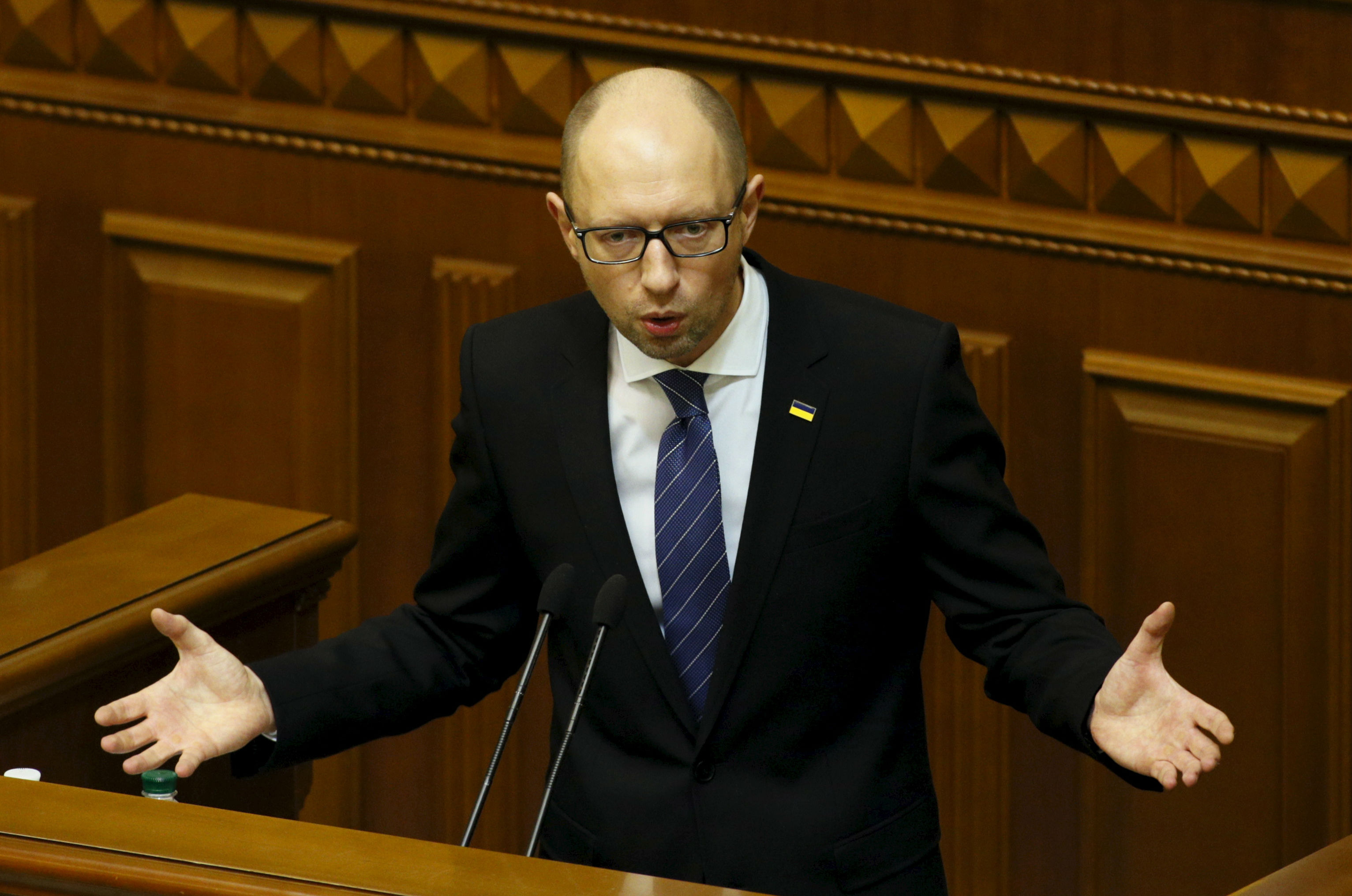 In the village of Glebovka, on a road leading to the old hunting grounds of ex-Ukrainian President Viktor Yanukovych, there is a small enclave of villas. Here, in the deep forest by the shores of the Kyiv water reservoir, sits a guest house that belongs to former Rada Deputy Mykola Martynenko, where confidential meetings between Ukrainian Prime Minister Arseniy Yatsenyuk and Ukraine's wealthiest businessman Rinat Akhmetov took place.
Akhmetov was the chief political partner of Yanukovych and is now tacitly the strongest ally of Yatsenyuk, who faces increasing calls for his resignation. For two years, the prime minister has staunchly supported the interests of Akhmetov, which has brought him into direct conflict with Energy Minister Volodymyr Demchyshin. One conflict concerns Energorynok, the state company for wholesale trade with electricity, over which Yatsenyuk is considered to have substantial influence. It is alleged to have been paying for electricity produced and consumed in Ukraine's occupied territories contrary to the restrictions imposed by Ukraine's National Security Council.
This is just one of many examples of how Yatsenyuk governs the country according to the interests of business clans. During his premiership, Ukraine has failed to dispel the oligarchs' influence on the economy. The government's only major accomplishment has been reforms in the gas market, which were carried out by Andriy Kobolev, the head of state energy company Naftogaz Ukraine, and his team, who managed to maneuver and balance the interests of Martynenko, Rada Deputy Ihor Kononenko, ex-Deputy Ihor Eremeev, and oligarch Ihor Kolomoisky.
Yatsenyuk has lost the support of the citizens, the Rada, and foreign investors. Still he continues to exercise pressure on the country, threating to pull the People's Front out of the governing coalition if parliament removes him from office. Early elections that would be called in such a circumstance may not spell trouble for Yatsenyuk's closest ally, parliamentarian Andriy Ivanchuk, who has already moved his family to Monaco. However, for millions of his compatriots, early elections threaten to halt reforms for several months, break the country's program with the International Monetary Fund, and reinforce populism and militarization in society.

Yatsenyuk has found allies in Western diplomats who fear any sort of instability and always support conservative scenarios. Recall the elder Bush, who called on Ukraine to stay in the Soviet Union a few months before its collapse. In the same vein, Polish Foreign Minister Radek Sikorski and German Foreign Minister Frank-Walter Steinmeier signed an amicable settlement with Yanukovych just twenty-four hours before he fled the country. But citizens always correct things. Even after the fall of the Berlin Wall, West German Chancellor Helmut Kohl thought German reunification would take five-ten years, but because of popular pressure it took less than a year.
Ukrainians are still striving to avoid early elections. But a fresh start is needed to move on from the current crisis. This scenario is full of risks and uncertainty, but under the right conditions, it may turn out to be the optimal outcome for Ukraine's future, ushering in mass privatization, deregulation for business, tax and customs reform, and a real fight against corruption. The government must do all of these things and forsake all odious characters, from Yatsenyuk and Prosecutor General Viktor Shokin to Internal Affairs Minister Arsen Avakov and Kononenko. The latter's presence in parliament is especially problematic, dragging down the President's approval ratings.
The truth is that every Ukrainian President and prime minister with similar ambitions has had his or her own Kononenko. For former Prime Minister Pavlo Lazarenko, it was Peter Kiritchenko. For former President Leonid Kuchma, it was Oleksandr Volkov. Viktor Yushchenko had his brother. Yulia Tymoshenko had Viktor Medvedchuk. And Yanukovych had Yuriy Ivanyushchenko.
Therefore, Poroshenko needs to sacrifice a major figure to protect something much greater—the people's trust. Today 60 percent of Ukrainians hold the President chiefly responsible for waging war against corruption. The presence of such people within the President's inner circle leaves a dark bruise on the President's reputation.
The time has come for Kononenko to leave. Yanukovych faced a similar situation in December 2013. If he had decided to fire two of his top aides, it is possible that he would still govern Ukraine. And if Poroshenko cannot insist on the departure of his friend, then Kononeko should make it easy on him and resign from parliament.
By keeping Kononenko in power, Poroshenko is only procrastinating. He will pay the price—only it will be significantly higher. He wants to return to May 2014 when his approval rating was 54 percent, but it's not going to happen. He's losing support faster than any other President in Ukraine's history. In nine months, he will have served half of his presidential term, and with the results at that time we can discuss his future prospects. He'll either get a bounce that allows him to be reelected for a second term, or he'll turn into a lame duck, doomed to defeat. And that is being decided now.
Sergii Leshchenko is a member of parliament in Ukraine and former deputy editor of Ukrayinska Pravda. This article was originally published in Russian by Novoe Vremya and has been edited for length and clarity. Joshua Solomon and Alina Polyakova translated the article.