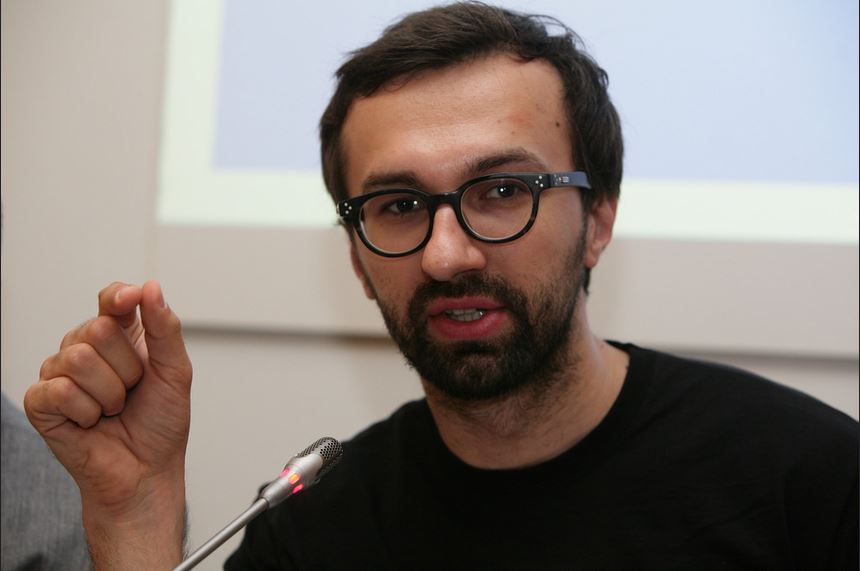 Anti-Corruption Journalist Who Ran for Office Says Poroshenko Has Stifled Dissent Within the New Government
Serhiy Leshchenko, age thirty-four, is a Kyiv-based investigative journalist and blogger who has been deputy chief editor of Ukrainska Pravda, the country's most prominent independent news website. After supporting last year's pro-democracy Maidan movement, he opted this year to run for parliament as an anti-corruption candidate of the party that backs President Petro Poroshenko.
As one of a crop of new legislators pledged to root out graft that has given Ukraine the worst corruption rating in Europe according to Transparency International, Leshchenko wrote an essay to Ukrainians about his parliamentary experience on December 6.

Leshchenko says he's optimistic and has found many other legislators dedicated to cleaning up Ukraine's government. But already, key decisions have been taken in a pretty non-democratic way, he says. President Poroshenko pushed through the establishment of a new Information Ministry, even though many in his party disagreed and wanted a chance to debate the idea. Poroshenko's close ally, parliamentary speaker Volodymyr Groysman rammed through a collective vote on the appointment of cabinet ministers, rather than having the parliament vote on each nomination, as is established practice in democracies worldwide.
Lawmakers in Poroshenko's bloc are obsequious toward him; he has a "hypnotic effect" on them that stifles dissent when he is in the room, Leshchenko writes. And, he says, neither the president nor Prime Minister Arseniy Yatsenyuk is being direct in answering legislators' questions about the problems that have stifled anti-corruption reforms until now. Yatsenyuk's failure to discuss it with parliament members was so marked, Leshchenko writes, that he declined to vote for Yatsenyuk's confirmation as prime minister.
You can read the full translation of Leshchenko's account below, or read the original blog post.
---
We Are the Fertilizer
By Serhiy Leshchenko
Let me tell you about my first ten days as a member of the Ukrainian parliament. During this period parliament was in session for three days. I'd like to start with the positive.
I'm encouraged that there are more new people among the legislators than expected, people who are motivated by reforms and are not infected with the corrupt, back-room deals made by political clans. Many of these names were unknown to me prior to the elections; perhaps you don't know them yet either. Many of them have not yet spoken in parliament, but I am sure you will be pleasantly surprised. And one of these people is now a deputy speaker of parliament, Oksana Syroid.
I'm also optimistic because every day I see that the number of people who want to make decisions independently, rather than by pressure from others, is growing. I can say that in our pro-presidential faction there are people who are not guided by orders from the top, and there are many more of them than the numbers you see lit up on the voting board. Not all of them however, are yet ready to openly demonstrate their independent position.
We often have very tumultuous discussions during our faction sessions which result in decisions that are diametrically opposed to the recommendations of our leaders. Unfortunately the number of those who have a mind of their own diminishes greatly when the president participates in our meetings.
This is what happened with the [decision to creat an] information ministry. Our caucus agreed to postpone voting on this issue until a public debate had been conducted. Even Yuriy Stets, the designated minister, agreed to these arguments. But the president's words – "this is my political demand" — cut my colleagues' decisiveness short. I informed the president what the faction had agreed on regarding the future ministry, and our meeting ended with only three MPs, including myself, voting against the issue. Three abstained and one deputy did not vote at all.
I'm pleased that members of our caucus are demandind that our meetings not be held in the presidential administration building. Even former president Viktor Yanukovych's Party of Regions met in its party headquarters and not in the presidential administration headquarters.
It is also encouraging that the coalition talks did not resort to a vulgar haggling for ministerial posts. This was a real battle for principles and program goals between coalition partners.
What is discouraging?
Back-room deals. Members of the larger political factions in parliament find out about decisions made by the political leadership only after the fact. Deputies are in fact deprived of the possibility to influence decisions if their positions do not fall in line with the bosses' wishes.
Timidity. This is demonstrated in the inability of deputies to stand by their positions in the presence of the president. The presence of the president has a hypnotic effect on the pro-presidential faction. People who passionately criticized a dubious decision grow silent and lower their eyes in the presence of President Poroshenko.
Subservience. I witnessed certain colleagues demonstrating an unhealthy greediness towards our leadership for which afterwards — surprise, surprise — they were rewarded with leading political positions in the new government.
Duplicity. More than once I have encountered complete duplicity from certain deputies. They look you in the eye and give their word, only to do something completely different. When I ask them "What happened?" there is no answer.
A hunger for positions. I have heard that many politicians are guided by the desire to occupy a leadership position, but now I have seen with my own eyes this ambitious positioning of people to become a boss, even if the hungry politician hasn't the foggiest idea or qualifications for the desired top job.
Absentee voting [by members of parliament]. It would seem that this shameful practice of MPs voting for colleagues who are not present in the parliament had been so exposed by the media and abhorred by the electorate that no deputy would dare to give in to this temptation in the new parliament. It has unfortunately continued without any consequences for the deputies who have brazenly violated the constitution and at the same time openly lied to their fellow faction members that they would never do this again. I don't believe in empty promises, I only believe in accountability.
During these three days of parliamentary sessions we held three very important votes.
First, parliament voted for Arseniy Yatsenyuk to continue as prime minister. I may be only thirty-four years old, but I have followed politics long enough as a journalist not to believe in empty words. Yatsenyuk has already been prime minister for nine months, and I fail to understand what prevented him from enacting much needed reforms during this time. Will the reasons that held him back during this period suddenly disappear after his re-election to the prime minister's post?
The leader of the government must ask himself, is he ready to take unpopular steps, ready to sacrifice his political ambitions in the name of change that will only be appreciated by the future generation? Or is he more concerned about his rating in future elections? Will he compete for the affection of oligarchs so he can have access to their media and money?
Arseniy Yatsenyuk could have dispelled my doubts had he chosen to have a frank conversation with our faction. He chose not to, and as far as I can remember, he is the first prime minister who did not meet with deputies who are part of his coalition and in effect are delegating him to the prime minister's post.
Voting for the government's cabinet collectively. Under pressure from the presidential administration, the collective vote for the cabinet included the newly created Ministry of Information, which could become an instrument of censorship. This new body is being organized with incredible speed and determination that has shocked not only journalists and MPs, but colleagues of the future information minister, Yuriy Stets. The positive experience of new faces in the Ukrainian government is overshadowed by the fact that we are creating an information regulator that will have no choice but to be an instrument of propaganda.
And finally, the leadership of parliamentary committees and committee membership. Despite the decision in our caucus — that those MPs who voted for the anti-democratic and dictatorial laws aimed at strengthening and consolidating ousted president Viktor Yanukovych's power in February of this year must not assume committee leadership positions — at least ten deputies who voted for these laws are now in such positions. Our faction has again caved in to political pressure from the top.
For all the above reasons I did not vote for Arseniy Yatsenyuk for prime minister; I did not vote for the government or the committee leadership. I abstained from all three votes.
But despite all this I am an optimist. Among all the political groups in parliament are people who do not want business as usual to continue, people who are ready to stand against the system and to fight for ideals and not posts.
I don't know how long this parliament will last. I think it will be a transition between Ukraine's old and the new political culture, between old and new politicians. And our role, as journalist and now politician Zoya Kazanzhi has put it, is to be the fertilizer on which a completely new generation of politicians will be raised.
Serhiy Leshchenko is a Ukrainian journalist and, since November, a member of parliament from the Petro Poroshenko Bloc. His article was translated from Ukrainian by Irena Chalupa, who covers Ukraine and Eastern Europe for the Atlantic Council.