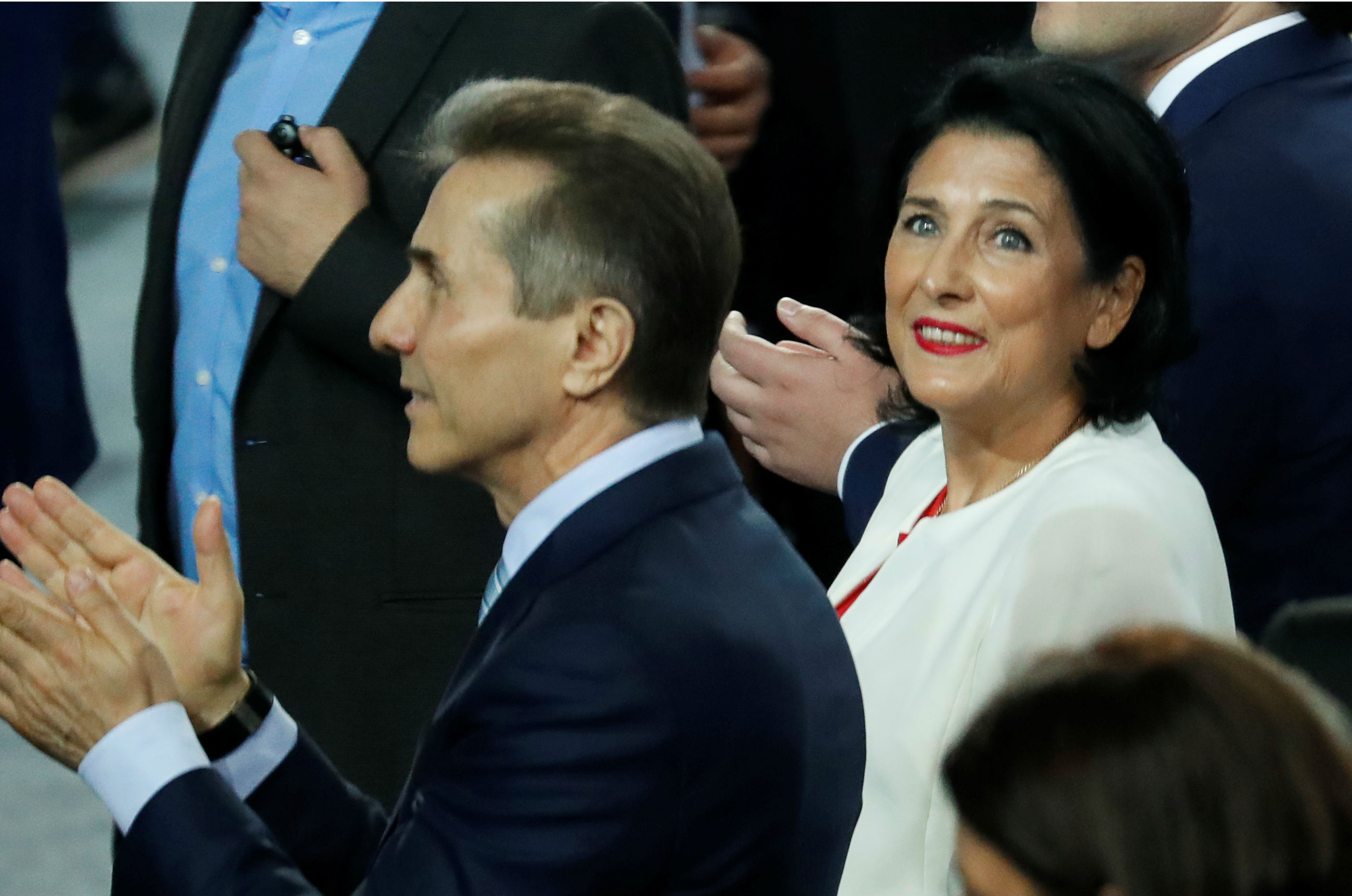 On October 28, Georgians went to the polls to elect their fifth president, possibly for the last time. Neither candidate, both former foreign ministers, won outright. An unprecedented run-off is slated for December 2.
The United National Movement (UNM) presidential candidate Grigol Vashadze achieved an unexpectedly strong showing (37.7 percent) against the ruling Georgian Dream party backed candidate (38.6 percent) Salome Zurabishvili. The outcome belies the current level of one-party rule and presents a surprise proxy rematch between political personalities which have defined the national landscape since 2011. Six years after defeating Misha Saakashvili's UNM in parliamentary elections, Georgian Dream grey cardinal and oligarch Bidzina Ivanishvili may be losing his Midas touch.
It wasn't supposed to be this way. The "return" of Ivanishvili as chairman of the Georgian Dream in May was intended to restore confidence in the party, but he pushed aside the second prime minister in two and a half years and installed a third political neophyte who doesn't threaten his authority. In his acceptance speech for his new post, Ivanishvili said he viewed the greatest obstacles to solving Georgia's economic problems as the continuing resistance of media critics, especially Rustavi-2, the nation's most popular television station, and political opposition, particularly UNM, which retains editorial control over the station.
Despite having won control of every municipality in the country in 2014 and 2017, and a ¾ constitutional majority in the 2016 parliamentary elections, Ivanishvili appears to view anything less than the total and undisputed latitude to govern as the main obstacle to being able to fulfill his long-term vision that Georgia become a European nation by 2030, under his guidance. But this election may symbolize the unwillingness of Georgians to simply accept the benefit or inevitability of his vision.
Two weeks after Ivanishvili's ascension, corruption in the prosecutor's office sent people spontaneously to the streets. The case spotlighted the continued abuse of the criminal justice system, which has plagued every government since independence.
Two weeks before the presidential election, leaked tapes allegedly revealed that Mirza Subeliani, the prosecutor currently in pre-trial detention for his mishandling of the murder case that brought crowds to the street earlier in the year, had undertaken a succession of improper politicized actions in several high-profile cases. But unlike 2012, when leaked tapes of prison torture, just two weeks before the parliamentary elections, proved a decisive moment in UNM's loss, GD aggressively hit back. They quickly announced their intent to prosecute an alleged blackmail effort of prison personnel which they claimed was how the tapes had been produced and then announced a suspiciously timed case against Misha Saakashvili.
Saakashvili remains the "spiritual" leader of UNM in spite of his loss of Georgian and Ukrainian citizenship, his exile, and his increasing alignment with conservative social policies. While he has become increasingly peripatetic and opportunistic since leaving the presidency in 2013, his outspoken and resolute resistance to Ivanishvili, and Ivanishvili's reciprocal attention to Misha's legacy by equating any critique that doesn't sync with his own as UNM planted, has maintained Saakashvili's relevance. Even though UNM lost most of its parliamentary membership due to an internal split in 2017 which produced Movement for Liberty, European Georgia (EG), the depth of UNM branding has allowed them to retain their position as the most popular opposition force.
It would be wrong to view the results of the October 28 presidential election as a desire for Saakashvili's or UNM's return. Instead, several factors indicate that the results may reflect fatigue with Ivanishvili.
First, earlier this year in a by-election that foreshadowed the presidential race, EG's Gigi Ugulava, the paroled, former mayor of Tbilisi, garnered a vote similar to Vashadze with 38.8 percent. Second, Ivanishvili's "return" is more theatrical than substantive. He is the one calling the shots, regardless of his protestations, and the population clearly believes this to be true, and the economy still struggles. Third, Ivanishvili's demurral to assume governing responsibility is belied by the obvious inadequacies of his appointees as heads of parliament and the government.
Then, there is Salome Zurabishvili, Saakashvili's first foreign minister. Despite her career as a diplomat, she has demonstrated little aptitude for electoral politics. She launched her presidential campaign by saying Georgia started the 2008 war with Russia, a position that drew great public outcry and resulted in the Minister of Justice warning that Georgia's human rights cases in Strasbourg could be jeopardized by such an admission of responsibility. However, Zurabishvili's narrative was embraced by Ivanishvili. She expressed deeply xenophobic concerns about Asians and Turks. It's as if GD, having changed its constitution so that this will be the last time a president is popularly elected, recruited a candidate that would ensure the public would lose all interest in a now largely ceremonial post.
Zurabishvili's only previous electoral experience was as a single mandate candidate for parliament in 2016, which, like her candidacy for president, was also secured by the intervention of Ivanishvili to clear the field of any competing GD candidate. Her candidacies for both offices, ostensibly as an independent but endorsed and supported by GD infrastructure, make-up a Potemkin village of political participation.
How will the runoff unfold? Now that the potential of defeat is possible for the first time in six years, and at the hands of the political entity that Ivanishvili hates and fears the most, will GD be more committed to observing democratic norms, or simply retaining power? Preliminary international observer findings have already assessed the pre-election environment negatively.
If Ivanishvili should be humiliated either at the polls or within the GD party councils for choosing Zurabishvili, the potential fallout given the dearth of mature leadership in the GD government or pro-Western support within the GD parliamentary factions could fundamentally and adversely impact the progress that Georgia has made over the past twenty years.
Having succeeded in shutting down a television station over alleged financial irregularities, as well as its deep-seated animus for UNM, GD may now resume efforts to change the ownership or management of Rustavi-2. Given the engagement of civil society around elections, GD may rebel against its role in refereeing the process and once again allege civil society's complicity with UNM.
The UNM government found its international position diminished following the 2008 war by the Russian reset and its own de-emphasis on democratic reform, while the GD government has been coddled since the Ukraine crisis and unable to develop independent and democratic institutions due to the singular involvement of Ivanishvili. As a politically divided European Union negotiates its evolving relationship with Russia and the Trump administration emphasizes stability over democracy, Georgia could find its progress stunted by internal challenges it cannot transcend or external challenges driven by the same hyper-partisanship that Russia has learned to manipulate.
Luis Navarro is a fellow at FPRI's Eurasia Program. He served as senior resident director for the National Democratic Institute in Georgia (2009-2014).