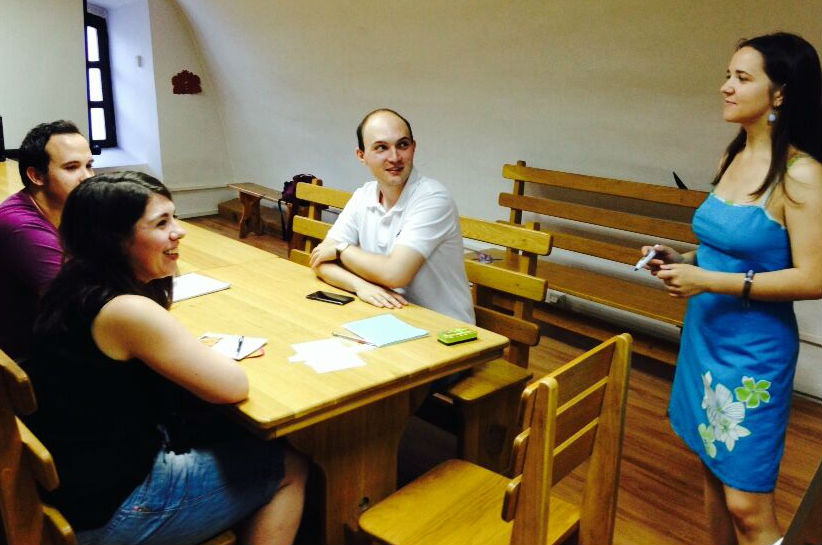 On a scorching Saturday afternoon in the Pechersk district of Kyiv, a group of five young people take refuge in a cool alcove hidden at the back of the Ivan Honchar Museum for a free Ukrainian class. Together, for ninety minutes, they discuss that week's subject, studentstvo ("student life"), learning new Ukrainian words to describe lectures, dormitories, and professors. Three of the group members—the instructor and two others—are native speakers. The other two are foreigners trying to master spoken and written Ukrainian.
It may not seem like much right now, but the organizers of this initiative are sure that it is part of something much bigger. Germany promotes its culture abroad through the Goethe-Institut. China has the Confucius Institute. Now Ukraine has the Skovoroda Institute, a small, youth-driven organization named for the Ukrainian philosopher Hryhoryi Skovoroda. It strives to introduce foreigners to Ukrainian culture through the study of the language.
At a time when civil society is taking a growing role in Ukrainian society and even fulfilling what previously would have been considered state functions, the Skovoroda Institute represents a growing belief that ordinary citizens can take the future of their country into their own hand. Founded only a year ago, the Institute has a big—and some might say improbable—dream: to grow into a global network of language classes and cultural events.
"We're kind of a little start-up with a good idea," said Iryna Shostak, 20, a sociology student at the Kyiv-Mohyla Academy and one of Skovoroda's founders. In a city where the Russian language often still dominates day-to-day conversation, she wants to show foreign visitors that "there are also benefits to knowing Ukrainian when you're in Ukraine."
The idea for the Skovoroda Institute began with Yuriy Mishchenko, 24, a Kyiv-Mohyla Academy political science student who studied Chinese at Jilin University in 2013 on a grant from the Confucius Institute. While in China, Yuriy noticed that many people there knew little about Ukraine and he wondered if a Ukrainian version of the Confucius Institute might be the solution.
"When I got back to Ukraine, I started looking for people with similar ideas and told all my friends and acquaintances who are young, patriotic Ukrainians," Mishchenko said.
There was no shortage of support among these friends, and, by early 2014, they started a Ukrainian language conversation club. And, in June, they held their first Ukrainian language class taught by university students.
Now, as the Institute marks its first anniversary, it has also organized master classes on Ukrainian folk dance, held lectures on Ukrainian culture, history, and the arts, and led excursions.
Skovoroda's leaders say that the public has responded enthusiastically to the idea. Almost fifty people have registered to serve as volunteers, although the institute only has the capacity to accept around twenty. More than forty foreigners have taken advantage of its language classes. They are inundated with offers to help from strangers who contact them through social media.
In the immediate future, the Skovoroda Institute has two goals. First, it plans to register as a civic organization, which will allow it to receive grants and expand. And, second, Skovoroda's volunteers are working to create the institute's own Ukrainian language textbook, which they plan to make available for free online. The textbook is especially important to the organization's future goal, which is to crowdsource the promotion of Ukrainian language and culture.
"The idea is that any Ukrainian anywhere in the world can start a conversation club and use [the textbook] to share the language," Shostak said. "One of our volunteers is going to the US and we hope she'll do that there. I may go to Germany or Scandinavia for my master's degree, and I'll start a group there. Yuriy may go back to China at some point and do the same there."
In the longer term, Shostak, Mishchenko, and the other volunteers imagine the Skovoroda Institute as an organization with branches around the world. At the moment, their focus is on helping Ukrainian language students in Kyiv.
Nicholas Griffin, 26, a political science PhD student at Cardiff University, started learning Ukrainian for his dissertation research on state capacity building in Ukraine. He has found the Skovoroda Institute's classes to be helpful—both in preparing him to read official government documents and to navigate Ukrainian society.
"I was making certain mistakes over and over again, and Skovoroda helped me to correct them. And I've also learned a lot of new words," Griffin said. "And they're really strict about trying to use Ukrainian all the time. That's really, really helpful."
Matthew Kupfer is a graduate student at Harvard University. He previously worked for the Washington-based Carnegie Endowment for International Peace.