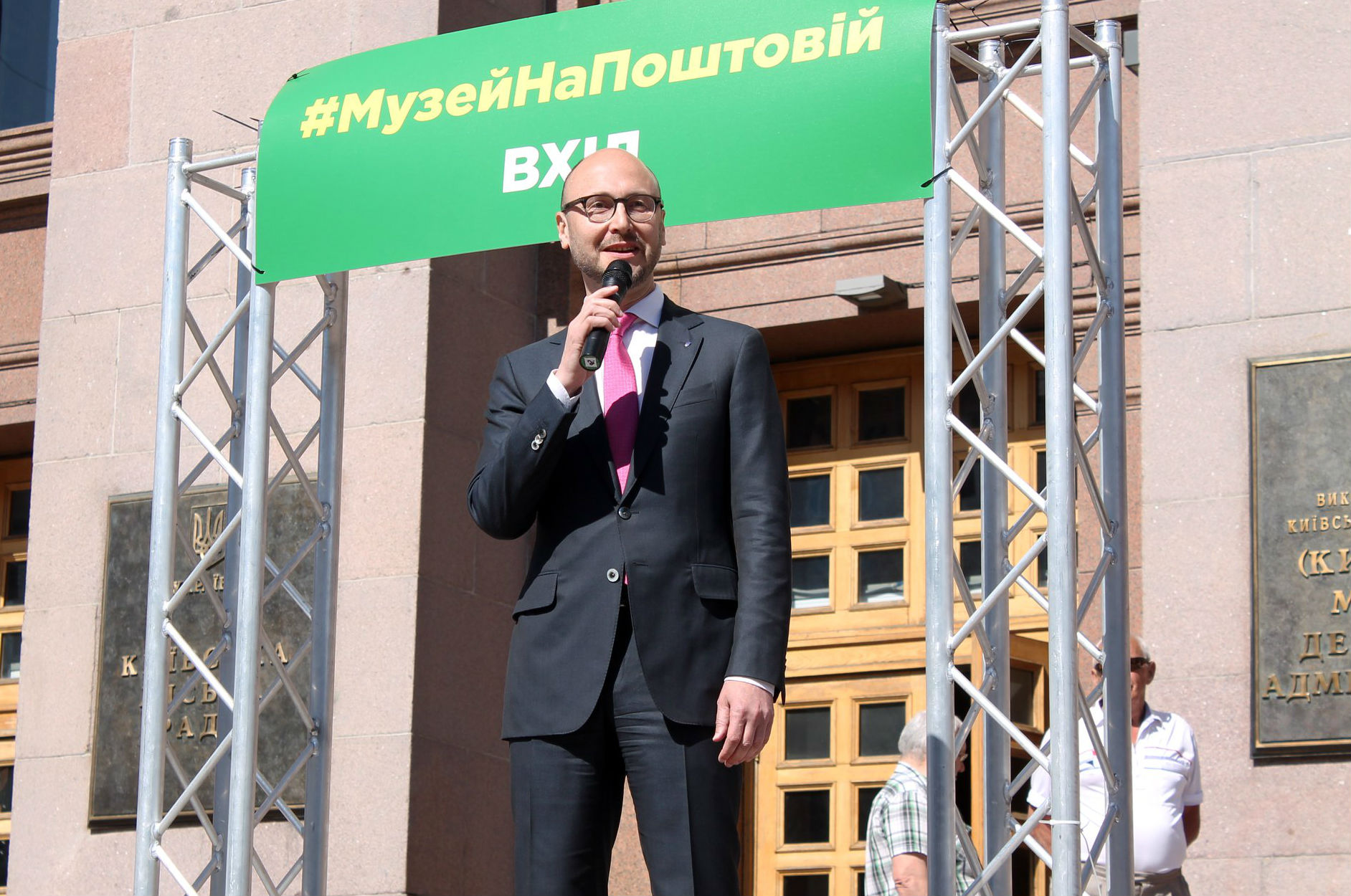 Ukraine's Maidan reformers had a real shot at reaching a tipping point and changing the country once and for all. In 2014, the reform-oriented Samopomich party, led by Lviv Mayor Andriy Sadovyi, performed far better than expected in the parliamentary elections just a few months after street protests ejected pro-Russian President Victor Yanukovych. The Lviv-based party took thirty-three seats and joined the governing coalition; its roster included a number of new faces from business, academia, and civil society.
Today, the party is no longer part of the governing coalition; its parliamentarians now describe themselves as troublemakers. Their numbers in parliament have shrunk, Sadovyi's approval ratings have dropped precipitously, and the party looks set to become a regional party rather than a national one after the 2019 elections.
And now the group has turned to infighting. On September 6, the party expelled one of its most promising politicians, Sergiy Gusovsky, the head of Samopomich faction in the Kyiv city council.
It wasn't supposed to be this way. After the Revolution of Dignity, the party cultivated chapters throughout the country and gained real representation on the Kyiv and Mykolayiv city councils, and seemed to be on the rise.
Nationally reform fevor began to fade. Almost every single reform-minded minister has quit. Less than five decent people remain in the Cabinet of Ministers.
The Samopomich faction of the Kyiv city council, led by businessman Sergiy Gusovsky, remained one of the last points for optimism that Ukraine boosters could point to. Under Gusovsky's leadership, the city council passed a number of anticorruption reforms that were beginning to attract notice.
Meanwhile, Mayor Sadovyi's numbers began to tank and he showed less and less interest in Kyiv. More than one insider has told me that he delegated the management of the party to others while spending most of his time in Lviv. Plus, the party was never democratic. Four people in Lviv made all of the major decisions. That tight circle never included anyone from Kyiv.
It's fair to say that Sadovyi represents a conservative, traditional, and religious wing of the party, while Gusovsky's wing tends to be patriotic and business-minded but socially liberal. There's been ongoing tension over the future of the party for more than a year, and that tension came to a head in 2017.
That year, garbage piled up in Sadovyi's pristine city and a crisis ensued. Sources say that the presidential administration manufactured the crisis to kill Sadovyi's promising presidential bid in 2019. His numbers plunged 19 points.
After the garbage scandal, there were endless discussions and soul searching within the party. The party's more traditional faction dug in its heels and refused to change, while the business-oriented wing wanted to make the party more open and democratic.
Sadovyi's management of the party deteriorated further this past winter. In late 2017, two Samopomich MPs, Yegor Soboliev and Semen Semenchenko, joined protesters outside of the parliament building, demanding the resignation of the president. At various points, the two MPs used language that would have been considered inciting violence in the United States. The party never disciplined them. They remain members in good standing.
Fast forward to today.
On September 6, Samopomich expelled four Kyiv city council members: Oleksiy Rudenko, Sergiy Kharchuk, Vadym Vasylchuk, and Gusovsky. Party officials claim that Rudenko, Kharchuk, and Vasylchuk voted to give 1.4 hectares of land to Kyiv city councilman Roman Marchenko, who they say abused his authority by giving the land to his relatives. Gusovsky, they say, failed to take measures to block the voting. He abstained from the vote. Formally, the city council members were ejected for "causing significant damage to [Samopomich's] reputation."
Gusovsky called the charges "absurd," saying they were simply meant to discredit him and his team. On September 7, he announced that he and his team are starting a new political force.
His team backs him up. "The Marchenko case was created just to have a case. If Marchenko did not exist, [Samopomich] would create another one," Andrii Osadchuk, a member of the Kyiv city council and an attorney wrote in a comment. Marchenko himself said that the land had been in his family for decades.
Gusovsky said that Samopomich's legal department signed off on the bill to give the land to Marchenko, the Kyiv city council attorneys signed off on it, and Marchenko declared that he had a conflict of interest and did not vote.
Samopomich MP Yegor Soboliev said that Gusovsky and his team had to go because a "party that tolerates such cases definitely has no future."
He's right, of course, but Gusovsky has been leading a loud and active yearlong campaign at Poshtova Square against the old rules that enriched developers, he championed the conflict of interest law in the city council, and he pressed through a regulation that requires the city administration to disclose the beneficial ownership and founder behind any deal that includes municipal land or real estate in Kyiv.
That hardly sounds like a man who would tolerate gross corruption on his watch.
Plus, it's hard to believe an ambitious politician like Gusovsky would squander his political future for a measly 1.4 hectares of land that he personally wasn't receiving.
Even worse, Samopomich's actual accusation doesn't hold up. It says that the city council allocated 1.4 hectares of land to Marchenko, but the actual resolution says .18 hectares of land.
This is the same party that has a history of not tolerating dissent and expelling those who don't toe the line.
I could be wrong, but I don't buy it.
A very promising reformist party has seemingly frittered away its chance to become a real force.
This is a disappointment, but the real loss is for Ukraine's voters, who will confront even more unsatisfactory choices in 2019.
Melinda Haring is the editor of the UkraineAlert blog at the Atlantic Council and a fellow at the Foreign Policy Research Institute. She tweets @melindaharing. Vera Zimmerman contributed reporting.